Bali to Gili
Bali to Gili as recommended by The Lonely Planet. Gilibookings is the easiest place to book your fast boat tickets from Bali to Gili Trawangan, Gili Air, Lombok, Nusa Lembongan, Nusa Penida and Gili Gede (South Lombok). Use the search box above to check live fast boat availability, simply select your travel dates and number of passengers, you can compare ticket costs, book and pay securely and receive fast boat e-tickets immediately. Fast boat to Gili, Bali to Lembongan, Bali to Lombok, Bali to Gili Gede with reliable and trusted fast boat operators.
How to get from Bali to the Gili Islands
Travelling from Bali to Gili, Bali to Lombok, Bali to Lembongan or Bali to Penida used to be a long and difficult journey. However with tourism growing at a rapid rate the region has now opened up, and there are a selection of Gili fast boat operators offering reliable speed boat services between these paradise islands. Full departure times, schedules and route maps can be viewed further down this page.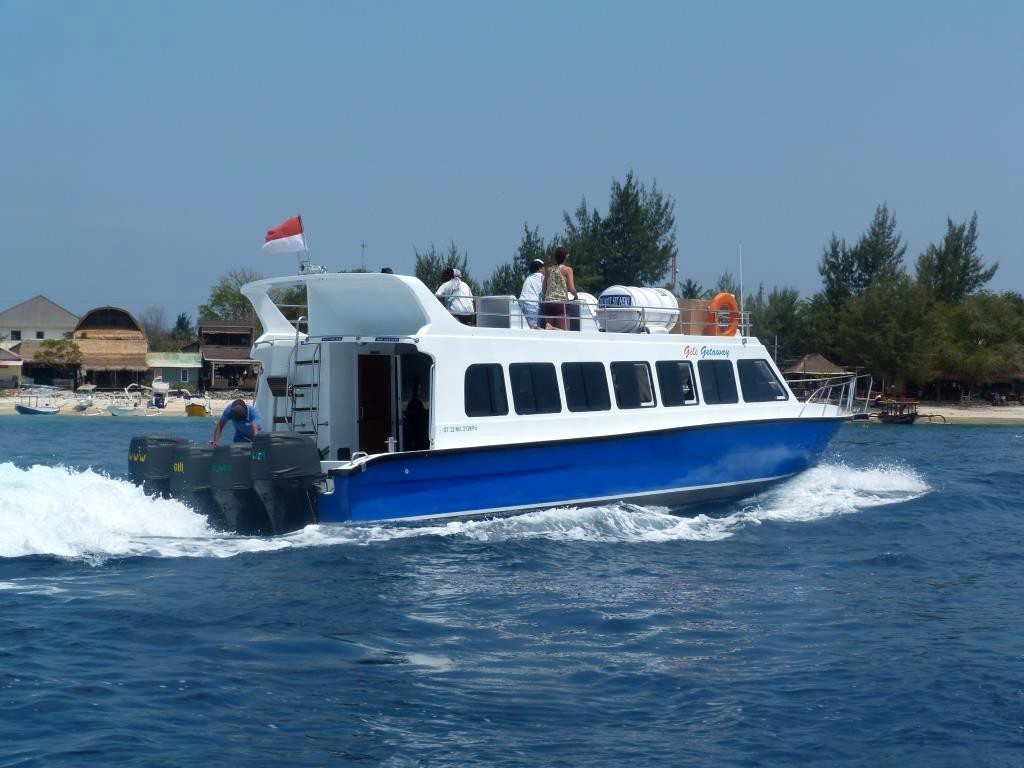 From South Bali
South Bali (Denpasar region) includes popular areas such as Kuta, Seminyak, Sanur, Jimbaran, Uluwatu and Canggu. The main southern departure harbour for fast boat services to the Gili islands and Lombok is Serangan harbour. If you are staying in south Bali, you can also consider using Padang Bai departures as explained below. Nearby Sanur harbour mainly serves Bali to Lembongan and Nusa Penida.
Best services from Serangan to Gili:
Gili Getaway
Blue Water Express
Note: Both companies also operate to north Lombok (Bangsal harbour) and to Nusa Penida. Gili Getaway additionally operates to Gili Gede (south Lombok).
Padang Bai to Gili
Padang Bai harbour is the busiest departure port for fast boat services from Bali to the Gili islands and Lombok. This is most suited to people coming from Ubud to Gili and eastern Bali areas of Candidasa and Padang Bai itself.
The Jetty at Padang Bai can get very hectic, so booking with one of the more reputable services is advised due to the extra care they take with well organised, safe and punctual boarding and departure procedures.
Best services from Padang Bai to Gili and Lombok:
Blue Water Express
Gili Gili Fast boat
Amed to Gili
NOTE: Amed port is closed at the moment for undergoing construction
If you are staying in northern areas of Bali and are looking for the best way to get to the Gili islands, the rural town of Amed in northeast Bali is recommended. Not only suitable for those staying in Amed and Tulamben areas, but also for areas further west such as Lovina.
The best rated fast boat from Amed to Gili is Freebird Express.
Please do note - Amed is not suitable if you are staying in south Bali or coming from/going to Denpasar airport.
The distance by road from Bali airport to Amed can take up to 4 hours depending on traffic, and typically costs in excess of 600,000IDR.
Best Gili Island
Each island offers something slightly different, so whether you want to relax on a beach , snorkel in crystal clear water, dive with turtles and manta rays, or just enjoy a cocktail while watching the sun go down over the Bali volcano, there is something for everyone. Check out our Gili Islands Travel tips for more on which Gili island is the best for you.
Gili Trawangan ("Gili T") is the best island for people who are looking for loads to do, a vibrant nightlife, countless dive shops and plenty of great places to eat. It is the most popular and developed of the 3 islands.
Gili Air is a more chilled island where you can find a great balance of activities, restaurants, some bars, great diving and peace and quiet.
Gili Meno is the least developed and therefore best island for people who want to escape other tourists and would like no nightlife or busy main strip around. The Honeymooners choice.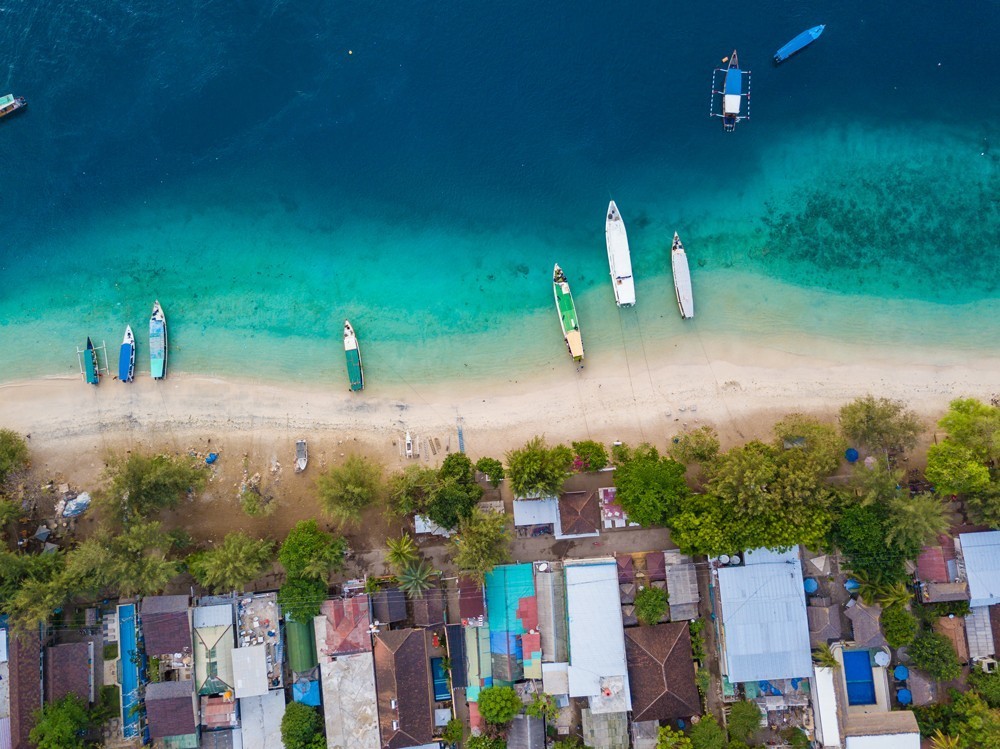 Boat to Gili
Our Fast Boat Partners, Blue Water Express, Gili Getaway, Freebird Express, Scoot Cruise, and Gili Gili Fast Boat are the leading speed boat operators in the region. Their main routes are from Bali to Gili Trawangan, and all routes from Bali to Gili Trawangan stop in Lombok and Gili Air. For Gili Meno you will need to go to Gili T or Gili Air and then transfer locally to Meno. Check our sister site www.gili-islandtransfers.com for inter island transfers. If you are looking for the best cheap tickets, use our sister site Gilitickets.com. Freebird Express depart from Amed in North Bali and stop in Gili T, Gili Air and Bangsal Harbour (Lombok). When it comes to experience, safety, reliability, organization and customer service, our fast boat partners are the market leaders. To check availability for fast boats to Gili Trawangan and to book your fast boat tickets just fill in the required search criteria in the box above.

We have first hand experience of our fast boat partners and over the past few years have seen a proven service record. The importance of this cannot be understated as there are many rogue operators between Bali, Lembongan, Lombok & The Gili Islands. Safety and service is compromised far too often with some boats being dangerously overloaded, and missing even the most basic safety equipment. Our fast boat partners all maintain a high level of safety and service, and have safety equipment on board that includes, life jackets for adults and children, life rafts, EPIRB, life ring, lights, GPS and VHF ship to shore radio.
Fast boat to Gili
Blue Water Express leaves from Serangan and Padang Bai.
In High season, they have 2 departures from Serangan to Gili Trawangan and Gili Air. One of the departure will stop in Penida before continuing to the Gilis. They also have a departure from Padang Bai to Gili Trawangan and Gili Air.
In Low season, they have 2 departures from Serangan to Gili Trawangan and Gili Air. One will stop in Penida and the other will stop in Padang Bai before continuing to the Gilis.They also have 2 departures from Padang Bai to Gili Trawangan and Gili Air.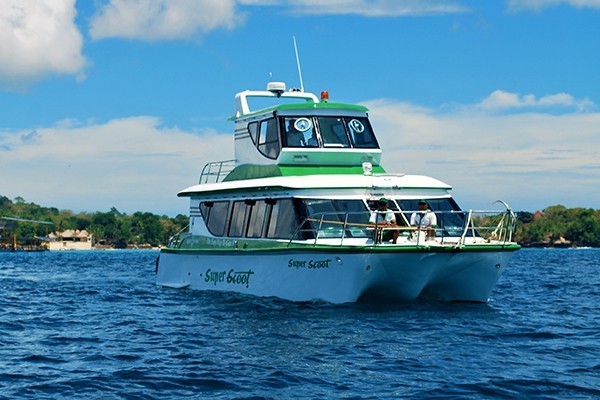 Scoot Cruises offer daily departures from Sanur to Gili trawangan.
Note: The boat will stop in Nusa Lembongan, Lombok (Bangsal) and Gili Air to pick up and drop off passengers before continuing to Gili Trawangan.
Island Hopping: When you buy a ticket for Scoot between Bali and Lombok or the Gili Islands you have the option to hop off on Nusa Lembongan en-route. Once you have booked, just send Scoot an email (contact info printed on your ticket) with the details of your Lembongan island hopping request. They will then arrange and confirm with you accordingly.
You can purchase tickets for all these routes using the search box above.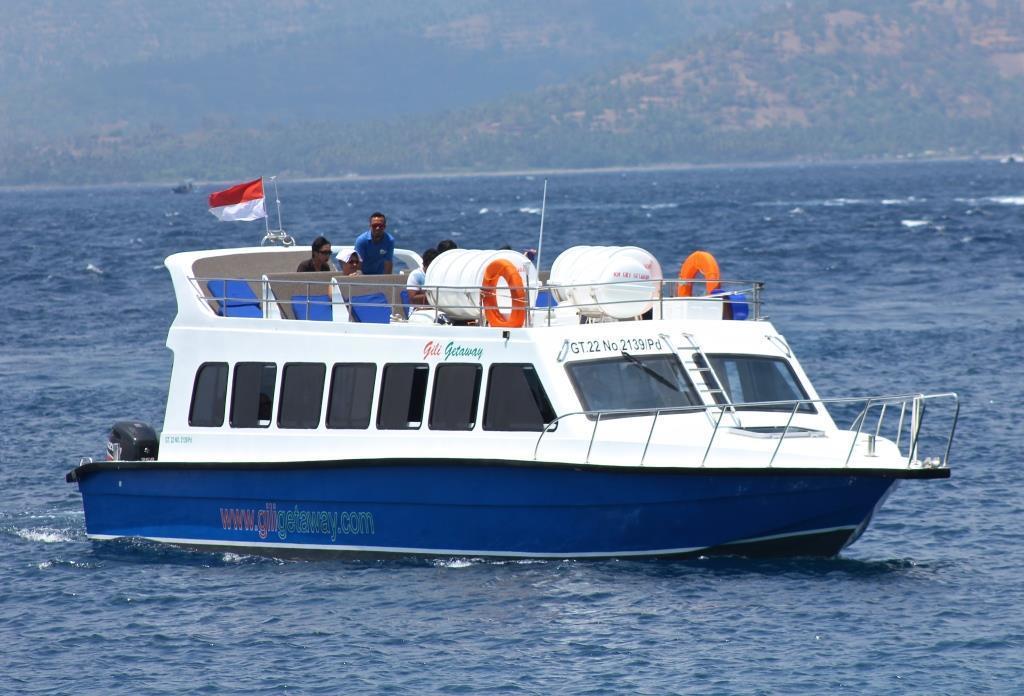 Gili Getaway leave from Serangan harbour, Bali. This is one of the fastest crossings from Serangan to Gili Trawangan with their specially designed boats and experienced, well trained crews. Their newest boat 'Getaway V' is just as fast and as comfortable as Getaway III.
The trip from Bali to Lombok and the Gilis is still one of the fastest crossings from Serangan to the Gilis. Speed boat transfers to Gili Meno can be arranged upon arrival in Gili Trawangan or pre-booked online.
NEW: Gili Getaway are now going from Bali to Gili Gede. This route only operates a few days a week, so make sure you plan your trip accordingly otherwise you could have a very long journey back to Bali. Trips from the Gili Islands to Gili Gede can be booked through our sister site gili-islandtransfers.com.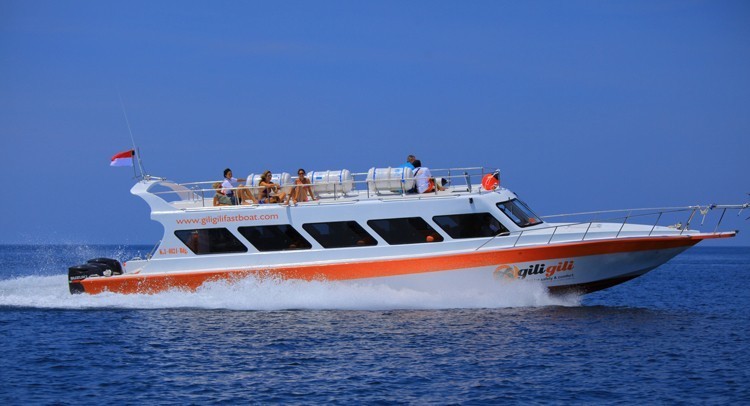 Freebird Express offer the shortest possible sea crossing as they depart from Amed on the north eastern coastline of Bali. Anyone staying in Tulamben or Amed region would be advised to use them for the crossing from Bali to Lombok and the Gili Islands.

Note: Amed port is closed at the moment for undergoing construction
Gili Gili Fast Boat started operating in 2010. They depart daily from Padang Bai to the Gilis. They offer very good value tickets and will drop you at Gili Air as well as going to Gili Trawangan.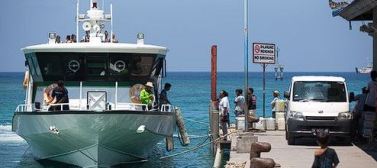 Bali Hotel transfers
Hotel transfers (shuttle and/or private) are available on Bali.
You can add your hotel transfer (pick up/drop off) while booking on our website. If you do not know yet where you will be staying, you can organize the pick/up drop off later by contacting us.
Since we launched in 2011, Gilibookings has proudly provided over 500,000 fast boat tickets to travellers between Bali, Lombok, Lembongan, Penida, Gili Gede and the Gili Islands. We are by far the most trusted online service in the region and were the first website offering online bookings for fast boats from Bali to the Gilis.
TIP: If you´re having difficulty finding a return ticket from Bali to Gili for the dates you need you may need to travel from Bali to Gili with one fast boat company but travel back from Gili to Bali with another. This is particularly useful for last minute bookings when there is limited availability on a lot of the fast boats, or when you want to depart from one location in Bali but return to another. If you cannot find availablity on our website then this means that the boats are full. In this situation we suggest you check for availability with other fast boats on www.gilitickets.com who offer cheaper tickets without the additional service or discounts that we offer.
DISCOUNTS: Our Discount vouchers will save you €€€ on a variety of activities as well as in bars and restaurants throughout the whole region. We are always running a SPECIAL OFFERS on tickets with one of our fast boat partners from Bali to Gili trawangan , Bali to Lombok and Bali to Lembongan just search using the box above to find the cheapest tickets for the best services.