Gili Gili from Padang Bai to the Gilis
The Gili Gili 3 is their newest boat with a cruising speed up to 35 knots, making it one of the fastest and most comfortable rides from Padang Bai to the Gili Islands and Lombok.
The fast boat trip from Padang Bai to the Gilis takes approximately 1 hour 30 minutes. The boat will stop in Gili Trawangan first before dropping passengers to Gili Air and Bangsal Harbour in Lombok.
Hotel transfers to and from Padang Bai are available and can be added to your booking during the booking process.
Gili Gili Fast Boat Schedule from Padang Bai to the Gillis
Departure
point Bali:

Distance
to Kuta:

Departing
at:
Stopping
at:

Arrival
Time:

Departing
at:

Stopping
at:

Arrival
Time:

Baggage
limits:
Approx
Ticket Price
Padang Bai
90 mins
08:30

Gili T
Gili Air
Lombok (Bangsal)

10:00
10:35
10:50
10:30
10:45
11:00
Bali
(Padang Bai)
12:30
25kg per
person
€53.50
€107 rtn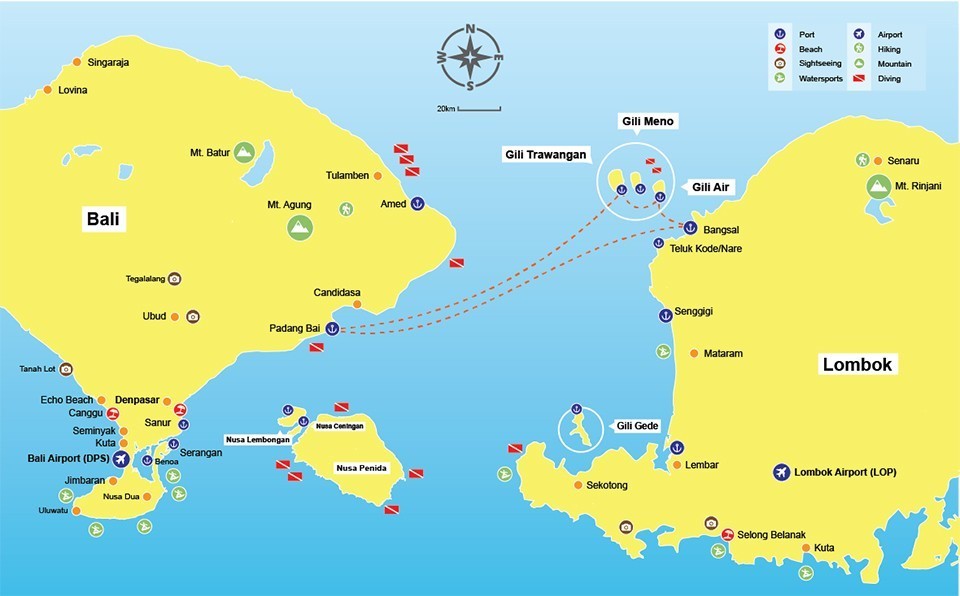 The boat will only stop on each island to drop off and pick up passengers before continuing to the next destination.
Padang Bai lies on the south eastern shore of Bali, closer to central Bali locations such as Ubud. The travel time by sea from Padang Bai to the Gilis is somewhat shorter than departing from Sanur fo Serangan, approximately 1 1/2 hours. Gili Gili fast boat company offer air conditioned shared pick-up and return transfers to your hotel or villa in Bali from most popular tourist areas such as Kuta, Legian, Seminyak, Central Canggu, Sanur, Nusa Dua, Tanjung Benoa, Jimbaran and Padang Bai. The cost of the transfer is EURO 8 per person and you can add this during the booking process . Pick up time will be at approx 2 hours before departure time, but the exact time depends on your pick up location and will be confirmed by email just after you have booked.
Outside these areas extra charges apply, private transfers are also available. The full list of charges can be seen during the booking process. If you do not know yet where you will be staying, you can organize the pick/up drop off later by contacting us.
Complimentary cake, mineral water and face towel are available on board.
Each passenger can take two pieces of luggage on the boat, if you require more please contact us in advance.
Covid requirements:
A vaccination certificate is necessary to travel. Follow the latest news here.



SPECIFICATIONS
Craft Name:
GiliGili 3
Passengers:
78
Main Engines:
Suzuki engine 5 x 250HP
Service Speed:
25-35 knots
Crew:
fully accredited captain, and english speaking crew
SAFETY EQUIPMENT
Life Rafts:
78 life rafts, with hydrostatic release and manual release; these automatically inflate if the boat sinks, or can be operated manually
Life Jackets:
SOLAS standard life jackets for all passengers and crew
EPIRB:
Electronic Position Indicating Radio Beacon. When immersed in water the EPIRB automatically sends an SOS signal via satellite to the authorities, informing name of vessel and precise location. Continues to send signal for up to three days
Life Ring:
4 throw rings
Distress light:
full set of distress flares
GPS:
Yes
Communications:
Marine VHF ship to shore radio
First Aid:
Yes
Toilet:
Electric flushing Toilet
Sun-Deck:
Spacious sundeck on roof
TV:
LCD TV
Music:
Yes
Air Conditioner:
Yes
Gili Gili cancellation & amendment policy
For cancellations made more than 2 weeks prior to travel, you will receive a full refund minus any charges applied to make the refund (see the general Terms and Conditions for cancellation charges). Cancellations less than 2 weeks but more than 48 hours from departure are only subject to a 50% refund minus any charges applied to make the refund (see the general Terms and Conditions for cancellation charges). Cancellations less than 48 hours prior to departure are non-refundable.
In cases of unexpected illness etc., exceptions can be considered if doctor's notes/other proof can be provided. Contact Gili Gili using their details found on your e-tickets. If you wish to change your travel dates, you can do so for free (subject to availability), up to 48hrs prior to departure. If you need to change your route or boat carrier entirely, please contact us direct for assistance, bearing in mind the above mentioned refund policy.