Lembongan Discounts
Nusa Lembongan is a gorgeous island, geographically and culturally close to Bali, featuring pristine mangroves and some of the best beaches region-wide. Lembongan offers plenty of activities and some good places to eat & drink.
As a Gilibookings.com customer, you are entitled to a number of exclusive discounts offered by our local partners, when you make your fast boat or ferry booking between Bali and Nusa Lembongan, Lombok and the Gili Islands.
Discount vouchers can be selected when you
book a boat
through our site and will get you discounts on several types of food, drinks, activities and attractions.
This can be a discount the bill in a bar or restaurant, discount on a dive trip, discount on the fee paid for tours and activities and great offers on watersports, yoga and spa's services. There is no limit on the amount of discounts you will be able to select, just select the discount box during the booking process.
View the possible discounts and their location by clicking on the map on the right or read about them by clicking on the boxes below: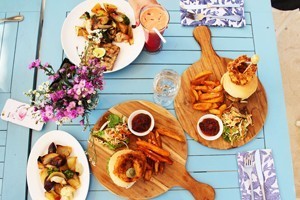 Food in Nusa Lembongan caters to Balinese and western tastes, with some excellent standard restaurants and bars in gorgeous panoramic locations. Cheap local warungs serve mouthwatering Indonesian food for as little as a couple of bucks, while pizzarias, burger houses and fish restaurants offer great mid-range options. On the western reach of the island you'll find some more exclusive beachside establishments to wine & dine your significant other while watching the warm equatorial sunset.
Browse our restaurant and bar offers on Lembongan and simply download the free vouchers at the end of your fast boat booking with us to enjoy the deals.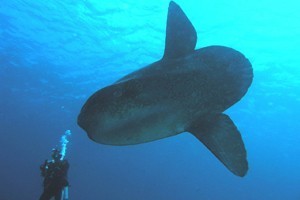 Nusa Lembongan diving boasts some of the best chances in the world to see a very large and rare species: The Sunfish (Mola Mola) - seasonally sighted often, and at other times less common, these ancient survivors are among the largest fish in the ocean, next to whale & basking sharks. Besides these, you'll see a plethora of other marine life as well as some great wreck dives.
Lembongan is part of any serious diving tour of the region and great for beginners too. Check out our special offer dive partners on the island by clicking on "full details" below.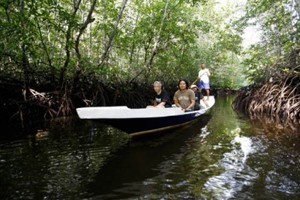 While the allure of the warm seas and white beaches will certainly keep you plenty occupied, there are some great activities to be found on Lembongan for those wanting a bit more vareity. Tour the natural mangrove forest with experienced locals or rent a scooter to explore the island.
Follow us on facebook for updates on more Lembongan activities coming soon!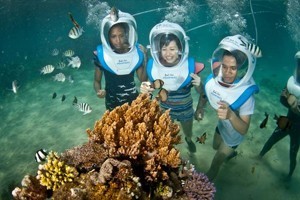 Lembongan might be the best destination in the regio when it comes to watersports. Almost everything is possible, from snorkeling, bananaboating, waterskiing and parasailing to some great surfing right off the beaches. Also available are a couple of floating waterparks, especially fun for larger groups.
Follow Gilibookings.com on facebook to keep up to date on more watersport discounts, like helmet diving, coming soon to Nusa Lembongan!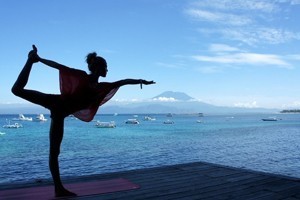 For its small size, Lembongan has a surprising amount on offer when it comes to Yoga retreats, classes and Spas. The Balinese vibe is strong here, and this coupled with the small island feel makes Lembongan a fantastic place to spend time in meditation and deep relaxation.
Explore our special offers with local partners for Yoga and Spa on Nusa Lembongan and enjoy the free discounts available when you book your fast boat through us.
Save over US$100 when booking your fast boat tickets on our website. Just select the discount vouchers during the booking process to enjoy great discounts on your holiday.
Discount vouchers will help you save on a variety of activities throughout the region, potentially saving you back the cost of your tickets!
For a comprehensive travel guide on Nusa Lembongan, take a look at our Lembongan Travel Tips page. If you're looking for the best deals for Lembongan accommodation, we also feature top reccommended Lembongan Hotels, Villas and resorts to suit each budget range, from Budget accommodation, through Mid-Range hotels in Lembongan to Luxury Nusa Lembongan resorts.