Freebird Express Amed to Gili
Freebird Express are the most well reviewed fast boat company operating from Amed in relatively remote northeast Bali. They have the quickest route to the Gili Islands if you are staying in or near Amed. Freebird have quickly gained a great reputation for their reliable services from Amed to the Gili islands and Lombok (Note that it takes approx 3 hours to get from Kuta area to Amed and costs extra for pickup. If you are staying in south Bali please select a different boat carrier.)
To check availability from Amed to the Gili Islands fill in the search box and follow the booking process. With their modern fast boat fleet and well trained crew, Freebird Express offer a swift crossing to your destination. A new boat, the Freebird Express 3, is set to launch in summer 2018!

Amed to Gili
Departing from Amed Beach in the North East of Bali, Freebird have the shortest sea route, however you must be aware that Amed is approx a 3 hour drive from the main tourist areas of Kuta and Seminyak, making this a far more suitable a departure point for anyone planning on staying in the Tulamben or Amed region.

They provide free pick-up and return to your hotel or villa in Bali from Tulamben, Tirtagangga and Amed. If you are staying in North Bali then Amed is the best departure point for heading to the Gili Islands. Pickup charges beyond Amed and Tulamben (max. 4 persons/car):
Lovina at IDR 475,000/car/way
Pemuteran IDR 675,000/car/way
Ubud IDR 550,000/car/way
Candidasa IDR 300,000/car/way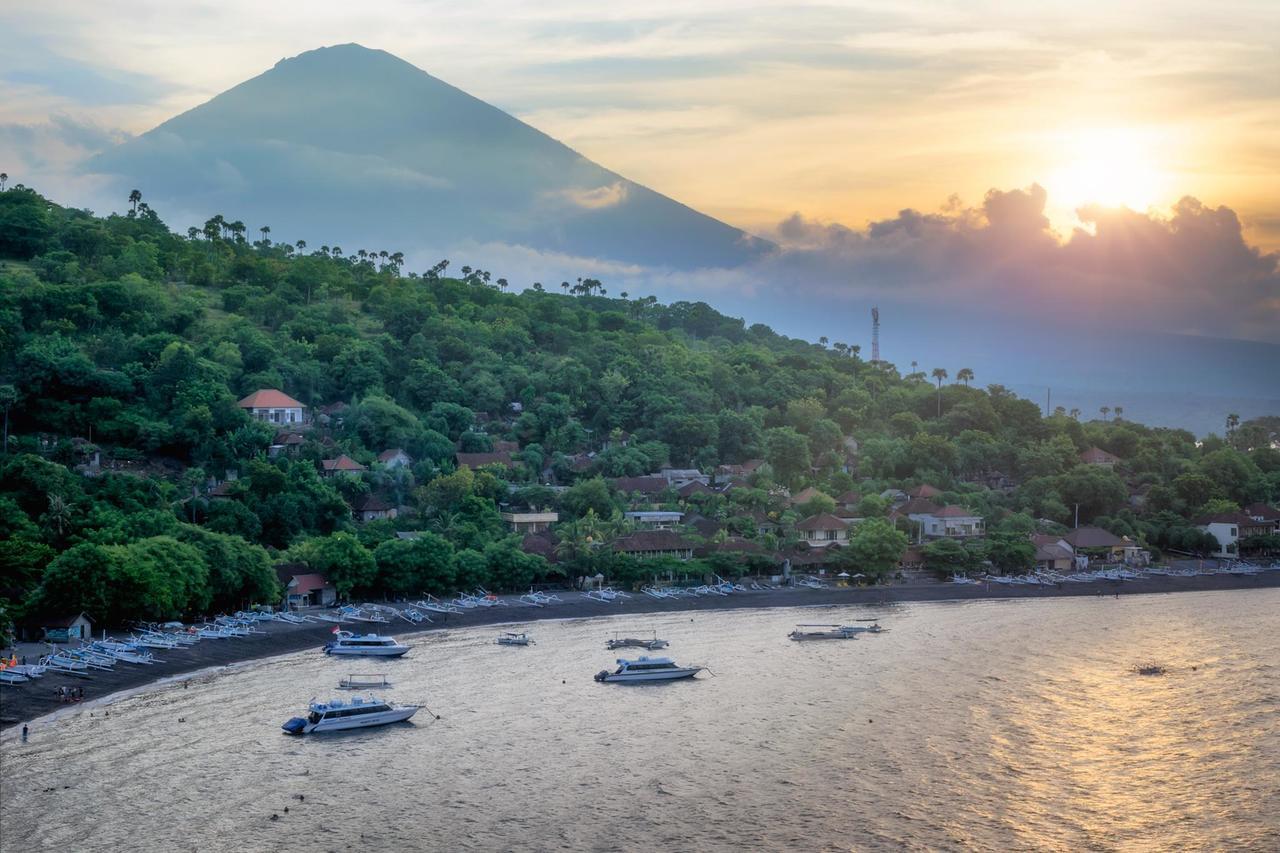 The estimated free pick-up times for departure from Bali to Lombok and Bali to Gili will be between 07.30 - 08.30am, although depending on your location, pick-up times may vary. You will be contacted by Freebird reservations staff to confirm the pick-up time and further details once you have booked (within 24hrs).
Arrival back in Bali will be in the early afternoon plus the transfer by road to your hotel. If you have arranged your own your own transport to the harbour then check-in time is half an hour before the stated departure time.
If you are staying in Lovina or elsewhere along the northern coastline of Bali, avoid the traffic and poorer roads in the centre of the island towards southern harbours and instead opt for the Freebird express departure out of Amed. This will save you overall travel time from Lovina to the Gili Islands and will also be cheaper.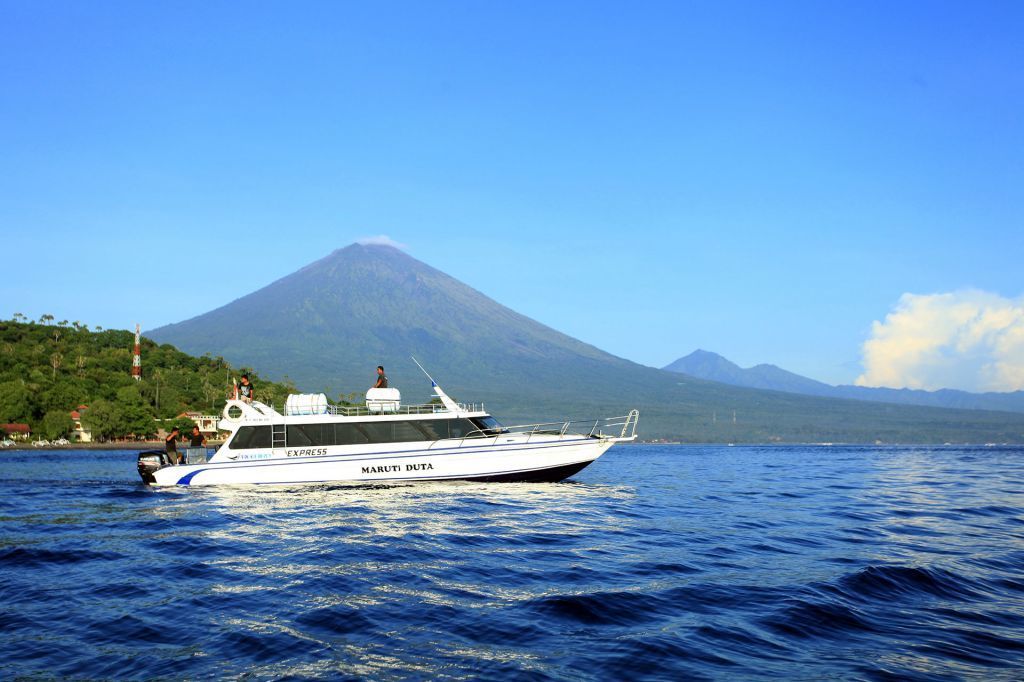 Freebird Express depart from the main beach at Amed, Pantai Jemeluk, a sheltered bay on the north coast of Bali. They have a check in counter right on the beachfront, set back a little from the main village road. Just like all other services departing from Amed (as well as the procedure at gili Trawangan), docking takes place on the beach itself. There is no jetty so prepare to get your feet wet while embarking. Freebird Express staff will freely assit with your baggage, bringing it from the beach to the boat.
While most will opt for the free local pickup service as described above, if you prefer to make your own way the check in area is easy to find. It's opposite Eco-Dive Bali, with a small beach access road and a sign post for Freebird Express that's hard to miss. Check in time is 30mins before the boat leaves. If you fancy some breakfast before setting sail, stroll 100m up the beach to Warung Bali where you can enjoy 10% off as a Gilibookings customer. Make sure you leave plenty of time to be present for your boat departure!

Departure
point Bali:


Distance
to Kuta:


Departing
at:

Stopping
at:


Arrival
Time:


Departing
at:


Stopping
at:


Arrival
Time:


Baggage
limits:

Approx
Ticket Price
Amed (North Bali)
4+ hours
09:30

Gili T
Gili Air
Lombok (Bangsal)

10:30
11:00
11:30
10:45
11:15
11:45

Bali(Amed)

13:15
25kg per
person
US$32
US$64 rtn
View maps of all fast boat routes and compare their schedules here.
Cancellation & Amendment Policy
Freebird Express have the following cancellations and refund policy: All cancellation must be made in writing and must be acknowledge by FreeBird Express. The full ticket price will be charged for any same day cancellations ("No show") and for cancellations made within a week of travel. For cancellations up to a week prior to departure, a full refund is allowed. NOTE: In high season (July - August), this period is doubled to 14 days.
In cases of unexpected illness etc., exceptions can be considered if doctor's notes/other proof can be provided. Contact Freebird Express manager using the details found on your e-tickets. If you wish to change your travel dates, you can do this for free (subject to availability), up to 48hrs in advance. If you need to change your route or boat carrier entirely, simply contact us direct for assistance, bearing the above refund policy in mind.
Note: Charters and large Group bookings (10+) may be subject to different cancellation terms seasonally.
---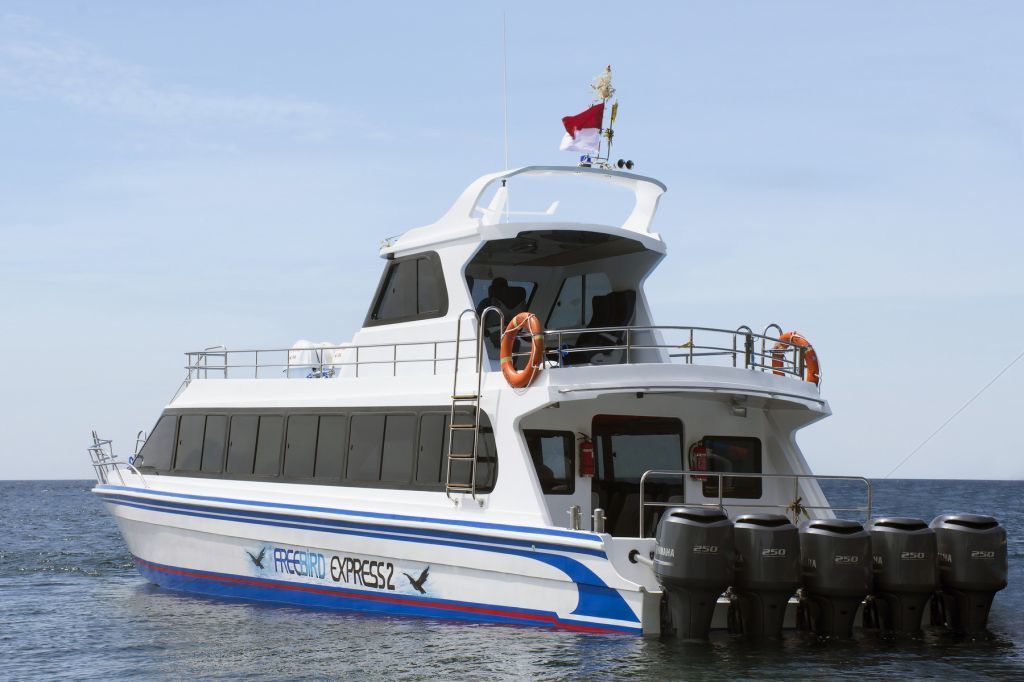 Specifications:
Length 15.81 m
Beam 4 m
Engines: 5 X Yamaha 250hp
Amed to the Gili Islands with Freebird Express Passengers: 70 persons
Crew: 6 crew, fully licensed and certified experienced captain

Facilities:
TV Screen in the cabin
Music onboard
4 X Upper deck seating with the captain
Safety Equipment:
2 life raft
80 life jackets for all passengers and crew
Electronic Position Indicating Radio Beacon. When immersed in water automatically sends an SOS signal to the authorities. Continues for up to three days.
Full set of distress flares in accordance with regulations.
GPS Navigational system.
Marine VHF ship-to-shore radio.
2 throw rings.