Fast Boat to Gili
There are three Gili Islands North of Lombok named Gili Trawangan, Gili Meno and Gili Air. All three islands offer travelers something different and getting a fast boat to Gili is only a short trip away. To see all the fast boat schedules to the Gili's and their departure locations, please have a look at our main
Gili Fast Boat
page, where you will find our recommended fast boats to Gili and their route maps.
Find your fast boat to the Gilis ✓
From all departure locations in Bali ✓
Get your e-tickets immediately ✓
Only reputable boat companies ✓
Best prices available ✓
Where to catch a Fast Boat to the Gili islands
Serangan harbour is a recommended departure point if you're staying in South Bali hotels or coming from Denpasar Airport. The travel time from Serangan Harbor to the Gili Islands is 2 - 2,5 hours by fast boat depending on the route and sea conditions. Padang Bai harbour is recommended for people staying in Ubud or Candidasa and takes around 1,5 hours to the Gili Islands. If you're staying in North Bali (Amed/Tulamben) we recommend a boat from Amed Beach which will get you to the Gili Islands in 1 hour.
If you plan to do an
island hopping
trip from Bali to the Gili Islands there are a number of options depending on the route you'd like to take or the islands you want to visit.
Which fast boat companies go to the Gili's?

Serangan/Sanur speed boat to Gili
Gili Getaway and Blue Water Express, by far the region's most reputable fast boat companies, run daily from Serangan Harbour to the Gili's. Both companies stop at Nusa Lembongan en-route to the Gili's. It is possible to island hop and spend a night or two on Penida or Lembongan before continuing your journey.
Alternatively, Scoot Cruises runs a daily service from Sanur to Gili Trawangan. They stop in Lembongan, Lombok Senggigi and the Gili Islands. Note that the route is long (totalling up to 4hrs end to end) and is therefore best suited to those wishing to stop off for at least one night in Lembongan.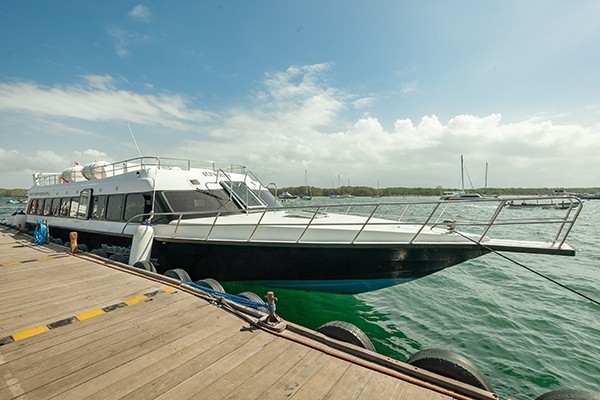 Padang Bai fast boat to Gili
Blue Water Express and Gili Gili fast boat offer a fast boat service between Padang Bai and the Gili Islands. Gili Gili fast boat departs from Padang Bai early in the morning while Blue Water Express departs slightly later in the day giving you a choice of departure times. Note that Gili Gili offers complementary hotel transfers from South Bali hotels in areas such as Kuta, Seminyak, Sanur, Jimbaran, etc. Whereas the Blue Water Express departure from Padang Bai will only include transfers in Central Ubud, Candidasa and Padang Bai.
Amed fast boat to Gili
Freebird Express offers a daily service between Amed and the Gili Islands. Their boat departs from Amed beach at 9:30 AM. A free transfer service is available from the most popular areas in Amed, Tulamben and Tirtagangga.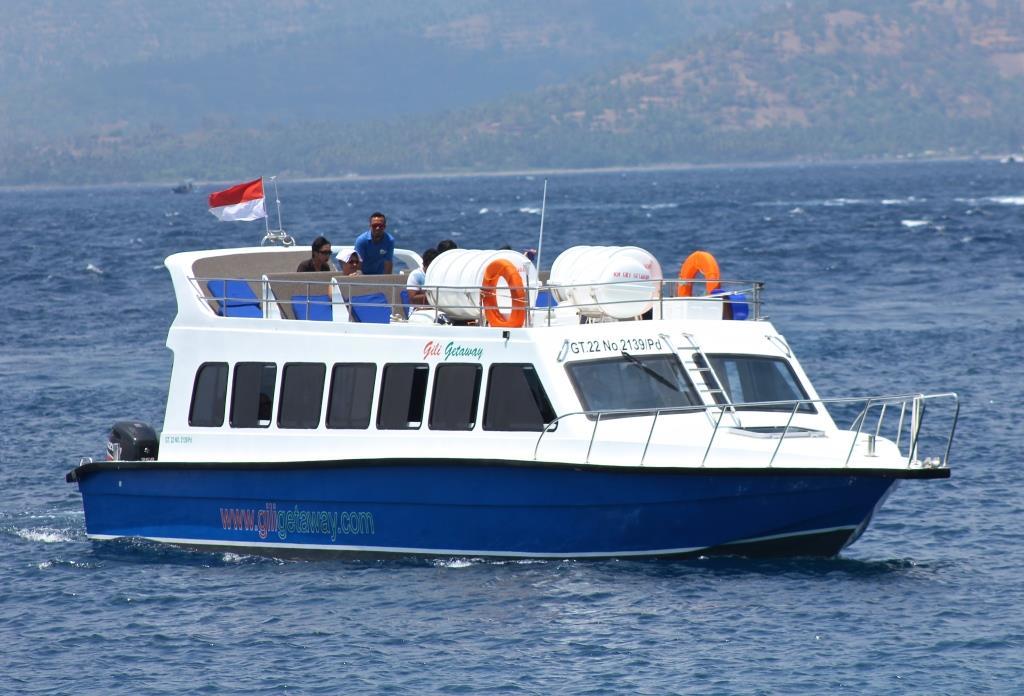 Fast boat to Gili via Nusa Lembongan
Blue Water Express and Scoot offer an island hopping ticket from Bali to the Gili Islands via Nusa Lembongan. Scoot also offers a stop over on Penida as an island hopping option.
You can stay on Nusa Lembongan (or Penida) as many days as you like before going to the Gili islands. Blue Water Express fast boat to Gili via Lembongan departs daily from Serangan harbor at 8 AM.
Please note: The point of the island hopping ticket is to spend at least one night in Nusa Lembongan (or Penida) before continuing your journey to the Gili Islands.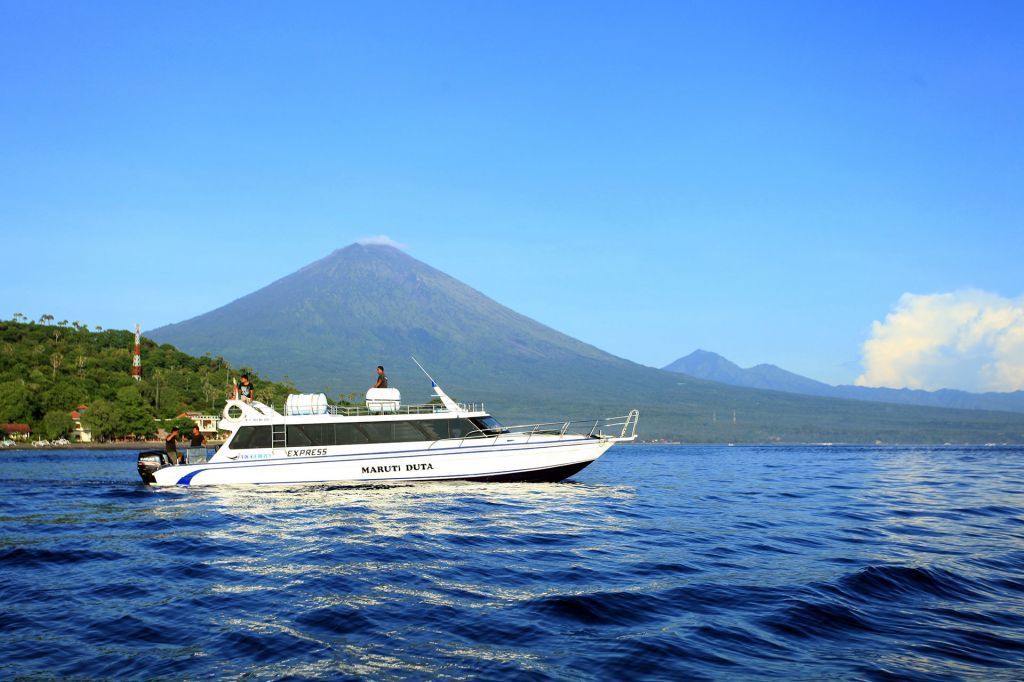 Things to remember when taking a fast boat to Gili

1. Fast boats arrive on the beach
Most of the fast boats arrive on the beach on Gili Trawangan so please be aware that you're likely to get your feet wet on arrival! This sometimes also happens on Gili Air, even though they do have a jetty. Wearing slippers or sandals, or taking your shoes off for disembarkation is advised.
2. How to get to Gili Meno
Scoot Cruise offer tickets to Gili Meno through our website. There is also a fast boat service from Bali to Gili Meno that can be booked through Gilitickets.com, our sister site. Otherwise, when you arrive on Gili Trawangan or Gili Air it's easy to just transfer to Meno. There are plenty of cheap local boats available in the harbours, or you can prebook a private speed boat through Gili-islandtransfers.com.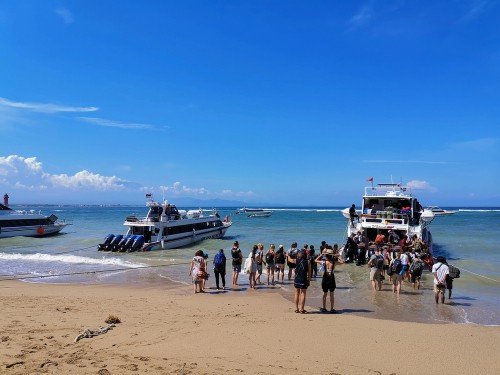 3. Choose a safe & reliable fast boat to Gili
Gilibookings.com only works with quality fast boat companies that have a proven track record in the region spanning many years, a good reputation and online ratings, who fully adhere to international safety and maintainance regulations. The ticket prices might not be the cheapest available, but you get what you pay for: Safety, a high standard of service, well trained staff and crew, experienced captain and on board comfort. If you are looking for cheaper tickets, we also operate a best of budget sister site www.gilitickets.com, featuring a selection of the better cheap fast boat services in the region.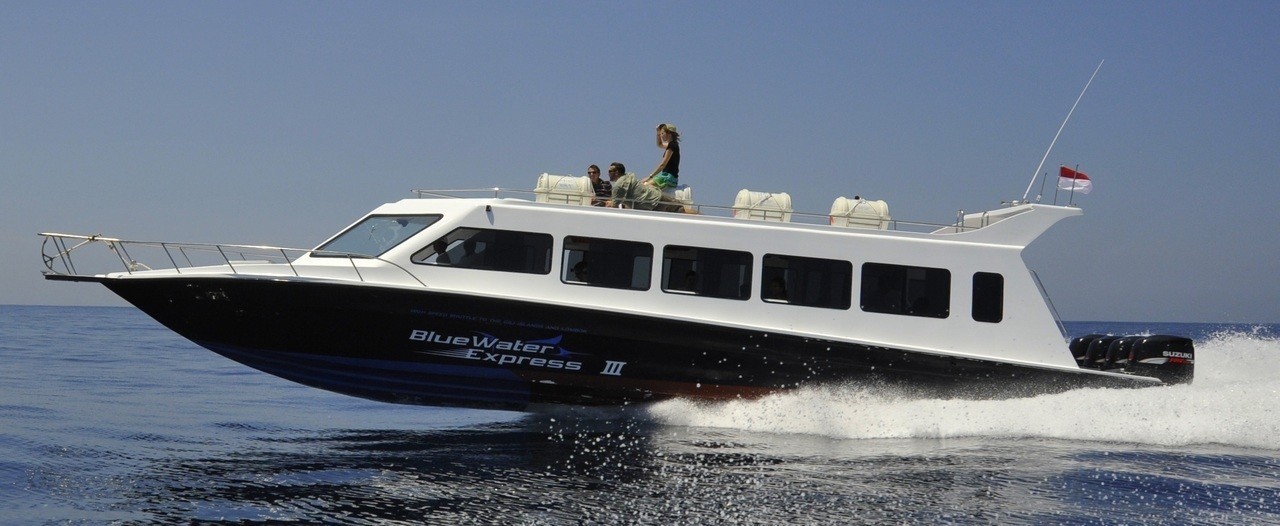 In the last few years the amount of boat carriers operating the routes from Bali to the Gili Islands has grown exponentially. However, be aware that many of them do no operate to proper safety and service standards. There is a big difference in boat design, maintenance and crew training between the different companies.
Booking our featured and reputable fast boat operators takes away the uncertainty and ensures you will travel in safety and comfort. We have 20 years experience in the region and have helped more than quarter of a million happy customers reach the Gili islands since becoming the first online fast boat ticket service for the Gili's back in 2013.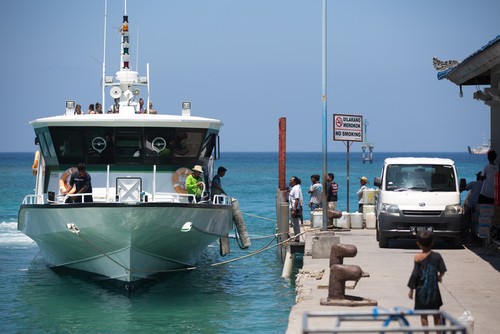 4. Beware of ticketing scams
Scams from local agents and some websites make you think you're booking a seat on one of the reputable boats, but when you arrive at the harbour end up being put on one of the less reliable ones. The usual excuse is then made that the boat company the customers thought they were going to travel with was full or had a technical problem. This scam occurs with local agents as well as with some other online ticketing websites. If you are just looking for cheap reliable tickets, head over to our sister site www.Gilitickets.com for our best of budget carriers.

Please note that Gilibookings and her sister site are the only online booking portal that work directly with the boat companies who themselves maintain the live seat availability. Therefore the boat company you book on our sites is guaranteed to be the boat carrier that you will travel with.