Fast boat to Gili Trawangan
Departure is from Serangan harbour in South West Bali which is about 25 minutes from Kuta. Gili Getaway are one of the most professional operators, running on time, offering a high level of customer service, fully equipped safety equipment, comfort and entertainment during the trip. This fast boat to Gili Trawangan, Gili Air and Lombok (Bangsal) will briefly stop at Nusa Lembongan to drop off and pick up passengers.
Check live seat availability, book online and receive e-tickets for fast boat tickets on the left of this page. Gili Getaway provide free airconditioned pick-up and return to your hotel or villa in Bali from Kerobokan, Seminyak, Umulas, Legian, Kuta, Tuban, Jimbaran, Nusa Dua, Denpasar, Sanur, Tanjung Benoa, Serangan and direct to the Airport. Also parts of Canggu (Savage Kitchen pick-up point).
Outside the free zone, the extra charges are as follows (prices per car, max 4pax/car):
Tanah Lot - EUR18,00
Candidasa - EUR40,00
Echo Beach, Batu Balong, Ungasan, Padang Padang, Kutuh, Bukit, Sukawati Gianyar, Pantai Lebih Gianyar, Keramas Beach Gianyar,
Sawangan, Pecatu, Belangan, Uluwatu, Dreamland - EUR16,50
Gatsu, Dalung- EUR11,00
Seseh Canggu - EUR18,00
Padang Bai - EUR33.00
Sidemen Karangasem, Kerambitan Tabanan - EUR43,75
Bedugul, Selemadeg Tabanan - EUR50,50
Mede/Nagara, Tulamben Karangasem - EUR72,50
Amed, Lovina, Seririt, Bon Dalem, Singaraja - EUR64,50
Pemuteran - EUR87,00
Balian Beach, Munduk Singaraja - EUR58,00
Jati Luwih - EUR47,35
Pantai Purnama Gianyar - 12,75
Ubud area:
Ubud Central, Tanah Lot - EUR20,00
Puri Gangga, Padam resort, Bagus Jati, Pondok Sebuta - EUR29,00
Puri Sabatu - EUR33,00
Hanging Garden Ubud - EUR 25,50
Keliki, Tegallalang, Bangkiang, Sidem, Pejeng, Payangan, Melinggih Village - EUR23,50
Pejeng, Tampaksiring- EUR21,00
Sidemen- EUR22,00
Payangan, Padma Ubud, Hanging Garden- EUR27,00
You can add your pick up/drop off while booking on our website. If you do not know yet where you will be staying, you can organize the pick/up drop off later by contacting us.
The estimated pick-up times for departure of the fast boat from Bali to Gili Trawangan will be between 07.00 - 07.30am, although depending on your location, pick-up times may vary. You will be contacted by email within 24 hours of making a booking to confirm the exact pickup time. Arrival back in Bali will be at around 15:00 plus the transfer by road to your hotel. If you´re arranging your own transport to the harbour then checkin time is half an hour before departure time.
Fast Boat Schedule from Bali to Gili

-
Departure
point Bali:

Pickup distance
from Kuta area:

Departing
at:
Stopping
at:

Arrival
Time:

Departing
at:

Stopping
at:

Arrival
Time:

Baggage
limits:
Approx
Ticket Price

Serangan Harbour
(Gili Getaway V)

30 mins
09:00


Nusa Lembongan
Nusa Penida
Gili Trawangan
Gili Air
Lombok (Bangsal)



09:30
09:50
11:30
12:00
12:15

09:40
10:00
11:45
12:00
12:15
Penida
Lembongan
Serangan
13:45
14:05
14:45
25kg
per person
€43.50
€87 rtn
Bali to Gili

Serangan Harbour
(Gili Getaway II)

30 mins
10.30

Nusa Lembongan
Nusa Penida
Gili Gede

11:00
11:30
12:30
11.10
11:30
12:45
Penida
Lembongan
Serangan
13:45
14:05
15:15
25kg
per person


€43.50
€87 rtn
Bali to Gede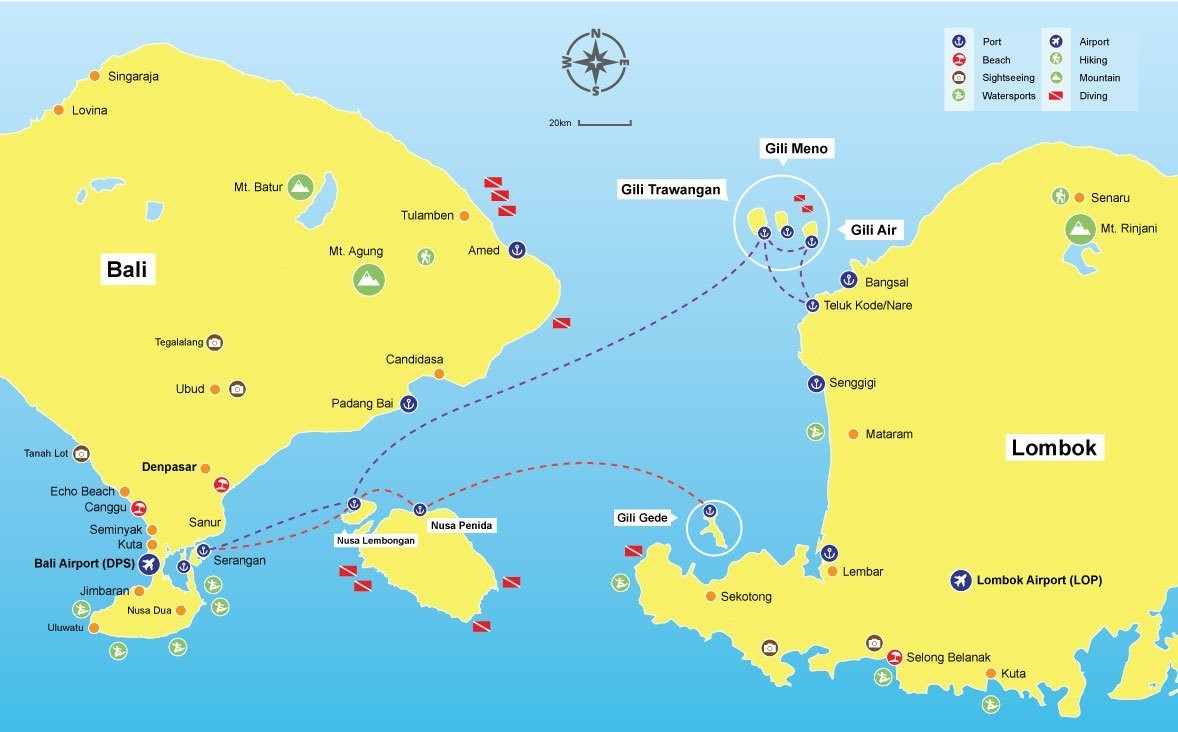 Note
: For passengers wishing to go to Gili Meno, disembark in Gili Trawangan and then transfer to Gili Meno on a smaller boat. This will take approx 10 minutes and the cost of the boat is roughly 250,000rps. This can easily be arranged on arrival in Gili Trawangan at the harbour for immediate departure. Your e-tickets contain the contact information of the the fast boat you have booked and you will receive a reconfirmation email prior to travel.
Getaway V is a custom built vessel equipped with four 250hp Suzuki outboard motors, ergonomic seats for high speed comfort, on board entertainment and international standard safety equipment all combining to offer a high speed, comfortable and safe trip direct to and from Bali to Gili Trawangan and Lombok.
SPECIFICATIONS
Craft Name:
Gili Getaway 5
Crew:
5 crew, fully licensed and certified experienced captains
Passengers:
40
Main Engines:
Four 250hp, 4 stroke Suzuki outboard motors.
Top Speed:
34 knots
Average Cruising Speed:
28 knots
SAFETY EQUIPMENT AND FACILITIES
Designed and built:
to International Standards
Life saving capacity:
125% of licensed passengers numbers

Compliance:

exceeds Indonesia Standards
Life Jackets:
life jackets for both kids and adults.
Complimentary Water:
Yes
Insurance:

full insurance coverage.

Toilet:
Yes
Sun Deck:
Yes
Seats:
ergonomic seats for high speed comfort

Gili Getaway cancellation & amendment policy
The full ticket price will be charged for any cancellation less than 24 hours prior to boat departure. From 2 to 7 days, you will receive a 50% refund minus any charges applied to make the refund (see the general Terms and Conditions for cancellation charges). Outside 7 Days, you will receive a full refund minus any charges applied to make the refund (see the general Terms and Conditions for cancellation charges).
In cases of unexpected illness etc., exceptions can be considered if doctor's notes/other proof can be provided. Contact Gili Getaway using their details found on your e-tickets. If you wish to change your travel dates with Gili Getaway, you can do so for free (subject to availability), up to 48hrs prior to departure. If you need to change your route or boat carrier entirely, please contact us direct for assistance, bearing in mind the above mentioned refund policy.
Baggage allowance: Passengers are allowed 25kg per person. Extra baggage (subject to availability) is IDR10,000 per kilo (under €1 per kg), payable on the day.
Immediate online bookings and e-tickets with Gili Getaway fast boats between Bali and Gili Trawangan, only available on Gilibookings.com.