Gili Meno Exclusive Offers
Gili Meno is a tiny and quiet island between GIli T and Air. Featuring the nicest beaches on the Gili Islands as well as the most laid back vibe. Gili Meno also hosts a few good restaurants, hotels & bars and, like the other gili islands, has no motorized land traffic whatsoever. Gili Meno offers some nice activities and is great for diving. Discount vouchers can be selected for all fast boat destinations which means you should definitely check out the offers on the Gili Trawangan and Gili Air pages if you want tot island hopping the Gilis.
As a Gilibookings.com customer, you gain access to a number of exclusive discounts offered by our local partners when you make your fast boat booking between Bali and the Gili Islands.
This can be a discount on your restaurant or bar bill, discount on a diving course or trip, or a great offers on watersports. There is no limit on the amount of discounts you will be able to select, just select the discount box during the booking process.
View the possible discounts and their location by clicking on the map on the right or read about them by clicking on the boxes below: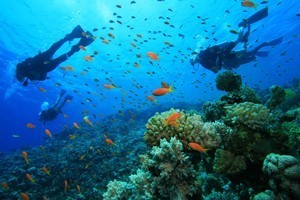 Gili Meno is surrounded by warm tropical waters and has over 25 spectacular dive sites nearby. You're almost guaranteed a Turtle sighting and will also see plenty of other vibrant marine life among the coral such as scorpionfish and parrotfish.
Follow us on facebook for the latest on Gili Meno Diving and check out our exeptional partners on the island: Divine Divers!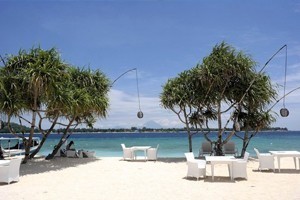 Gili Meno, though much quieter than the other two islands, does offer a couple of great restaurants and bars in beachfront locations. Local warungs serve Indonesian food for as little as a couple of bucks, while cafés and fresh fish offer good mid-range options.
There are also some nice bars overlooking the channel between GIli T and Meno, where the sunset can be enjoyed. Follow us on facebook for updates on Gili Meno Bar discounts coming very soon!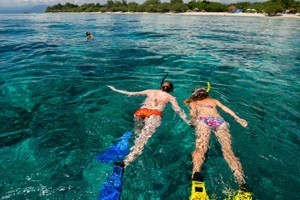 Gili Meno offers some great water based activities besides diving, from superb snorkelling among the coral and shallow rockpools that surround the island, to fishing exursions right off the beach.
Follow us on facebook for updates on Gili Meno Watersports in conjunction with your fast boat tickets!
For a comprehensive travel guide on Gili Meno, take a look at our Gili Meno Travel Tips page. If you're looking for the best deals for Meno accommodation, we also feature top reccommended Gili Meno Hotels, Villas and resorts to suit each budget range, from Budget accommodation, through Mid-Range hotels in Gili Meno to Luxury Gili Meno resorts.