Gili Meno Accommodation
Gili Meno is the most underdeveloped and quiet Gili island and offers a small but lovely selection of hotels in the Gilis. Due to its calm and unadultarated nature, you will find the level of luxury development somewhat more basic when compared to Gili Trawangan and Gili Air, with only a select few exceptions. Prices usually reflect the level of quality offered. We have done our best to feature Gili Meno accommodation with the very best facilities and levels of service, with a hotel in Gili Meno to suit all budgets.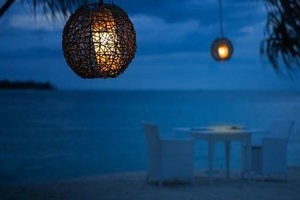 Due to Gili Meno being the least developed and most serene of the three Gili Islands, there are very few high end luxury resorts available. A small selection stands out to us and we have featured three of the best for you to browse. View the dazzling west coast beach front resort of Mahamaya or check out the more modest (though still luxury by Meno standards) private bungalow hideways set in a tropical garden close to the eastern shore, or on the beach at the southerly tip of the island where coral abounds. Prices range from approx US$ 60-150 per night.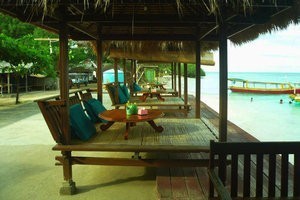 Gili Meno has relatively few noteworthy mid-range accommodation options, when compared to the other Gili Islands. We have smade a small selection of the best from a variety of different locations across the island. Comfortable and well finished AC rooms with western facilites, many with a shared swimming pool and restaurant. Prices range from US$30-60 per night.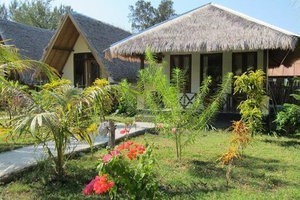 Gili Meno is a popular backpacker destination and offers good accommodation at very cheap rates. It has retained the secluded charm that Gili Trawangan and Air used to have 15 years ago, thus budget accommodation abounds. We have selected some of the best options at a variety of locations across the island. Price range is frm US$20-30.
We've teamed-up with a the world's leading online hotel provides - Agoda.com and Booking.com in order to bring you the very best Gili Meno accommodation. To see our selection of Gili Meno hotels, just select a price range of preference and click "View Hotels". You'll be presented with our selection of the best hotels and resorts in Gili Meno, all of which come with a "Best Price Guarantee". For anyone looking for a livelier destination, with more diverse accommodation options, have a look at what Gili Air has to offer. And if you want to party, then Gili Trawanagan is the place to be!