Gili Meno Mid-range Hotels
Gili Meno is the most underdeveloped and tranquill of the Gilis and offers a relatively small range of accommodation in the Gili Islands. Due to its calm and unadultarated nature, you will find the level of development somewhat more basic when compared to Gili Air and Gili Trawangan. This makes it more suited to budget and mid-range travellers. Here we have compiled a list of mid-range Gili Meno accommodation that feature good facilities and levels of service on Gili Meno for you to browse. Prices for a mid-range Gili Meno hotel range from US$ 30 - 60 per night. View other Hotels, Locations and Price Ranges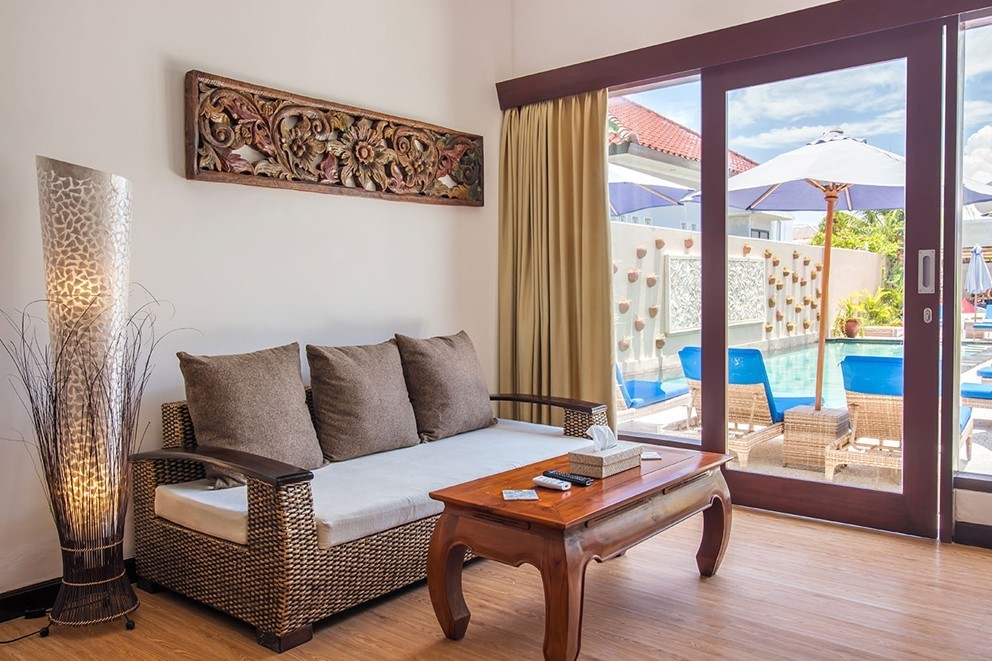 Kura Kura Resort is located just a 1min walk from the picturesque boat arrival point on Gili Meno and boasts some of the most gorgeous views in the region from its waterfront restaurant. The clean and modern accommodation features an outdoor pool, free WiFi and spacious airconditioned rooms with en-suite bathrooms. Guests can enjoy various activities in the surroundings, including snorkeling, diving and cycling. The friendly staff at Kura Kura Resort will be happy to assist with any requests, while daily housekeeping is provided free.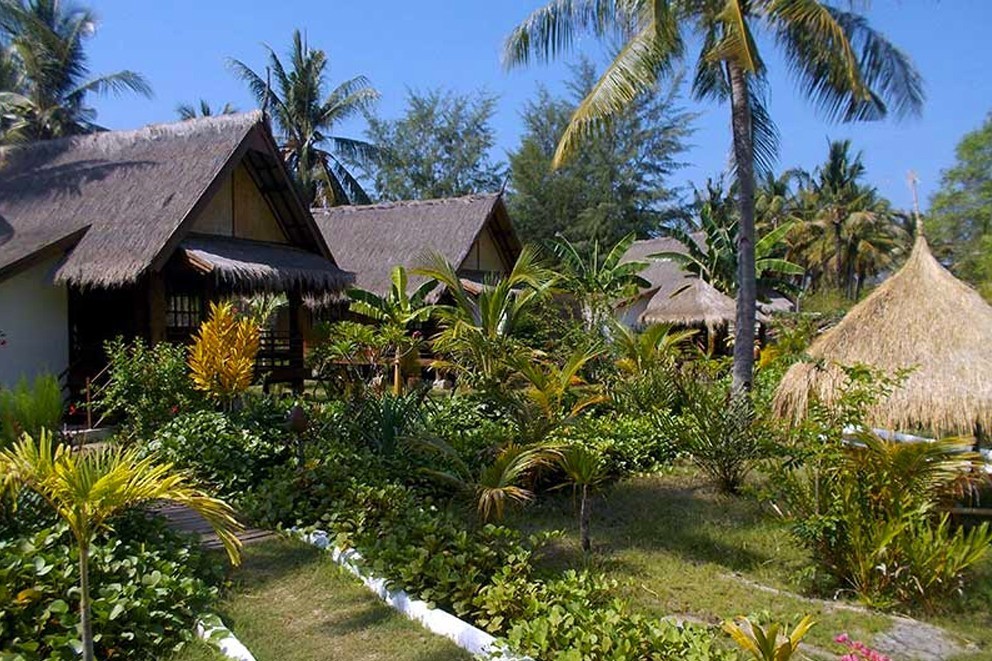 Adeng-Adeng Bungalows on Gili Meno is a wonderfully secluded and laid back place to stay, with excellent beach access. The thatched-roofed accommodation provides guests with air conditioning, home cinema entertainment, sofa and a terrace. Complete with a refrigerator, the dining area also has a dining table and minibar. Private bathrooms feature an outdoor shower. Guests may sample a selection of Western and Asian cuisine at Adeng-Adeng Restaurant, while refreshments can be enjoyed at the Beach Bar.

Gazebo Meno is set amid a tropical garden, directly adjacent to the white sandy beaches of the Gili Meno shore. Rooms feature air conditioning and a wooden balcony with outdoor seating area. Each is equipped with a mosquito net and private bathrooms with shower facilities. Guests can soak up the sunshine by the outdoor pool or take a walk along the beautiful beach. Local dishes, as well as a breakfast buffet, are available at the hotel's restaurant.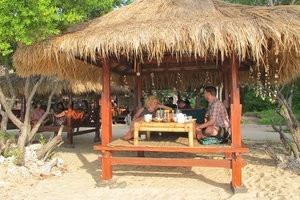 A well rated beachfront accommodation located on the southern tip of Gili Meno. By normal standards mid range pricing and quality, but for Gili Meno relatively luxury. 10 bungalows with Friendly staff and a perfect location, the coral is just off the beach. The beachfront bungalows are decorated in pretty thatched roofs and bespoke wooden furniture. Guests enjoy garden and sea views from each bungalow terrace. A selection of Indonesian and Italian cuisine is served in Biru Meno Restaurant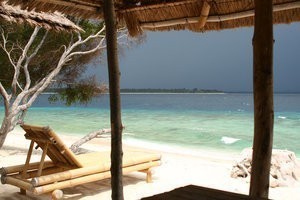 Kontiki Meno boasts a fantastic beachside location with standard and superior 'cottage' rooms. Their superior rooms are air conditioned with fresh water western bathroom facilities. What the accommodation lacks in modernity, it makes up for in proximity to the fantastic clear waters and best coral of the Gili Meno shore.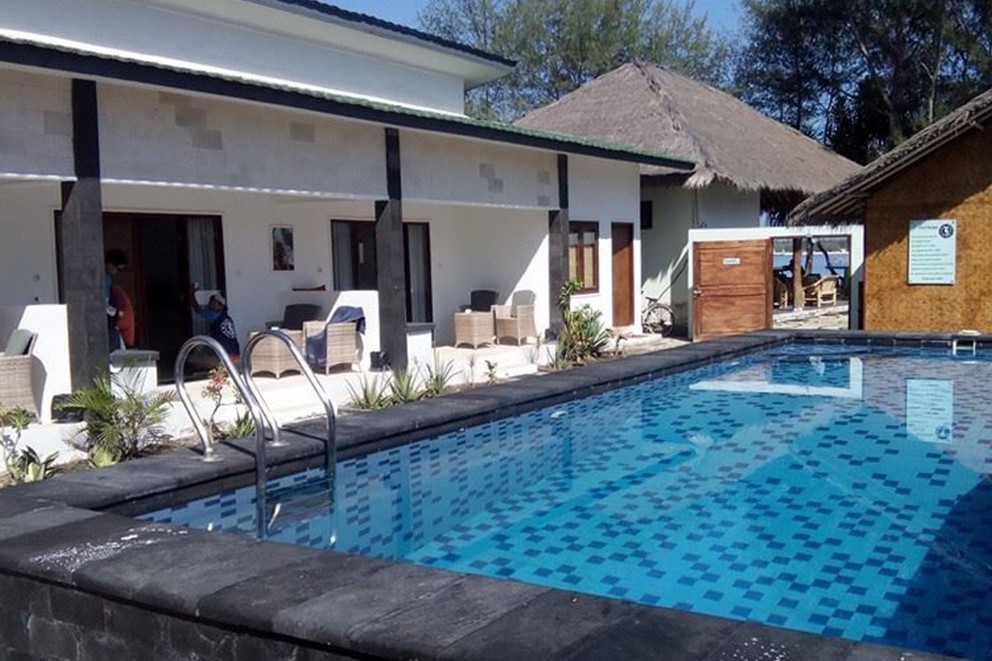 Offering free WiFi and a year-round outdoor pool, Divine Divers Resort enjoys direct beach access in one of the best locations of the Gili Islands. All units include a seating area, television, and private bathroom with a shower. Divine Divers Resort also features a sun terrace. The size of the resort is so small and the location on the island the perfect mix of quiet relaxation but with some excellnt options for food and drink on the doorstep. Also the best place on Meno to go diving!
To bring you the very best selection of mid-range Gili Meno accommodation, we've teamed-up with the world's leading online hotel platforms - Agoda.com and Booking.com. By clicking on the "More Info and Rates" button, next to any of our recommended properties, you'll be taken straight to either the Agoda.com or Booking.com website, where you'll be able to find out more about each property, check live room availability and get the best online prices. Booking via Agoda.com or Booking.com is safe and secure and every hotel booking comes with their "Best Price Guarantee". You can also check for more luxury accommodation or perhaps something to fit a smaller budget.