Gili Meno Travel Tips
Gili Meno, with its population of just 400, is the smallest and quietest of the three islands and a true tropical island getaway. Sandwiched between Gili Trawangan and Gili Air, the pristine coral beaches (more so than Gili T and Air) and laid-back charm of Gili Meno provide a perfect escape for honeymooners looking for seclusion or those just wanting to get away from it all!
Accommodation
is provided by a variety of small resorts, hotels and beachside bungalows; with more luxurious options here and there. Dining is a casual affair with
fresh fish BBQ's
dominating the menus of the beachside cafes. And when not relaxing, there's plenty of great
diving
and snorkeling on offer as well as bird and turtle sanctuaries to visit. Walk from one side of Gili Meno to the other, via the charming dusty lanes between coconut groves and farm shacks, in just 20mins. For a quicker ride, hire a cheap bike to get around or take a Cidomo horse cart (especially handy if you have baggage to carry).
The nicest spot on the island for bars, restaurants, diving, snorkeling and
accommodation
is the northwest corner. However, the prevailing winds usually come over from Gili T during the night, bringing the noises of occasionally boisterous nightlife over, so if you want the guarantee of peace and quiet, head around the bend to the northeastern tip of Meno to sleep.
Gili Meno is reachable by a number of smaller local public and charter boats that zip between the islands and Lombok on the relatively calm and sheltered waters of the Teluk Nare bay.
Simply head to any of the harbours on each island or to Bangsal on Lombok and purchase tickets from the public office or book your local tickets through
http://www.gili-islandtransfers.com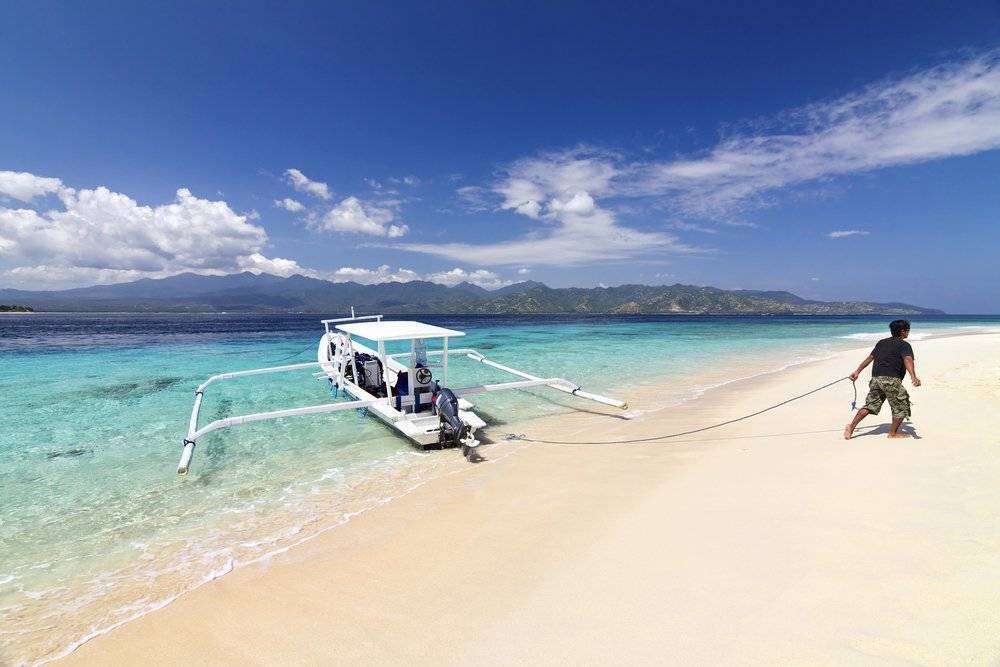 Fast boat services are to Gili Trawangan and Gili Air exclusively, so visitors to Meno are required to take a local service upon arrival at one of the other islands, or arrange a pickup through their hotel (where available). This may change in future as Meno develops further.
Well worth the visit if you're staying in the region for more than a couple of days, Gili Meno is similar to the way Trawangan was 15 years or so ago, and you'll often find hardened expat residents who live on Gili T permanently, heading over to Meno for their day off to chill out.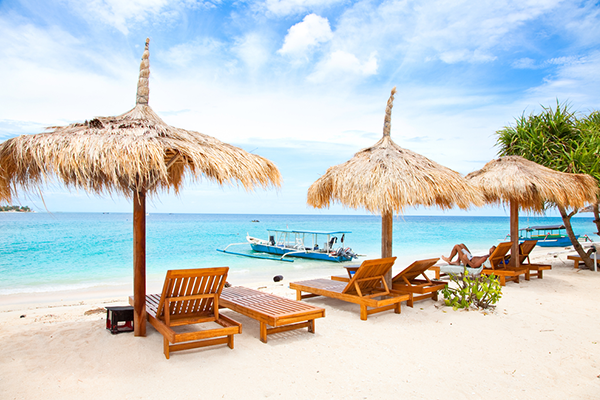 BEST THINGS TO SEE ON GILI MENO
Gili Meno Turtle Sanctuary - The Turtle Conservancy spends its days thinknig about the conservation of the turtles which is why they are dedicated to protect the threatened turtles and tortoises and their habitats worldwide. They do this by promoting turtles and in this way hoping to increase their appreciation all around the world. The sacntuary is open from 8am to 6pm daily, this wonderful initiative collects the eggs of green sea and loggerhead turtles lain on Meno's shores, hatches them in a safe and controlled environment and releases the younglings safely into the ocean when ready.
Turtles are released into the wild anually in conjunction with the sanctuary on Gili Trawangan. See the work and lend your support. For a small fee you can pick and release a young turtle into the ocean. The collaboration with foreign and local people has ensured the protection of more than 1000 turtles per year since 2008 and you can become a part of this great initiative.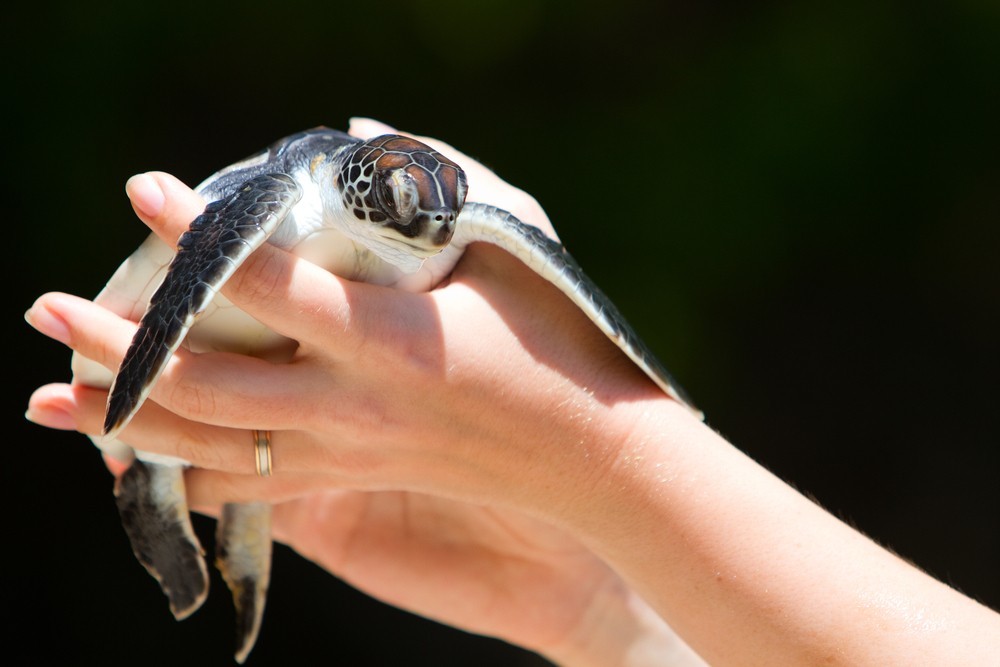 BEST THINGS TO DO ON GILI MENO
Enjoy the Beach - Gili Meno has the most pristine beaches of the three Gili Islands and the main draw is it's pure white sands and clear turquoise waters, coupled with its calm and quiet atmosphere.
Most accommodation types on Meno boast beachfront locations, so simply wander out of your door and grab a deckchair or towel to begin soaking up the tropical sun for as long as you want, taking a dip in the delicious waters to cool off from time to time and sipping on a drink of your choice.
We reccommend the northwest side of the island for some of the nices beachfront & restaurant locations, while for fantastic snorkelling we suggest the northeastern shore in front of Meno Mojo, where beautiful coral formation, myriad tropical fish and even majestic Sea Turtles abound.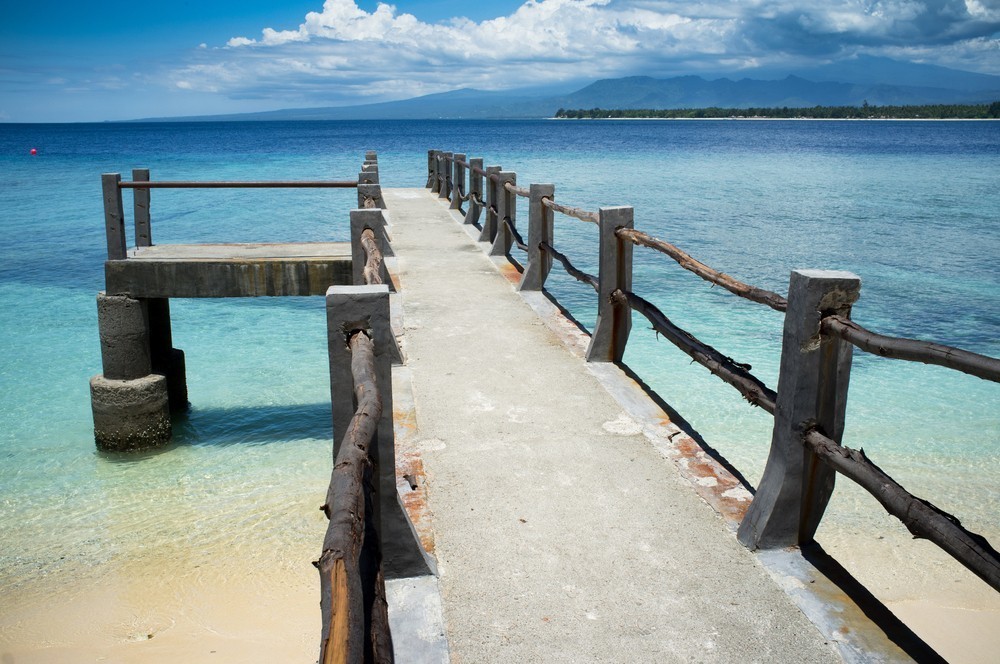 BEST RESTAURANTS ON GILI MENO
Good Heart – Situated in the quiet northwest of the island, this unassuming rustic beach bar serves up a wide array of tasty local curries and seafood. It's the perfect spot for lunch in between snorkelling with turtles at nearby Meno Wall.
Mahamaya - Every day from 7AM until 10PM you can cool off from the tropical heat with a refreshing drink at Mahamaya's seafront bar or swim-up pool bar. While on Gili Meno this is the perfect place to enjoy the end of a perfect day with a classic cocktail and spectacular sunset views.
We'Be café - Enjoy your time on Gili Meno from the relaxing fatboys on the beach while watching the sun set with a drink in your hand. The staff is very friendly, they serve Indonesian food as well as meal like pizza, barbecued meat/fish and the cocktails are delicious.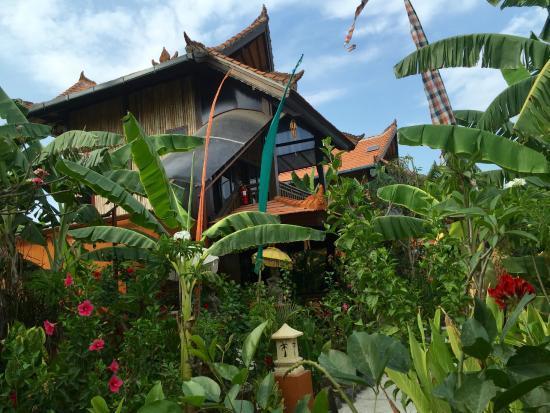 Rust Warung – This smart beach café has lots of local character and an imaginative menu centred predominantly on fresh seafood. Casual fine dining at affordable prices, this lively spot is great for lunch or dinner. Vegetarian friendly.
Meno Mojo - The beautiful Meno Mojo restaurant is located right on the beach, looking out towards Gili Air and Lombok beyond and thus boasting some of the best views in the region. Serving both international and Asian cuisine, the combination of fresh fish, seafood and an extensive menu combined with nightly live music will be one of those night you won't forget any time soon. Gilibookings.com ticketholders receive a 15% discount on a meal at the Meno Mojo restaurant using the discount voucher that's available to select at the end of our simple online booking process.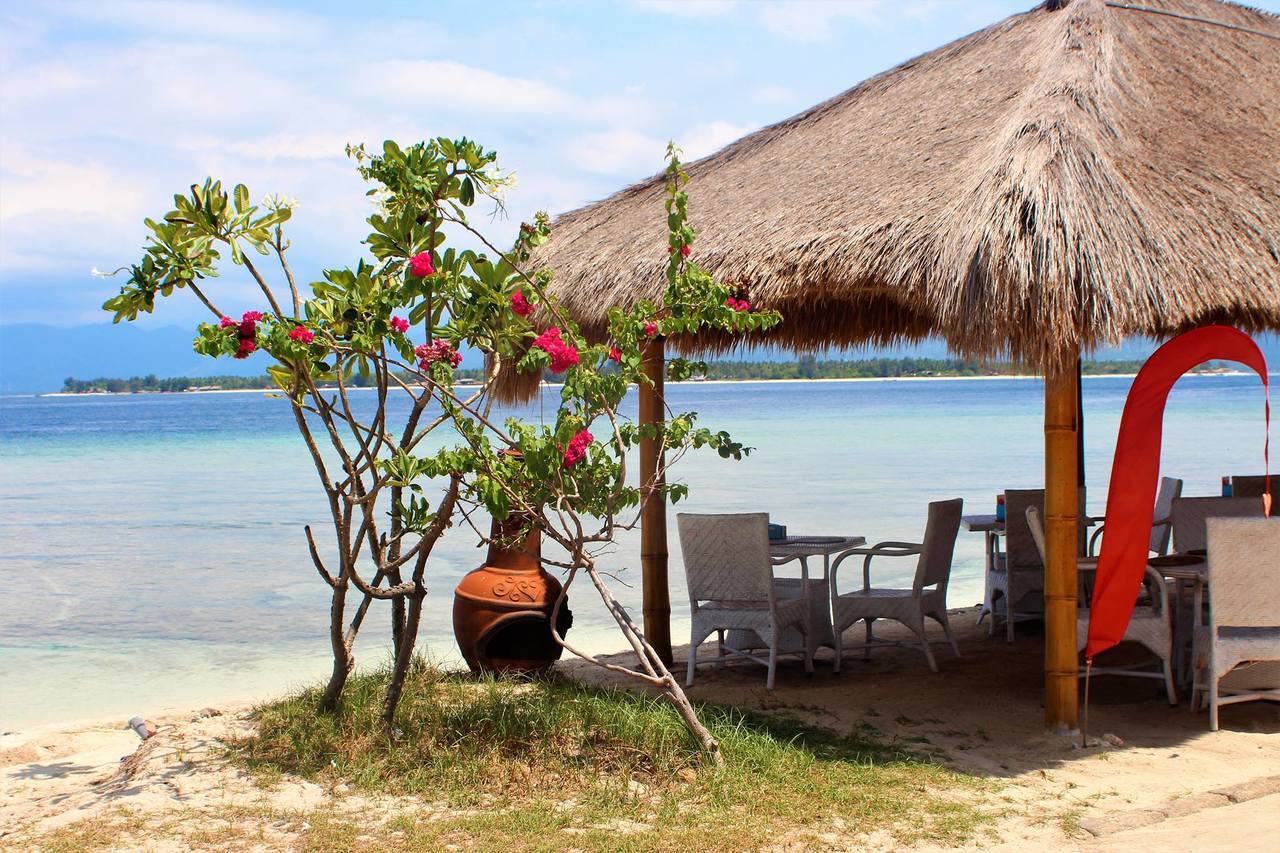 Adeng Adeng – Although the name literally translate to 'slow-slow' this restaurant offers excellent quality traditional local food as well as western dishes to enjoy. The gorgeous location right on an exclusive stretch of beach at the northern tip of the island makes this one of the most romantic spots for dinner anywhere in the region. Delicious cool cocktails are served throughout the day. Enjoy 10% off your first order at Adeng Adeng Gili Meno, when you book a fast boat on Gilibookings.com.
Little Bali – This gem of a restaurant, tucked away on the north side of the Island just a hundred meters from the beach, has a fantastic decor and delicious food to match! Friendly and fun for all the family. Local dishes are the favorite here, and there's plenty to keep the kids happy, both with the menu (like fish and chips, pizza, and awesome burgers) and also with games such as pool, chess and cards. Make use of the exclusive 10% discount voucher, which you may download at the end of your fast boat booking process.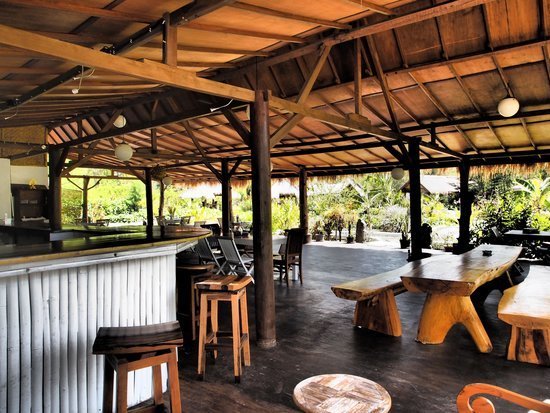 Diana Café - Open as long as there are people enjoying themselves, this relaxed place is ideal for meeting other travellers while listening to the talented guitar strumming staff.

Jungle Bar - Another popular place to hang-out after dark, renowned for its unique Bohemian atmosphere and eclectic tunes. Sometimes plays host to traditional local bands and musicians.
Sunset Gecko - A no-frills bar restaurant right on one of the best quality snorkelling beaches in the northwest of Gili Meno. Enjoy a paradise-like atmospherew with gazebos, loungers and dining tables casually placed on the beach. Enjoy stunning sunset views while sipping on your favourite cocktail.
Gili Trawangan and Gili Air - Even though the Gilis are located close together and appear to be similar, they are actually surprisingly varied in atmosphere and things to do. If you are staying on Gili Meno we highly recommend making a day trip to either Gili Trawangan or Gili Air. Gili Trawangan is by far the busiest and most developed of the Gili Islands and Gili Air has a great mix of restaurants and activities, while remaining relaxed and featuring a largely unadultarated local village at it's heart. Both offer something different to Meno.
Local Island hopper boats depart throughout the day, costing around 45,000 IDR for a slow service or 85,000 for a fast boat. Tickets can be arranged at the ticket office in the harbour, and services stop in the late afternoon. Small, private speed boats are also available to charter and make the journey in 5 - 10 minutes, these can be booked through Gilitickets.com.
This is more expensive than the Island Hopper but extremely convenient (and still very affordable by western standards). Book these boats well in advance (24 hours) on www.gili-islandtransfers.com
New! Gili Gede - Gili Gede has recently been made accessable by fast boat directly from Gili Trawangan or Air and makes for an amazing day trip. Located just off the South West coast of Lombok are a series of sparsely inhabited desert islands. The boat operates 3 times a week, sailing for about 40 minutes to reach the island, and you can spend 4 hours on Gili Gede. Whether you want to have lunch at the brand new Kokomo Gede resort, relax on a deserted beach or get involved in some of the activites at Kokomo, Gede is a truly unique experience in the region. Just use the search box on our homepage to check the schedule and rates for Gili Trawangan to Gili Gede.