Food & Drink Discounts on Gili Air
Gili Air boasts a good range of fine local and international cuisine. The island offers something for everyone since you can choose to eat at low budget 'Warungs', serving delicious local food or go for a more luxurious meal at a waterfront restaurant.
Enjoy everything from freshly caught fish and beach barbeques to imported steaks, hearty burgers, itialian wood fired pizza's and of course delicious Asian cuisine such as curry, Gado Gado and Pad Thai. Gili Air is developing quickly so new restaurants and food options are popping up all the time for you to explore.
Gilibookings.com has partnered up with a few of the best restaurants & bars to ensure that within every budget range there is an offer we can give you after booking your tickets. Simply look below for more details on the different offers which can be selected when booking your fast boat tickets.
These discounts are exclusively provided on gilibookings.com and you can choose as many as you want to enjoy your time on Gili Air even more!
The Waterfront Restaurant
Enjoy 10% off your food bill at one of the newest boutique resorts on Gili Air: The Waterfront!
Located on the east side of the island offers a relaxed beach front bar and restaurant. Open for breakfast, lunch and dinner and serving a variety of local and western dishes as well as a sea food BBQ in the evenings. With limited restaurants on the island this newer addition to Gili Air is already a popular place to hang out and enjoy a well made morning coffee or a delicious early evening cocktail.
At the end of your fast boat booking on Gilibookings.com, you will be able to select this discount from the list before payment, and as many others as you like! These island offers are exlcusive to our customers.
Scratch - Grand Sunset Hotel
Surrounded by white sandy beaches, crystal blue waters and amazing sunsets on the gorgeous northwestern shore of Gili Air, Scratch restaurant offers a modern twist on Southeast Asian cuisine mixed with delicious western classics.
Scratch is located within the Grand Sunset Hotel and is well known for its great food and fabulous cocktails. Whether you are looking for breakfast, lunch or dinner, the food will be delicious, accompanied by great drinks and a stunning view.
Receive a 10% discount on your order at Scratch outside of the happy hours (5-7PM) when you book a fast boat on Gilibookings.com. The voucher is available to select with your order at the end of our easy online booking process.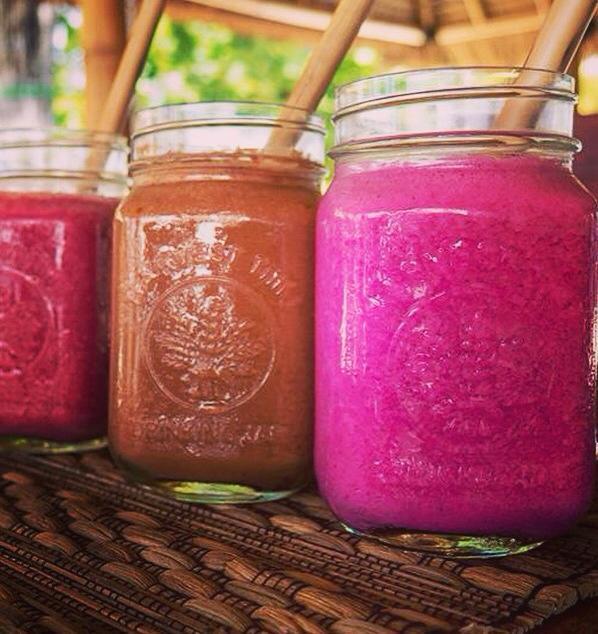 Blue Marine Cafe
Right on the beach at the gorgeous northeastern tip of Gili Air, this awesome little café serves fresh, deliciously healthy food, fruity smoothies and juices. Relax on the coral beach with a cocktail or cool bintang beer, occasionally taking a dip in the glistening tropical sea. Enjoy the soothing warm breeze in the open bar, under the shade of palms. Wi-fi is available throughout the premesis.
Part of the Blue Marine Dive Resort, this is the ideal base for your day activities, be they Scuba Diving, Snorkelling, Yoga, Stand Up Paddle, or any combination of the above! And in the evening, enjoy one of the regular parties hosted by the Dive resort, open to anyone!
Enjoy a 10% off food at the café as a Gilibookings.com customer. Lunch is highly recommended!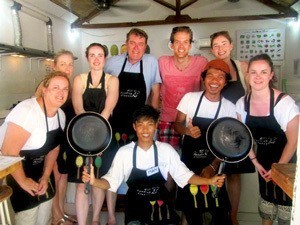 Gili Cooking Classes
Gili Cooking Classes, now located on Gili Air, was the first to offer Indonesian cooking classes in the Gili's and has already welcomed thousands of guests since its establishment in Gili T in January 2013. The 3hr course offers a unique opportunity to learn the secrets of six tasty and delicious Indonesian dishes and Lombok specialities.
Experienced teachers will guide you through an immersive, hands-on, enjoyable session. You will have one cooking station for two persons with all the necessary equipment provided, and you'll of course also eat the delicious food that you've prepared.
Select a 10% off voucher when you book your fast boat tickets with Gilibookings.com.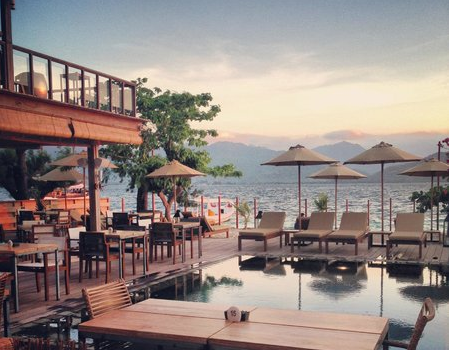 Cabalitto de Mar
Caballito de Mar on Gili Air is one of the best places to visit in terms of food, service, location and ambiance. Being a family run business with a passion for food and travel, the restaurant is a huge success.
Located on the beach with amazing views towards Lombok and Mt. Rinjani, they specialize in fine cuisine with an Asian fusion and French twist. The great food, amazing views and frequent live bands make going to Caballito de Mar definitely worth your while.
When you book your fast boat on Gilibookings.com you can receive 15% discount on a dinner at the restaurant if you spend a minimum of 200.000 IDR, which is around US$15. The voucher is available to select with your order at the end of our easy online booking process.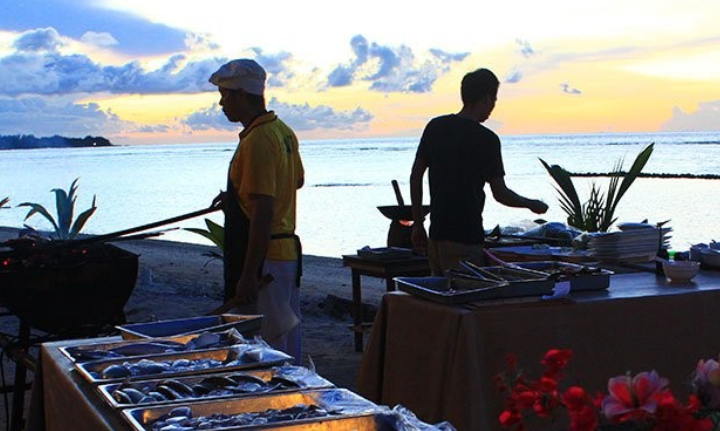 Han's Reef Beach Bar & Grill
This beachfront Bar & Grill sits on the private white sandy beach of Gili Air Resort and offers spectacular ocean views. They serve breakfast, lunch, Dinner, Brunch or simply come for a drink and enjoy one of the beautiful sunrises.
At night, the restaurant turns into a romantic paradise with candlelit tables, beach bonfire and BBQ plus enjoy the evening entertainment from local singers and musicians. Serving an assortment of mouthwatering seafood and international cuisine you can experience their unique approach to food and don't miss out on their fascinating fire dancing performances.
Being a Gilibookings.com customer you can enjoy a 10% discount at Han's Reef when you book your fast boat ticket through our website. Simply select our voucher at the end of the booking process.