Bali to Nusa Lembongan fast boat
Getting from Bali to Nusa Lembongan takes about 30 minutes by fast boat departing from Sanur harbour. There are several trips from Bali to Lembongan throughout the day with D'Camel fast ferry and Scoot Fast Cruises. Daily trips from Bali to Nusa Lembongan are also available seasonally with Gili Getaway and Blue Water Express.
Due to regularly changing schedules please use the search box on our website to see the most up-to-date departure times from Bali to Nusa Lembongan. You can also check our sister budget site www.gilitickets.com for alternative operators and more departures.
D'Camel Fast Ferry
D'Camel operate multiple daily fast boat services with their 2 purpose built fast boats from Sanur to Lembongan. They depart from the new Sanur harbour terminal in Bali and sail direct to Jungut Batu Beach, Nusa Lembongan. The crossing time is one of the shortest available at just 20-30 minutes (depending on sea conditions), due to their direct route to the heart of Lembongan.

South Bali hotel pickup is available from popular areas. Pick up times vary depending on location but can be up to 1.5 hours before schedued boat departure. D'Camel head office is located on Jalan Hang Tuah in Sanur, just around the corner from Sanur harbour.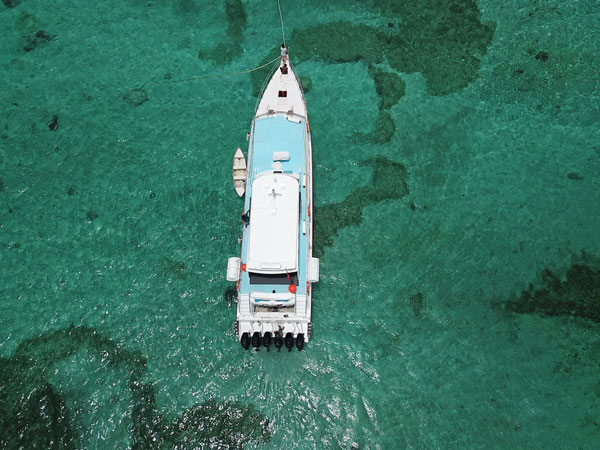 Scoot Fast Cruises
Scoot Cruise offers daily departures from Sanur to Nusa Lembongan and from Nusa Lembongan to Sanur. Departure is from the harbour in Sanur just down the road from their offices on Jalan Hang Tuah 27. Hotel transfers are available from most of the main tourist areas in South West Bali as well as most areas in Nusa Lembongan.
Scoot also offer a service to Gili that stops in Nusa Lembongan, Lombok (Bangsal), Gili Air and Gili Trawangan. The crossing time from Sanur to Lembongan is 30 minutes. The full daily route from Bali to Gili via Lembongan an Lombok takes between 3,5 and 4 hours, making it less suitable if you do not wish to island hop and spend at least 1 night in Lembongan.

Nusa Lembongan island hopping
Booking an island hopping trip from Bali to the Gili's via Lembongan is simple. If you want to hop off on Lembongan Island en route to Lombok or one of the Gili Islands, all you need to do is use our search box from Bali to the Gili Islands or Lombok (or vice versa) , and then select an island hopping ticket type from the results (often visible on the second page of the results).
After booking this ticket you will receive a confirmation and e-ticket from us with the contact details of your boat carrier. Simply send them an e-mail regarding the dates you wish to hop off and on at Lembongan and your island hopping trip is all set. You will then continue your trip from Lembongan to the Gili Islands later. Please note: you need to stay a minimum of 1 night on Lembongan.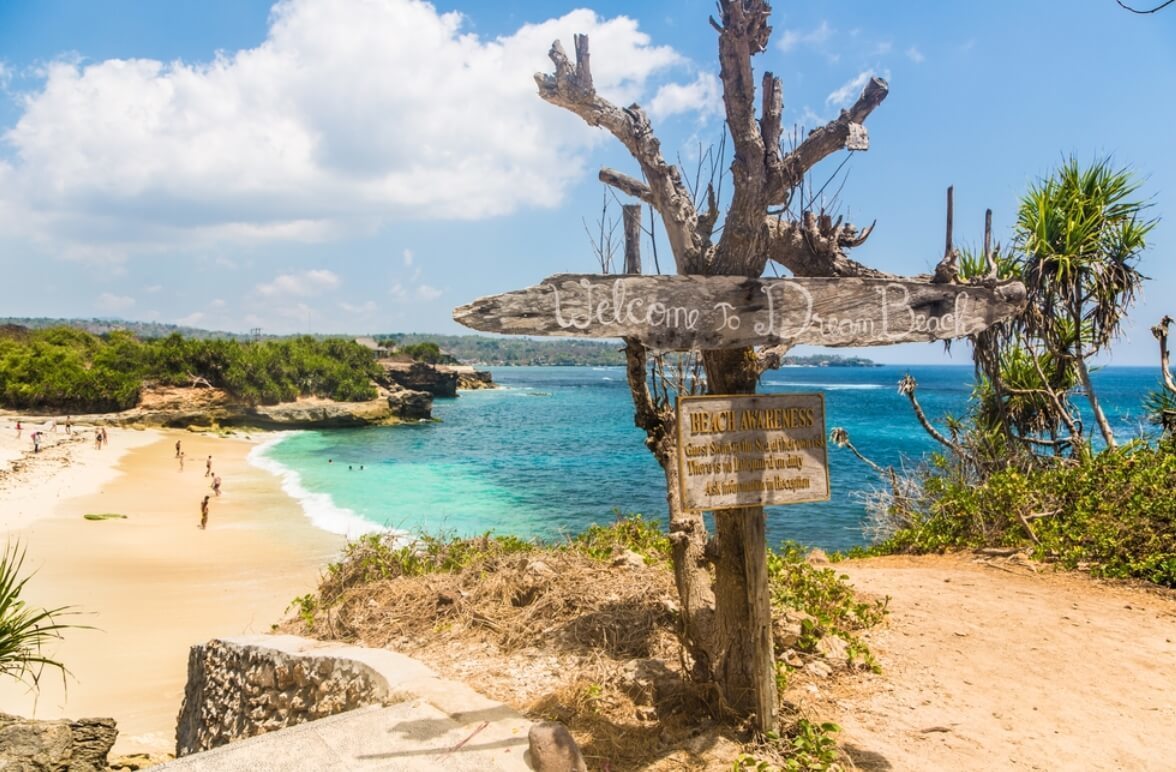 Scoot offers the following island hopping ticket types: (ONLY OPTION A is currently available)
Scoot Cruise Island Hopper option A (1 stop) - includes a stopover on Nusa Lembongan before your final destination choice of Lombok, Gili T or Gili Air.

Scoot Cruise Island Hopper option B (2 stops) - includes as stopover on Nusa Lembongan and Nusa Penida before your final destination choice of Lombok, Gili T, Gili Air or Gili Meno.

Scoot Cruise Island Hopper option C (3 stops) - includes as stopover on Nusa Lembongan, Nusa Penida and Lombok, before your final destination choice of Gili T, Gili Air or Gili Meno. This is the most varied option.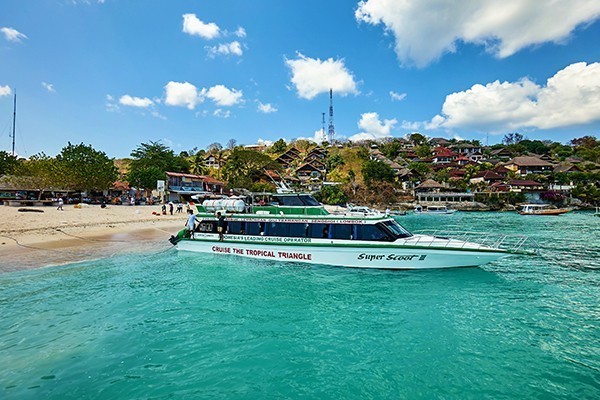 Harbour Locations
On the map you can see the departure location in Sanur, South Bali. Scoot Fast Cruise head office is located in Sanur on Jl. Hangtuah 27, however for check-in on Bali, please proceed directly to Sanur Beach where their staff will be present and waiting for you. On Lembongan you will arrive and depart at Jungut Batu Harbor, on Gili Trawangan on Jl. Pantai close to Coffee and Thyme, on Gili Air 100 meters before the public harbor, close to 7SEAS cottages, on Gili Meno at the public harbor.
On Lombok Scoot Cruise uses Bangsal harbour, hotel transfers can be added to Senggigi, Kuta and Mataram. Bangsal Harbour in North Lombok is used for arrivals from the Gili Islands to Lombok.
Note: Inter Island trips from Lombok to Gili will depart from Bangsal harbour, 35 minutes from Senggigi.
Bali and Lombok hotel transfer info
Hotel transfers to and from most areas in South Bali, including Kuta, Seminyak, Sanur, Ubud Center, Legian, Nusa Dua, Tuban, Jimbaran, Kerobokan, Denpasar, Uluwatu, Canggu, Pejeng and Payagan can be added during the booking process. Pick-up and drop-off is also available on Lembongan. Hotel pick up times vary depending on location but can be up to 2 hours before departure time. Once you have made a booking you will receive a follow up to confirm the exact time you will be picked up from your hotel. If your hotel is outside of the free transfer area and you would like Scoot Cruise to pick you up there will be an additional charge. If you are arranging your own transport then check-in time is half an hour before departure time.
Scoot Cruises Schedule

Departure
point Bali:


Distance
to Kuta:


Departing
at:

Stopping
at:


Arrival
Time:


Departing
at:


Stopping
at:


Arrival
Time:


Baggage
limits:

Approx
Ticket Price

Sanur Beach

45 mins
09:30


Lembongan**
Lombok(Bangsal)
Gili Air
Gili T



10:15
12:15
12:35
13:00



16:30
12:30
12:45
13:30


Lembongan
Bali (Sanur)
16:15
17:15
25kg
per person
€48
€95 rtn
** stopover for a few nights in Lembongan beofre continuing your journey by selecting the Island Hopper ticket
Scoot Cruises Schedule
Departure
point Bali:

Distance
to Kuta:

Departing
at:
Stopping
at:

Arrival
Time:

Departing
at:

Stopping
at:

Arrival
Time:

Baggage
limits:
Approx
Ticket Price
Sanur Beach
45 mins
09:30
Lembongan
10:15
16:30
Sanur Beach
17:15
25kg
per person
€25
€38rtn
View maps of all fast boat routes and compare their schedules here.
Scoot Cruise cancellation & amendment policy
Full ticket price will be charged for no-shows, 50% will be charged for cancellations made within 14 days prior to departure, but outside 48hrs. A full refund is granted in all other cases.
Exceptions can be considered in cases of illness etc., if doctor's notes/other proof can be provided. Contact Scoot using the details found on your e-tickets if you wish to change your travel dates. You can do so for free (subject to availability), up to 48hrs prior to departure. If you need to change your route or boat carrier entirely, please contact us direct for assistance, bearing in mind the above mentioned refund policy.
Luggage allowance: Staff has to be able to lift your suitcase onto the boat. Very heavy suitcases could be charged extra.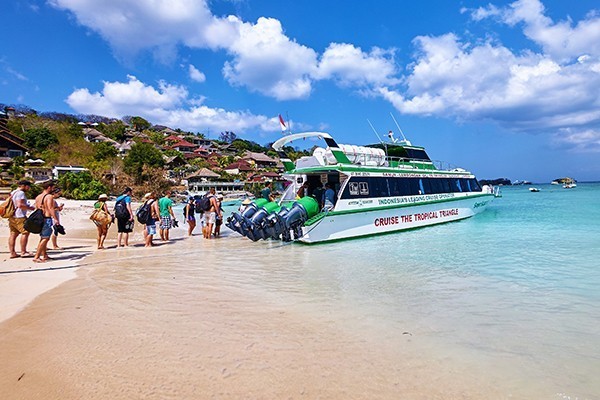 SCOOT III - boat from Gili Trawangan to Gili Meno, Gili Air and Lombok (Teluk Nare - transfer to Senggigi)

11 meters, High Speed Mono hull, 28 knots
18 passengers and 2 crew
Full compliance navigation equipment and complete safety gear.
SUPER SCOOT - Bali to Gili
14 meters High Speed Catamaran, 32 knots
54 Passengers and 6 certified crew.
Engine 4 x 200 HP Yamaha 4 stroke out Board.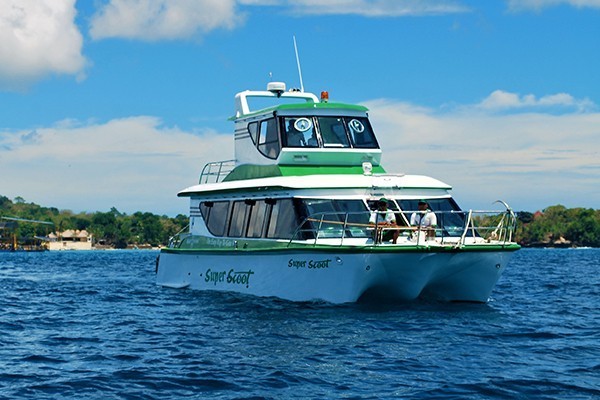 SCOOT V & Super Scoot II - fast boats from Sanur to Nusa Lembongan
The boat is complete with Electronics Radar, Map Plotter, Depth Sounder, Safety Equipment, Full compliance and Navigator Equipment, all safety devices including emergency beacons and life raft to international standards. Imported luxury seating and tables. Full size toilet & Bar facilities.
Insurance: liability limited to USD 500,000 each incident.
Immediate online bookings, e-tickets, check live availability with Scoot Cruise fast boats from Bali to Lembongan, Bali to Lombok, Lombok to Gili and Bali to Gili Islands only available on Gilibookings.com.