Gili Air Travel Tips
Gili Air, although closest to mainland Lombok, lays somewhere between the tranquillity of Gili Meno and the bustle of Gili Trawangan in terms of atmosphere – making it a great option for backpackers and families wanting to get away from the tourist crowds and brush shoulders with local culture.
With warm, shallow waters right off the beaches that positively teem with tropical marine life; days spent lounging with cool drinks under the hot sun, occasionally jumping into the turquoise waves, are the main reason to visit. As with Meno, the pace of life is slower and endearing but like Trawangan there's still plenty to keep you entertained – with exceptional diving, snorkelling and even some good surfing by day, to great live music, bars and socialising at night. Gili Air also has a friendly local population concentrated in it's main village at the heart of the island with a mosque and some great local "warungs" (cheap restaurants serving tasty Indonesian food).
There's a surprisingly wide range of accommodation on the island to suit every taste and budget (though never feeling crowded), whether it be on the beach or set back in the coconut groves. Dining options are also quite varied, with inexpensive local food available inland to freshly caught grilled fish and international cuisine being offered at the many beachside restaurants.
Gili Air, like it's sister islands, is motorized traffic-free and all distances are easily covered by foot or with a rented bike. There are also horse drawn carts available that run a taxi-style service from and to anywhere on the island, which can be handy with bags to carry. The name "Air" actually means 'Water' in Indonesian, while "Gili" translates as 'small island'. So "Gili Air" is about as literal a name as it can get, being a small island surrounded by water! Enjoy unobstructed views out towards mt. Rinjani, Lombok's highest and most active volcano, from the east shore of the island. If you get up early enough, you'll witness the most magical sunrise - a real bucketlist moment! And if you get bored of all that sun, sand and surf, why not hop over to Lombok for a Rinjani hiking excursion to see the volcano close up!
Get away from the the bustle of Bali and relax in the quiet of island life on Gili Air!
BEST THINGS TO SEE ON GILI AIR
Sunrise/sunset - Watch the stunning sunrise over Mt. Rinjani volcano on neighbouring Lombok from the eastern shore of Gili Air each day. We reccommend the Waterfront restaurant for morning coffee and breakfast after taking in this gorgeous sight, perhaps one of Indonesia's most spectacular views! There are several swings around the shorelines which make for perfect pictures during sunrise and sunset, don't forget to post these on instagram!
Local fun - If you venture from the shoreline for a little while you'll encounter the tranquillity of the many coconut groves the island has, which was a mainstay of the local economy in the pre-trourism years. Enjoy a delicious fresh young coconut from any of the stalls and local warungs dotted about the island. In the middle of the island you will find a local school and a very beautiful mosque which are both worth checking out if you'd like to learn more about the local life on the island. On the mainstrip there is a small jewelry store owned by Frankie who lives on Gili Air, who would love to tell you all about his local jewelry making and what it's like living on the island.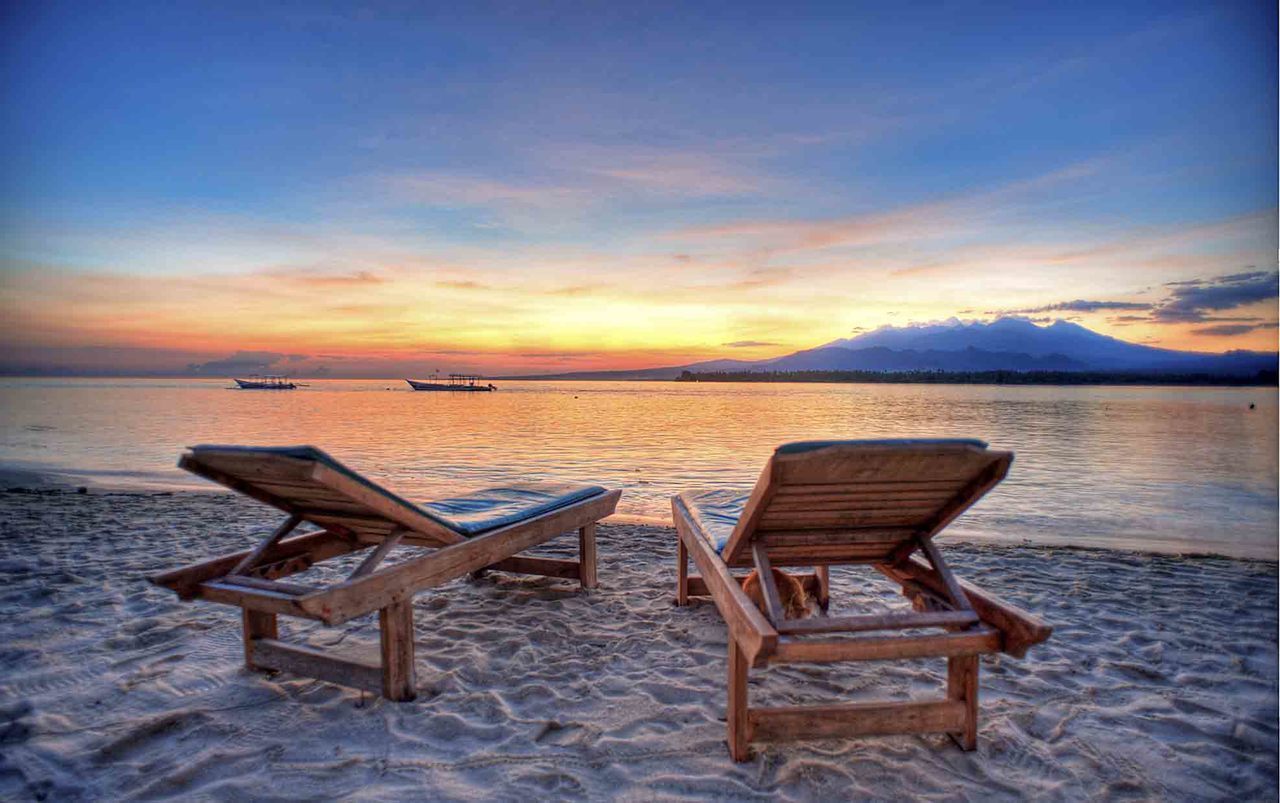 BEST THINGS TO DO ON GILI AIR
Scuba Diving - Gili Air is synonymous with scuba diving, so for those wanting to go beyond snorkelling there's no better place to learn! The waters surrounding the island are home to thousands of species of marine life so you can be sure that the crystal clear waters will inspire scuba divers of all levels. Expect to see green and hawksbill turtles, bumphead parrotfish and white-tip reef sharks along with an impressive array of other sea creatures and coral formations. There are advanced and specialty courses offered, we reccommend diving with Manta Dive Gili Air.
There are a range of Dive Courses available on our activities page (PADI and SSI) from intro/discovery dives to fully certified courses. Daily fun dives to one of the 20+ dive sites around the islands are available to certified divers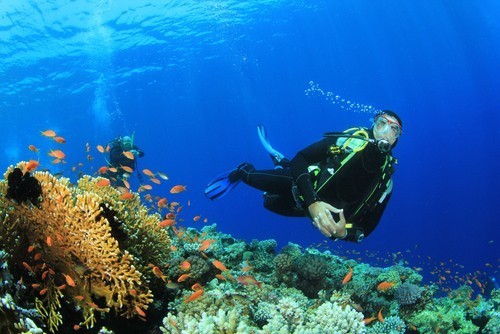 Free Diving - Would you like to know what it's like to stay under water for a longer period of time without breathing equipment? Try out Freediving at Freedive Flow Gili Air! This awesome sport is slowly taking over with both scuba divers and surfers taking a course to work on their breathing techinques. You will be taught several breathing techniques in the pool after which you will try out your newly acquired skills out in the ocean! We offer the Introduction to Freediving course on our website, for more courses you can check out Freedive Flow Gili Air or send us a message.
Kitesurfing - Now available with Gilikitesurf on Gili Air, along with Stand up Paddle, Surfing, Kayaking and Wakeboarding. The consitent winds and perfect waves off the coast of Gili Air make for an ideal spot to get great air and practice your tricks. Also a perfect place to learn the ropes of this exciting extreme sport.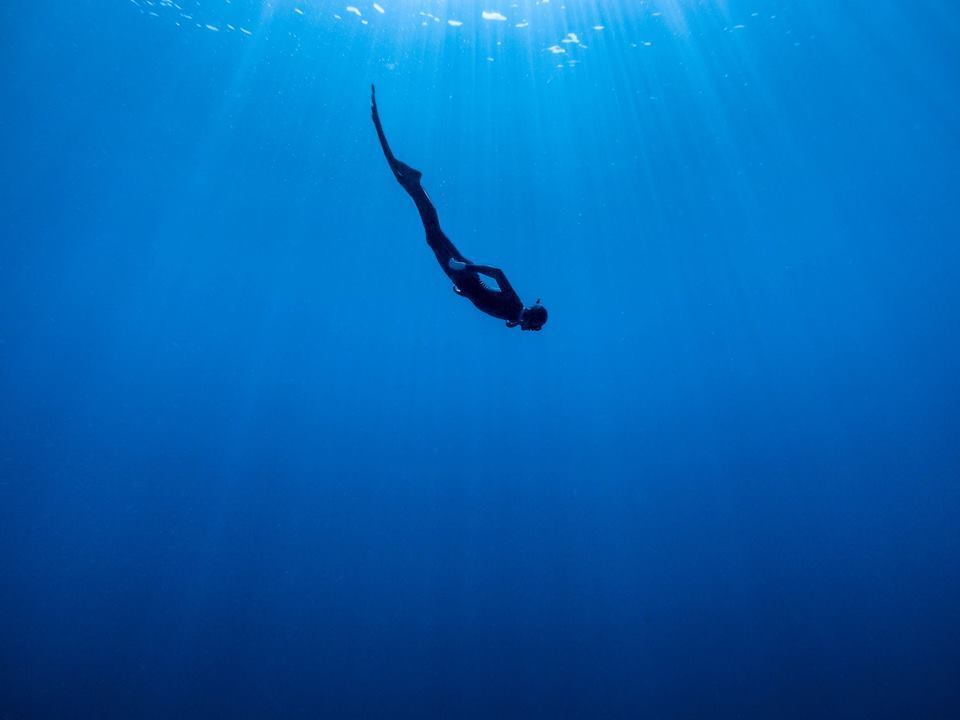 Subwing Adventure - Feel like you're flying underwater with this amazing new watersport allowing you to move like a dolphin under the tropical sea. During this adventure you will be 'pulled' behind a boat for several minutes (multiple times) while holding on to the Subwing. The Subwing will allow you to move up and down by using small hand movements while watching the stunning oceanlife around the Gili Islands pass by.
Not only is this the perfect way to explore all the beautiful reefs around the Gili's, its an awesome day spend on a boat around the islands with stunning views as well. You can book a half day Subwing Adventure through our activity page.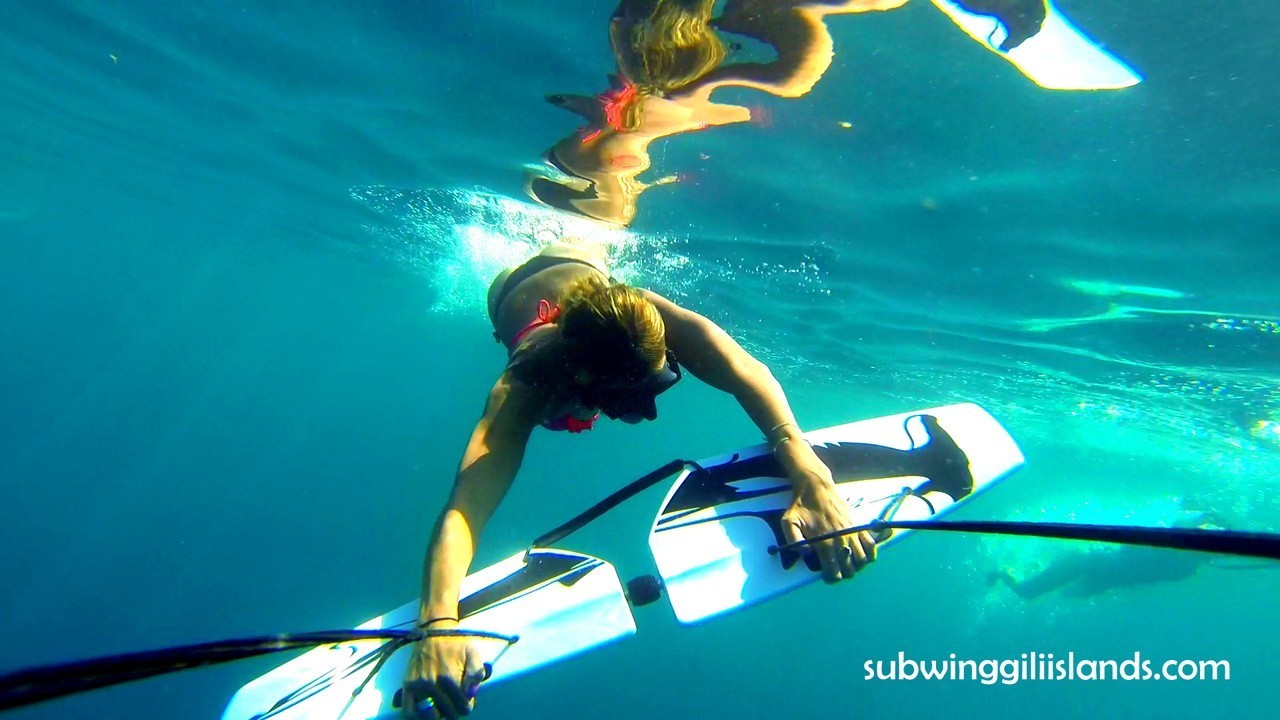 Yoga - Experience the tranquil island life while taking a range of classes/courses at Flowers and Fire Yoga on Gili Air. Expand your existing yoga knowledge or start your yoga journey by taking a class. They offer Hatha/Vinyasa style yoga through asanas, expansion and relaxation in a stunning environment with open air studios and local bamboo all around. Their schedule changes weekly, they offer day passes (1, 4 and 6) and if you're looking for accomodation or package deals, they offer this too!
Motorised water sports - Although motorised vehicles may be absent on Gili Air, there's still the possibility to enjoy a range of speed-boat powered activities on the water. Wakeboarding and Water-skiing off the shores of Lombok can arranged through Manta Dive Gili Air.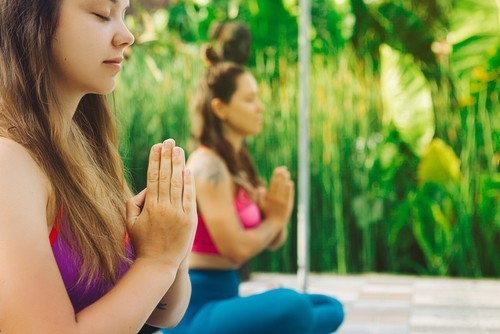 Snorkelling - The main attraction of all three Gili's has always been the coral reef and its marine life; and the easiest way to begin to explore this aquatic realm is to go snorkelling. Just a few metres off the island beaches, the sand slopes away, revealing coral heads, sponges and an amazing array of colourful fish life. Be careful of the current, especially at low/high tide. If you don't have your own equipment, masks, snorkels and fins are readily available to rent from the beach-side kiosks or dive centres on Gili Air.
Go for a paddle - Explore the clear blue waters surrounding island for yourself. You're likely to encounter turtles and other wildlife on the way. Trips over to neighbouring Gili Meno can also be arranged, with lunch on one of the white sandy beaches.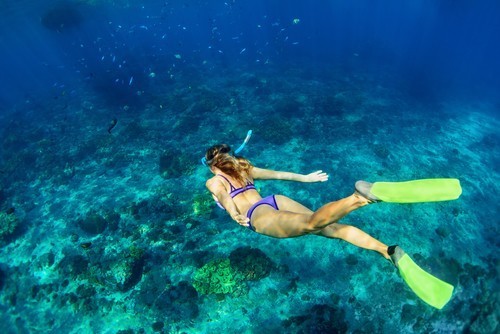 BEST RESTAURANTS AND CAFÉS ON GILI AIR
The Waterfront Bar and Restaurant - Sit right on the Waterfront and enjoy breakfast, lunch or dinner at one of the newest restaurants on Gili Air. Serving a mix of local and western dishes and a delicious frech seafood BBQ in the evening. The Waterfront bar and Restaurant has great coffee to wake up with in the mornings and the bar isthe perfect place to chill in the evenings. Enjoy a special offer at the Waterfront when you buy your fast boat tickets to the island through Gilibookings. Details here.
Chill-out Bar – Literally 'on the beach' this laid-back beach bar and restaurant serves tasty seafood, barbecued to order, along with a good variety of other Indonesian and western favourites. Though it's glorious to enjoy the ambience of this open air bar under a tropical star-studded night, Chill out is great place to hang during the day too!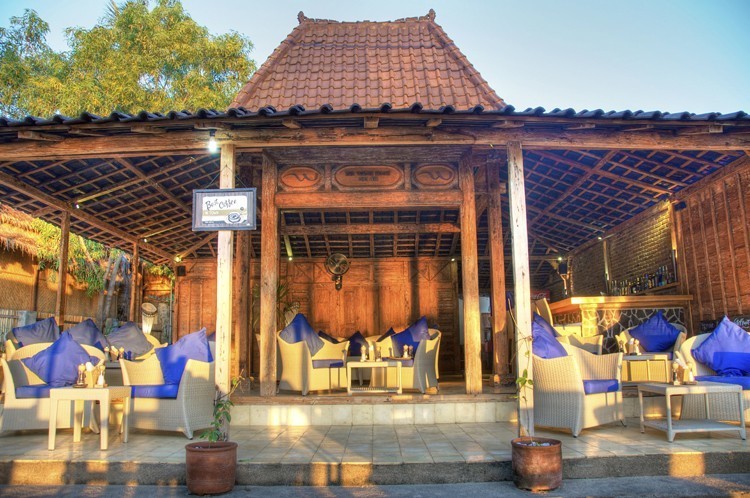 Zipp Bar – Another great place for spending a lazy day by the beach, sipping cocktails or Bintangs (the local beer brand), lounging on one of the sunbeds and jumping into the ocean when it all gets a little too hot. Once you've worked up an appetite, their selection of wood-fired oven pizzas along with a range of pastas, burgers, local food and sandwiches are sure to satisfy.
Wi Win (@ Bulan Madu) – This popular spot gets quiet busy in the evening thanks to its large selection of fresh fish prepared any way you want. There's some pretty good Indian curries and lots of vegetarian options to choose from as well.
Biba Beach Village – For traditional Italian home cooking served under the stars. Enjoy their freshly made pasta dishes – Tagliatelle, Gnocchi, Ravioli and Lasagne – along with other specialities like their seafood Bolognese.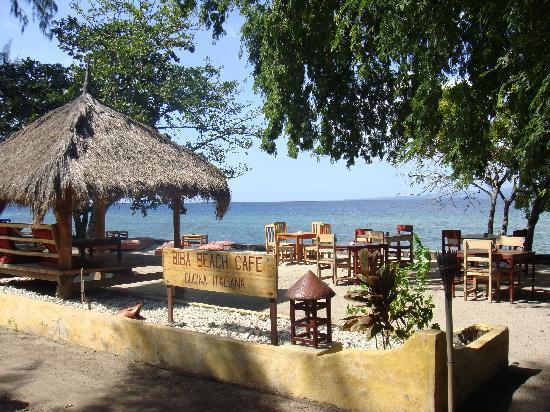 Minimart - If you just want something simple, cheap and snack-like, simply go to one of the minimarts on the island.
Scallywags Organic Beach Club – A lovely place, next to the main beach, with freshly barbecued fish and meats served with a choice of side dishes and a help-yourself organic salad bar. Since a lot of the food is imported daily, fresh from Bali, you may pay a little more but it's worth it.
Blue Marine Café –
Eat delicious fresh food combined with yummy fruit smoothies and juices right on the beach at Blue Marine Dive Resort Gili Air. They offer stand up paddle boarding, free dive courses and sunrise/sunset yoga classes and are located on the North side of the island.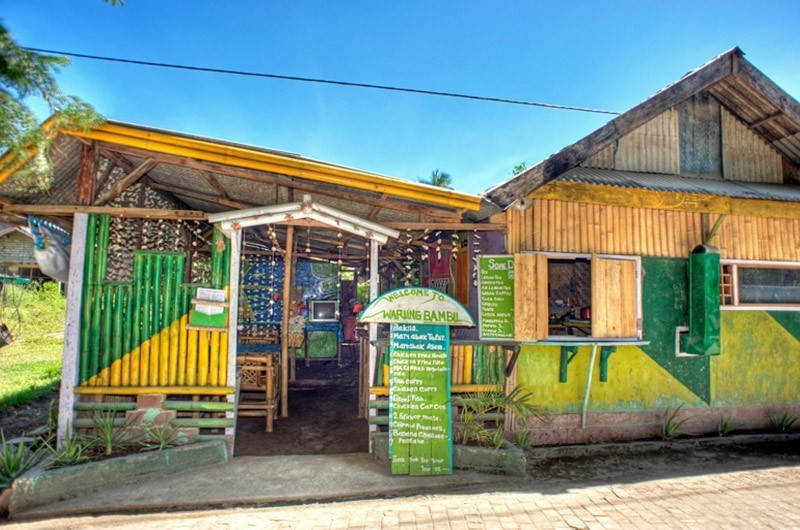 Grand Sunset Hotel -
Surrounded by white sandy beaches, crystal blue waters and amazing sunsets on the gorgeous northwestern shore of Gili Air, Scratch restaurant offers a modern twist on Southeast Asian cuisine mixed with delicious western classics. Scratch is located within the Grand Sunset Hotel and is well known for its great food and fabulous cocktails.
Whether you are looking for breakfast, lunch or dinner, the food will be delicious, accompanied by great drinks and a stunning view.
Receive a 10% discount
on your order at Scratch outside of the happy hours (5-7PM) when you book a fast boat on Gilibookings.com.
The voucher
is available to select with your order at the end of our easy online booking process.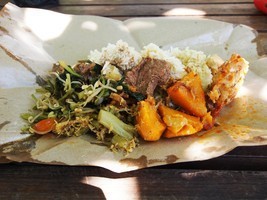 Space Bar – This place draws crowds from as far afield as Bali for their legendary psychedelic full moon parties on the beach. Local and international DJ's play the latest Goa-trance and hard techno through to sunrise.

Zipp Bar – Playing mainly mainstream party tunes this breezy cocktail bar is a great place to socialise with locals and other travellers alike. They too have occasional party nights that draw large crowds and keeps them dancing to the early hours.

Legends – Home to the island's weekly party night, this place truly is a legend on Gili Air; playing loud reggae and groovy dance music until 2am. During the busier months they also host Full and Black Moon parties to an unpretentious mixed crowd.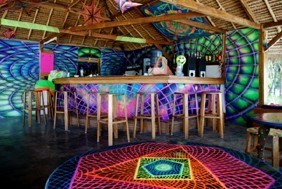 Gili Trawangan and Gili Meno - Even though the Gili Islands are so close together and look very similar, in reality they couldn't be more different. If you are staying on Gili Air we highly recomend making a day trip to either Gili Trawangan or Gili Meno. Gili Trawangan is by far the busiest and most developed of the Gili Islands and Gili Meno is bar far the quiestest and least developed, so they both offer something completely different.
Local Island hopper boats depart morning and afternoon and tickets can be arranged at the ticket office in the harbour. Alternatively small speed boats are available and make the journey in 5 - 10 minutes, but this is much more expensive than the Island Hopper but extremely convenient.
Book these boats well in advance (24 hours) here www.gili-islandtransfers.com
Highy Recommended: Gili Gede - Located on the South West coast of Lombok are a series of islands that are practically uninhabited. The most developed being Gili Gede has recently been made accessable by speed boat directly from Gili Air and makes a fantastic day trip. The boat operates 3 times a week, the trip takes about 40 minutes, and you can spend 4 hours on Gili Gede.
Whether you want to have a boozy lunch at the new Kokomo Gede resort, relax on a deserted beach or get involved in some of the activites at Kokomo this is a real change from Gili Air.
Just use the search box here to check the schedule and rates for Gili Trawangan to Gili Gede.