Gili Trawangan Accommodation
Hotels on Gili Trawangan
Gili Trawangan, the furthest west from Lombok's mainland, is far and away the most popular of the Gili Islands. It is not surprising that Gili Trawangan hotels have a wide range of lodging on offer - from cheap backpacker accommodation to mid-range hotels, luxury resorts and boutique villas, as well as a choice of restaurants and bars that make for a lively holiday. There is now a rash of glamour options on the islands, especially so for Gili Trawangan.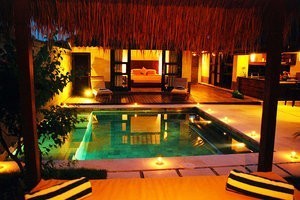 There is no shortage of luxury accommodation on Gili Trawangan. The primary accommodations in this category are either top-end resorts or private villas. We have selected 6 of the best at varying locations around the island. From beach front resorts to private villa hideways set in coconut plantations, to villas a stones throw from the bars and restaurants. Prices range from approx US$ 150-250.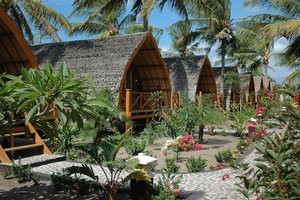 By far the widest range of accommodation on Gili Trawangan falls into this category. Comfortable and well finished AC rooms with all the western facilites you would expect, most have a shared swimming pool and restaurant. We have selected 6 of the best from a variety of different locations across the island. Prices range from US$50-100.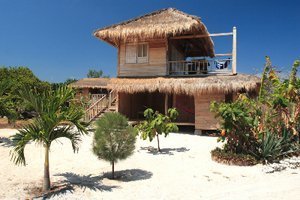 Go back 15 years and this was all you could find on Gili Trawangan as it was a popular backpacker destination in the 80's and 90's. Now only a few of the original Gili Trawangan homestay remain as most have upgraded and now find themselves in the mid-range classification. There are however still plenty of cheap accommodation options and we have selected 6 of the best at a variety of locations across the island. Prices range from US$30-50.
In order to bring you the very best Gili Trawangan accommodation, we've joined forces with the world's leading online hotel providers - Agoda.com and Booking.com. To see our selection of Gili Trawangan hotels, just select your preferred price range and click "View Hotels". You'll be presented with our top recommeded accommdoation in Gili Trawangan, all of which comes with a "Best Price Guarantee". And if you're looking for a sightly slower pace of life, check out what Gili Air and Gili Meno have to offer.
Gili Trawangan is a wonderful tiny paradise Island that has grown from being a backpacker party and dive destination to now also cater to visitors of all ages and budget ranges. No motorised traffic, white sandy shores and crystal clear waters create a relaxed and picturesque island atmosphere that combine with a vibrant nightlife - an ideal destination.
To help you get to Gili Trawangan from Bali we offer live availability and e-ticketing for the most reliable fast boat services between Bali, Lombok, Lembongan and the Gili Islands. We also feature destination travel tips and a selection of different hotels in Gili Trawangan for you to browse. Simply take a look at the relevant pages in the menu at the top of our website. To book fast boat tickets, use the search box at the top left of our homepage.