Mid-range Gili Trawangan hotels
For those looking for more affordable luxury when visiting Gili Trawangan, there are plenty of mid-range Gili Trawangan resorts on offer. You'll be spoilt for choice, so we've selected our top recommended mid-range Gili Trawangan accommodation to make it easier for you, covering a range of tastes and locations. Browse our useful Gili travel tips for the best things to see and do on the Gili Islands. View other Hotels, Locations and Price Ranges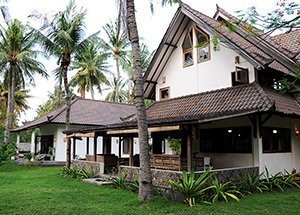 Central Gili Trawangan
Affiliated to Manta Dive Center & Bungalows, this sizeable residence has 3 spacious bedrooms, kitchen, table tennis room and a large terrace. Ideal for families or groups on a mid range budget. The house boasts a 1200m2 tropical garden, private pool and is situated just 5 minutes walk from the beach. Guests can enjoy the peace and quiet amongst the palm trees or can hop on a bike and be in the heart of action within minutes.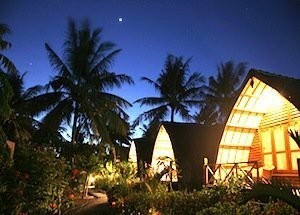 Close to the Harbour, Gili Trawangan
The bungalows are based on a traditional rice barn with a high roof, generous balcony and finshed to western standards. Great bathrooms with outdoor shower. Being part of Manta Dive these rooms are perfect if you are going to be diving as you are just a stones throw from the beach, the bars and the restaurants.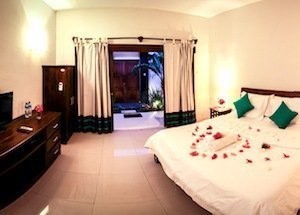 Close to night life, East side of Gili Trawangan
Tir Na Nog Hotel has a prime beachfront location, allowing guests to enjoy breakfast overlooking the stunning Lombok straights, with a view of Mount Rinjani. With a fresh water swimming pool, a beachside restaurant and one of the islands most popular bars, Tirnanog is ideally located to sample the best of the rest.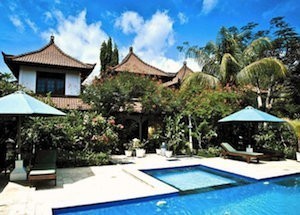 Main Village, Gili Trawangan
Set amidst lush tropical gardens, just a stones throw from the main hub of island activity, Martas offers a collection of beautiful 2-storey detached bungalows situated around a central swimming pool. Mixing traditional Lombok design with modern comforts, each bungalow features carved wood and natural stone decors, air-conditioning, king-size bed, private bathroom with fresh hot water shower and free toiletries, flat-screen TV and mini fridge. Room service and laundry facilities are also offered.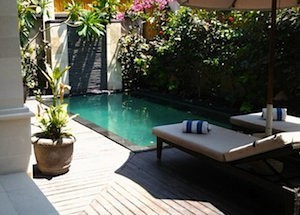 Main Strip, Gili Trawangan
With views across the Lombok Straits to Mt. Rinjani, The Beach House Resort offers a range of accommodation to fit all tastes and budgets. This cosy, contemporary resort comprises of a variety of family-sized villas, pool suites and bungalows all set amidst tropical gardens. Aside from their budget Tree Houses, all rooms feature air-conditioning, private bathroom, satellite TV and in-room safe. The resort also boasts a freshwater pool, an excellent restaurant with nightly BBQ and a waterfront bar.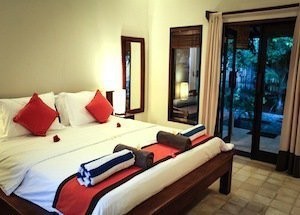 Northeast Beach, Gili Trawangan
Located just across from the island's best snorkelling and sunbathing beach, Bale Sampan offers spacious standalone bungalows in an intimate resort setting. Each air-conditioned bungalow features tasteful Balinese interiors with modern comforts and amenities, including comforatble double or twin beds, Balinese-style outdoor bathrooms with hot freshwater showers, satellite TV and spacious private balcony. The resort also boasts a freshwater pool and beachfront restaurant/cafe.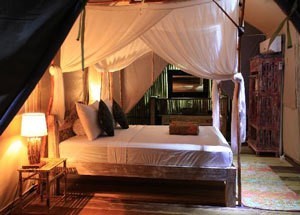 Northwest Gili Trawangan
La Cocoteraie is a Natural Luxury Glamping resort located in a quiet part of Gili Trawangan that allows nature lovers to enjoy a return to roots while still being provided with the luxury and comfort of a chic hotel. The Ecolodge brilliantly combines outdoor holidaying, exotic living and respect for the environment.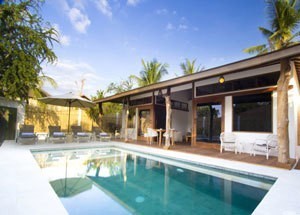 Northern tip of Gili Trawangan
Wilson's Retreat is a small boutique hotel set on a gorgeous stretch of white sandy beach. Located at the peaceful far end of the island, amazing sunsets can be viewed over Bali's volcano whilst still being only a short bicycle or pony carriage ride from the hustle and bustle of the center. Featuring eight simple yet elegant Garden Suites, two stunning two-bedroom Villas with private pools (Luxury) and a gourmet restaurant.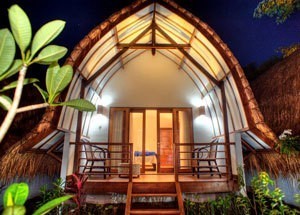 East Coast Gili Trawangan
A sanctuary of calm on Gili Trawangan's eastern shore. 9 luxury bungalows complement a beautiful yoga hall, 25 meter swimming pool, and a world class Freediving school. The Yoga Garden is an oasis of health and wellness on the beach front. Conveniently located steps away from the island's best swimming beaches and surrounded by great restaurants and cafes.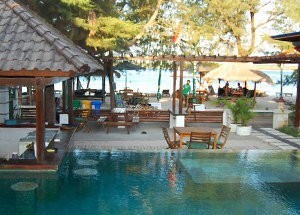 East Coast Gili Trawangan
Offering direct access to the white sandy beach, Samba Villas features a spa and outdoor pool. Rooms and suites each have a private terrace overlooking the garden, with select rooms offering sea views. A flat-screen TV and DVD player are provided. A selection of local and international cuisines are served in the restaurant, which also offers room service.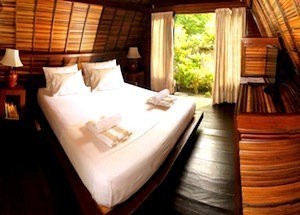 Northeast Beach, Gili Trawangan
Boasting a private beach area and surrounded by tropical gardens, Good Heart Resort offers both traditional and modern beachfront accommodation in a tranquil and relaxing environment. It features spacious Lumbung-style bungalows and minimalist villa suites, all with air-conditioning, fine furnishings, satellite TV and private balcony, as well as hot freshwater showers and mini fridge. There's a beach restaurant along with some of the island's best snorkelling right on your doorstep.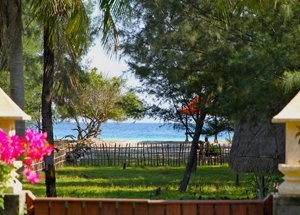 West Coast Gili Trawangan, on the Beach
Villa Sunset Beach offers a large 3 bedroom Villa & Bungalows all with beach views. The property is on a beautiful stretch of beach, steps away from the best snorkeling spots, white sand and pristine turquoise water. Enjoy unforgettably serene sunsets from the private beach view terrace.
We've teamed-up with the world's leading online hotel platforms - Agoda.com and Booking.com - to bring you the very best selection of mid-range resorts and hotels on Gili Trawangan. Clicking on the "More Info and Rates" button, next to any of our recommended properties, will take you straight to the Agoda.com or Booking.com website, where you'll be able to find out more about each property, search live room availability and get the best online rates. Booking with either of our partners is safe and secure, with every accommodation booking backed by a "Best Price Guarantee". And if you're looking for a little more luxury or perhaps something to fit a smaller budget, there are plenty of other hotels and resorts to choose from.
Gili Trawangan is a wonderful tiny paradise Island that has grown from being a backpacker party and dive destination to now also cater to visitors of all ages and budget ranges. No motorised traffic, white sandy shores and crystal clear waters create a relaxed and picturesque island atmosphere that combine with a vibrant nightlife - an ideal destination.
To help you get to Gili Trawangan from Bali we offer live availability and e-ticketing for the most reliable fast boat services between Bali, Lombok, Lembongan and the Gili Islands. We also feature destination travel tips and a selection of different accommodation for you to browse. Simply take a look at the relevant pages in the menu at the top of our website. To book fast boat tickets, use the search box at the top left of our homepage.