Gili Trawangan Luxury Hotels and Villas
Gili Trawangan, being the most developed of the Gili islands, offers the best selection of luxury hotels in the Gili Islands. Whether you're planning for a perfect honeymoon, luxury family holiday, villa Gili Trawangan or simply looking for the very best facilities and levels of service, Gili T is definitely the place to be. To make choosing easier, we've made a selection of the best hotels and villas in Gili Trawangan. View other Hotels, Locations and Price Ranges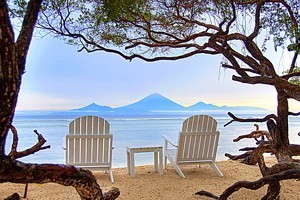 West Coast Gili Trawangan
This fantasic new boutique resort offers spectacular sea views out towards Bali and the sunset beyond. Luxury private teak bungalows allow you to enjoy the peace and calm of this side of the island in style. The Gili Teak Beach Club features a gourmet restaurant and classy beach bar and the resort also boasts a bespoke swimming pool and direct beach access. Gili Teak Resort & Beach Club represents the very best the island has to offer the luxury traveller.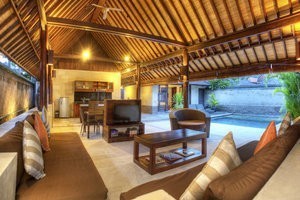 Behind Art Market, East Gili Trawangan
Gili Villas offer 4 exclusive luxury villas, combining privacy with the services of a hotel on Gili Trawangan. Each luxurious 2-bedroom, 2-bathroom villa is within a short walk of the island's best waterfront restaurants and bars. Peaceful and quiet, with a large walled terrace and private pool, each Villa has 2 double bed rooms, with King-size beds and can be a 1 or 2 bedroom rental.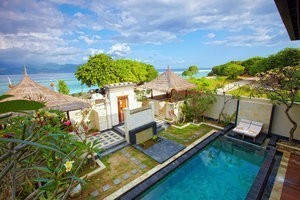 South East Gili Trawangan
Kokomo resort offers one, two and three bed villas. The best villa at Kokomo is only 10m from the beach, 2 storeys, upstairs 3 bedrooms with sea views, and a large open plan living area next to a large pool. All this is only meters from their fine dining beach front restaurant which is one of the best on Gili Trawangan.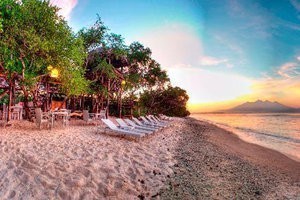 South Gili Trawangan
Only a 10 minute walk from the main strip and yet still in one of the quietest parts of Gili Trawangan. The Trawangan Resort offers both luxury rooms with seaviews as well as private luxury villas. With quirky tree houses on the beach and an in house restaurant this is a great place to realx away from the huslte and bustle.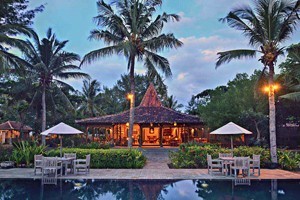 North coast Gili Trawangan
A traditionally styled beachfront property in a quieter corner of Gili T, Desa Dunia Beda Beach Resort features an outdoor saltwater pool, an international restaurant and a beach bar. Featuring standalone bungalows and villas built with traditional materials, rooms are fitted with a private terrace and private open-air bathroom. Guests can enjoy the quiet beach, or try water sports activities like snorkelling, scuba diving, and cycling. The resort also has a game corner and a mini library.

South Gili Trawangan
Pondok Santi is unique on Gili Trawangan as it simply has more space then anywhere else, allowing you to get away from everything. Set in lawned grounds on an ancient coconut plantation, the service is excellent and the sunset cruises aboard Princess Margaux are not to be missed. With only 6 bungalows you will really feel like you're in your own private island retreat.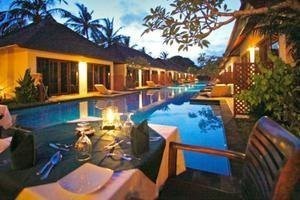 Central Gili Trawangan
Boasting the island's largest swimming pool, Luce d' Alma is an Italian run resort offering large rooms with a spacious living area that open onto the swimming pool. In house restaurant, fitness center and Spa, all managed with a unique Italian charm.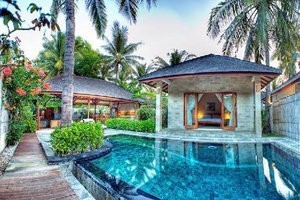 North West Gili Trawangan
Kelapa Villas estate is set in a coconut plantation and offers spacious private villas ranging from one to four bedrooms. Boasting the only tennis court on Gili Trawangan and with an inhouse fitness center, the resort management are on hand to make your stay as relaxing as possible.

East Coast Gili Trawangan
Gili Joglo features luxurious 4-star villas with modern Javanese architecture and décor. The property offers free Wi-Fi and a variety of recreational choices. Elegant villas come with stylish Javanese interiors of wooden walls and earthy tones. Each unit has a fully equipped kitchen, large living spaces and a private patio that overlooks the garden.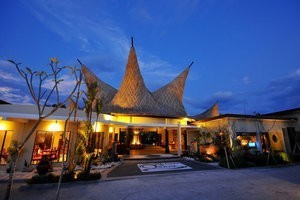 West side Gili Trawangan
Formerly the Queen Villa and Spa, the Aston is just a 5-minute walk from the sandy shores of Gili Trawangan Beach, offering free Wi-Fi, an outdoor pool and pampering spa treatments. Decorated in a contemporary tropical style, air-conditioned rooms are equipped with a flat-screen TV and enjoy views of either the pool or tropical gardens. En suite bathrooms come with hot-water showers.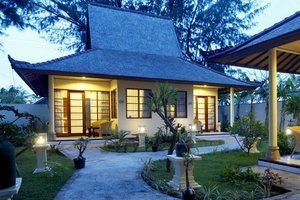 East Coast Gili Trawangan
Villa Almarik Resort offers a tropical retreat with an outdoor pool, spa and restaurant. It also provides arrangements for diving, snorkelling and horse riding activities. Wi-Fi access is free in public areas. Fully air-conditioned rooms are decorated with modern Lombok-style interiors and include a satellite TV, minibar and ample living space. Garden views can be enjoyed from the private terraces.
View accommodation on other local Islands:
Laid back but well stocked Gili Air, quiet and rustic Gili Meno or Luscious Lombok - the region has so much on offer. Why not do a bit of Island hopping and select from the hosts of wonderful hotels we feature at different budget ranges? Simply select from the below or head to the general hotels page via the top menu to also browse what Bali and Nusa Lembongan have to offer.
All our luxury hotels and resorts come with a "Best Price Guarantee" offered in partnership with Agoda.com and Booking.com - the world's fastest-growing online hotel platforms - to ensure we bring you the very best rates. For more information about any of our selected hotels, or to check live room availability and prices, just click on the "More Info and Rates" button. You'll instantly be re-directed to where you can make an online booking, with immediate confirmation, via the Agoda.com or Booking.com secure payment systems. You'll also be able to search for other mid-range and budget properties.
Gili Trawangan is a wonderful tiny paradise Island that has grown from being a backpacker party and dive destination to now also cater to visitors of all ages and budget ranges. No motorised traffic, white sandy shores and crystal clear waters create a relaxed and picturesque island atmosphere that combine with a vibrant nightlife - an ideal destination.
To help you get to Gili Trawangan from Bali we offer live availability and e-ticketing for the most reliable fast boat services between Bali, Lombok, Lembongan and the Gili Islands. We also feature destination travel tips and a selection of different accommodation for you to browse. Simply take a look at the relevant pages in the menu at the top of our website. To book fast boat tickets, use the search box at the top left of our homepage.