Nusa Lembongan Restaurants
Lembongan Food & Drink
With all the new restaurants and bars popping up all over Lembongan, it can be hard to decide where to eat.
On the island you can find many beautiful locations to enjoy a meal while enjoying a little part of the paradise called Lembongan.
In general Lembongan doesn't offer many luxury dining settings but the mid-range and budget restaurants sure make up for that.
With delicious local food, western food and sometimes a mix of both, your taste buds will love what Lembongan has to offer. Most of the restaurants and bars on Lembongan are very laid back, friendly and of good value.
Take a look at our special offers which can all be selected within the booking process of your fast boat ticket to or from Bali.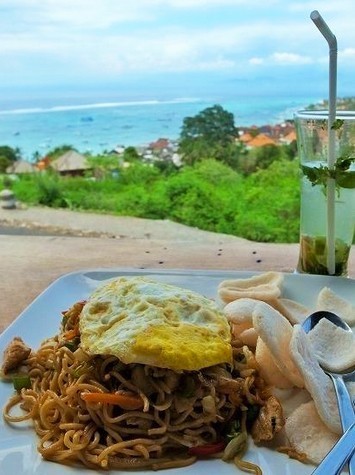 Panorama Bar & Restaurant
Delicious local and western food, affordable menu and the most stunning views on the island. It's in the name - Panorama Restaurant sits atop the highest hill on Nusa Lembongan and boats gorgeous panoramic vistas across the azure bay, with the powerdy white beach stretching off in the foreground, lush green mangroves further off and then giving away to the magical topography of Bali looming in the distance.
Stop off at Panorama throughout the day and cool down with a drink, sitting on the porch to enjoy the breeze. Perfect for tasty Lunches and Dinners, gazing out over the romantic view.
Do not come to Lembongan without witnessing the once in a lifetime sunsets from Panorama Bar and Restaurant!
Due to its location on the road between the two main sides of Lembongan island, it is unmistakably easy to find.
Get 10% off your meal when you download the voucher for Panorama Restaurant at the end of our easy fast boat booking process.