Spa & Yoga on Gili Trawangan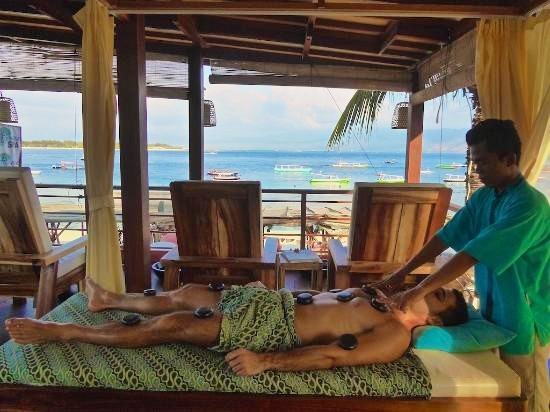 Azure Spa Trawangan - Pesona Resort
Azure Spa Trawangan is found on the first floor above the Pesona Resort pool, where the bustle of the beachside road gives way to cooling breezes and a peaceful relaxing atmosphere boasting amazing views over the sea towards Mt Rinjani on Lombok.
The family friendly Azure Spa handles each guest with upmost care and respect, encouraging optimum ease and comfort to ensure the massage is a special experience. The staff are highly professional and glad to accommodate requests.
Open everyday from 09:00 to 23:00, services include Balinese full body massage, hot stone, aromatherapy, after sun, body scrub, facial and more - all at incredibly affordable prices and generous duration by comparison with typical western Spa's!
Enjoy 10% off your selected treatment or massage when you book a fast boat with us.
Gili Yoga
Receive discounted Yoga classes when you book your fast boat tickets to the Gilis. Simply select Gili Yoga during the booking process and they will contact you directly to make arrangements for your Yoga programme. NOTE: The 10% discount only applies to pre-bookings.
NOTE: not available at the moement as they are closed.

Gili Yoga centre is located close to the harbour on Gili Trawangan. The Yoga Centre shares an office with Free Dive Gili and boasts its very own Yoga pavilion. Daily Yoga classes are given in the warm open air, surrounded by a tropical garden and the sounds of nature. Where the cooling ocean sounds calm the soul and the fragrant breeze fills your breath.
Yoga Centre
Gili Trawangan is a tropical paradise destination, abundant in life above and below the water. Gili Yoga offers a wide variety of daily yoga classes for all levels and experience. Yoga, meditation workshops and retreats offer an experience rich in knowledge, truth, health and joy. Whether you are here to stretch and sweat, breathe and relax, or embrace your spiritual potential, the yoga classes offered by Gili Yoga will help guide you through your journey.
Gili Yoga is staffed by professional, passionate and dedicated yogis who love to share their lifestyle with all. Receive a 10% discount on Yoga classes when booking a boat to the Gili's through our website.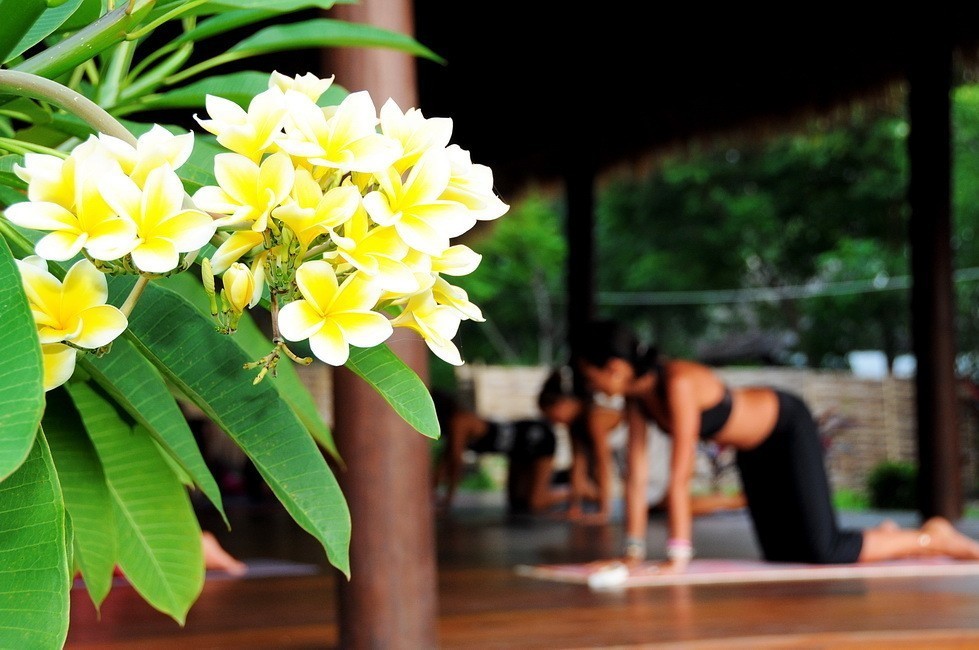 Gili Yoga retreat
Take the opportunity to learn, evolve and embrace the natural elements whether you are in a class, course, workshop or retreat. Gili Yoga offer yoga retreats for the complete beginner to experienced yogi. The retreat programs are run with a holistic approach, harmonizing yoga, nutrition and living life to the fullest. The art of yoga is shared in a fun and encouraging environment so you can experience life in a community of like-minded friends.
Daily meditation and pranayama
Twice daily yoga practice
Luxury accommodation on Gili Trawangan
Group activities (snorkeling, sunset boat ride)
Gourmet Vegetarian Food
Why Retreat with Gili Yoga on Gili Trawangan?
Set on the beach-front of Gorgeous Gili Trawangan and surrounded by lush garden, Gili Yoga houses a spacious yoga studio, 6 luxury Bungalows, and a 25 meter swimming pool. Gili Yoga centre is a sanctuary in the sun; an inviting haven to relax, revitalize and connect with nature. Everything from the rooms to the yoga space has been inspired by a loving relationship with life, the ocean and earth. Newly built rooms offer simple luxury so you wake up refreshed, full of energy and ready to embrace the day. The sacred yoga hall is a spacious and open design to invite the tropical ocean air and circulate prana. Their pool is 25 meters long and steps away from the rooms and yoga hall. The pool is designed for yogis, swimmers, Freedivers and general life adventurers to enjoy.