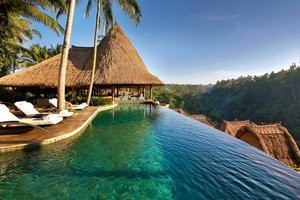 Often referred to as the Island of the Gods, Bali has a wealth of heavenly resorts and luxury villas to make your visit to this magical island an unforgettable one. We bring you a selection of the very best, luxury hotels in Bali - an island long known for offering the highest levels of comfort, and home to some to the most exclusive resorts in Indonesia.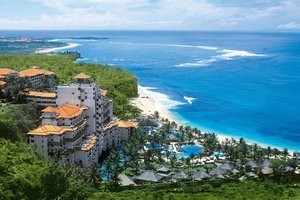 For those looking for more affordable luxury when visiting Bali, there are plenty of mid-range Bali villas and boutique hotels in Bali on offer. Choose from romantique resorts near the sea to family villas set amidst lush tropical gardens, surrounded by rice fields. You'll be spoilt for choice with our range of properties spread right across the island.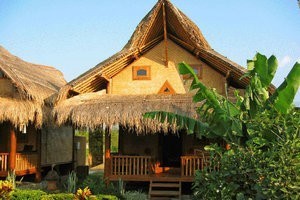 Bali has some great accommodation for backpackers and budget travellers, located at all the best spots throughout the island. Choose from a wide range of cosy Bali budget accommodation from beachfront bungalows to family-run guesthouses; all offering exceptional value for money and friendly Balinese hospitality.
Together with our partners Agoda.com and Booking.com, we offer one of the best selections of resorts, villas and hotels in Bali, with live room availability, immediate confirmed bookings and the lowest rates guaranteed. Featuring hotels in Bali and villas in Bali, search by price range, check out our Travel Tips and things to do, all with a quick and easy booking process. View other Locations

Bali is just one of the many small islands of Indonesia, but without a doubt, it is one of the most famous islands of Indonesia in Asia. Immediately to its east is the island of Lombok and the famous Gili Islands.
Hotels in Bali or villas in Bali? Book your hotel in Bali, or your villa in Bali online with Gilibookings.com. We provide you with the very best selection of hotels and villas in Bali. You can easily book a luxury hotel or villa in Bali online through our website. Featuring hotels in Bali and villas in Bali, spread across a variety of the best tourist locations, hotels Bali and villas Bali with special rates and an easy booking process.

Bali is frequently referred to as "The Paradise Island" because of its reputation in the world as a tropical paradise of untold beautiful nature, idyllic mood and never ending fascination. Bali is located just off the eastern tip of Java, from which it is separated by the narrow Bali Straits, and is the departure point for all fast boat transfers to Lombok, Nusa Lembongan and the Gili Islands.