Hotels in Nusa Dua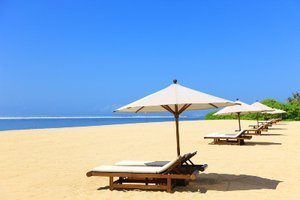 Looking for good Nusa Dua accommodation? Here you will find one of the best selections of resorts, villas and hotels in Nusa Dua, live room availability, the lowest rates guaranteed, and you can make immediate confirmed bookings with no deposit needed. Together with our affiliate partner Booking.com - one of the world's largest online hotel platforms - we bring you Nusa Dua hotels and villas with a quick and easy booking process. For more information and prices on a Nusa Dua hotel, resort or villa, and to see what's available, just click here.
On the Southeast side of the peninsula Nusa Dua is essentially a purpose-built tourist destination comprising a series of resorts that are perfect for anyone that just wants to get away from it all. As well as a host of luxury hotels, Nusa Dua is home to the Bali Golf & Country Club - one of the most popular golf courses in Bali - and the beaches here are white sand, deep, long and above all else, quiet.

Nusa Dua is about a 25-30 minute taxi ride from the busy tourist areas of Kuta and Seminyak. From the airport it's just a 15 minute drive, with many hotels and resorts in the area offering their own shuttle services. The tourist enclave of Nusa Dua is regarded as one of the safer place to stay, with security checks being made on all vehicles entering the area, and is therefore often favoured by those looking for luxury accommodation with postcard perfect beaches.
Gilibookings.com brings you the best hotels and resorts in Nusa Dua along with a wide range of Bali accommodation to suit all budgets. To learn more about the island, and to find out what there is to see and do, have a look at our Bali travel tips.