Hotels in Kuta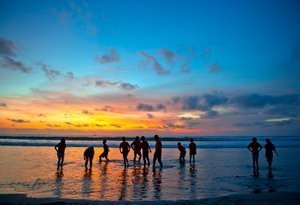 Looking for good Kuta accommodation? Together with our affiliate partner - Agoda.com - we offer one of the best selections of resorts, villas and hotels in Kuta, live room availability, the lowest rates guaranteed, and you can make immediate confirmed bookings online via their secure payment system. Featuring Kuta beach hotels, all with a quick and easy booking process. For more information on our selection of resorts, villas, homestays and hotels in Kuta, and to check rates and availability, simply click here.
The centre of tourism and where it all started, Kuta is now a mix of backpacker homestays and luxury resorts. Thumping nightlife and a great surf beach, Kuta beach is one of the best places to learn to surf with several surf schools to choose from, professional instructors will soon have you experiencing the thrill of surfing the waves.

Kuta started to develop after it was discovered by Western surfers and backpackers some 40 years ago. Kuta is still a backpacker destination but has now grown and is the centre of an extensive tourist-oriented urban area that merges into the neighbouring regions. Legian, to the north, and Tuban to the south. There are many restaurants and bars and nightclubs, and you find a lot of beachfront hotels all along Kuta beach.

Kuta is also a great place to do some shopping, where just about everything on offer in Bali can be found, and where haggling is still accepted in a lot of the local owned shops.
Accommodation in Kuta comes in all forms, with quite a few family 3, 4 & 5 star hotels, as well as luxury villas and resorts. View our Bali accommodation section for more hotels and resorts across the island and check out our travel tips for more on what to see and do in Bali