Hotels in Sanur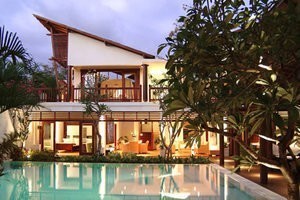 Looking for good Sanur accommodation? We offer one of the best selections of resorts, villas and hotels in Sanur, with live room availability, immediate confirmed bookings and the lowest online rates guaranteed. Featuring Sanur hotels and villas, all with a quick and easy booking process. To see the complete range of Sanur hotels and to get more information and prices, just click here.
You will find a broad range of accommodation in Sanur, ranging from luxury resorts and villas, to small hotels and homestays. Sanur attracts visitors from all over the world and is a particular favourite with families and anyone looking for a relaxed beachside vacation. There's an abundance of restaurants and several sports bars to choose from as well as some shopping opportunities. Don't miss the Night Market where you can sample some of the local delicacies. And if you want to party, the clubs and bars of Kuta and Seminyak are just a taxi ride away.
Sanur was Bali's first beach resort but unlike other resort areas has kept its Balinese character and old style village atmosphere. Located on the southeastern side of Bali, Sanur offers a much more low-key stay than the much busier areas of Kuta or Seminyak.

Sanur accommodation varies from huge resorts and hotels, to smaller homestays, as well as luxury villas. You will also find a great selection of restaurants and bars in Sanur. Offshore reefs protect the beach against the waves, and make it popular for a variety of water sports.
For more on what to see or do in and around Sanur, as well as the rest of Bali, take a look at our Travel Tips. You can also browse our Bali accommodation section for hotels and resorts in other parts of the island.