Hotels in Ubud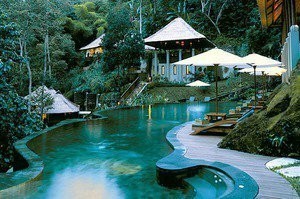 Looking for good Ubud accommodation? In partnership with Agoda.com we offer one of the best selections of resorts, villas and hotels in Ubud, live room availability, the lowest rates guaranteed, and you can make immediate confirmed bookings via their secure online payment system. Featuring Ubud hotels and villas, all with a quick and easy booking process. To see the full range of villas and hotels in Ubud, and to check availability and prices, just click here.
Located in the southern hills of Bali, Ubud is home to the island's thriving arts scene as well as being recognised as a centre for rest and relaxation - with the highest concentration of spa resorts and hotels in the Bali region. This is also where you can see a traditional dance, browse the art market for local handicrafts, explore the surrounding countryside with its terraced rice fields, take part in a cooking class, or just simply chill out.

If Kuta is the beach and party hub of Bali, then Ubud is the centre of Bali´s culture and art, with most of Bali's museums and galleries being located here. Inspired by the local scenery, the green rice paddies, the mountains and the colourful Balinese festivals, Ubud has grown into a thriving arts centre. Close to Ubud you can find small villages specialising in crafts and woodcarving which are sold all over the island. There are hundreds of shops selling antiques, woodcarvings, crafts, textiles, paintings and jewellery as well as some of the best art museums in the country, dozens of art studios, an excellent local craft market, and galleries selling local and international art.
Yoga, spa treatments, massage and cooking courses are just a sample of the other things to pass your time, and as a result of becoming such a popular destination, there are now luxury boutique hotels and villas set in stunning landscapes and with incredible surroundings.
Gilibookings.com strives to bring you the very best Bali accommodation as well as provide you with useful travel tips and information on what to see and do during your stay.