Mid-range resorts in Bali
For those looking for more affordable luxury when visiting Bali, there are plenty of mid-range Bali villas and boutique hotels in Bali on offer. Choose from romantique resorts near the sea to family villas set amidst lush tropical gardens, surrounded by rice fields. You'll be spoilt for choice with our range of properties spread right across the island. So to make it easier for you, we've selected our top recommended mid-range properties spread over the most popular regions of Bali. Browse our useful Bali travel tips for a list of the best things to see and do on Bali. View other Hotels, Locations and Price Ranges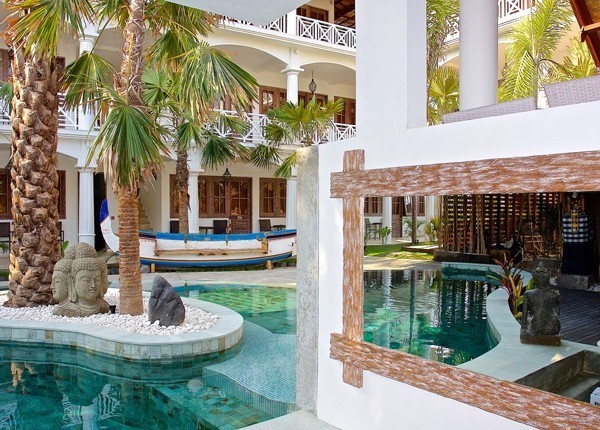 Padang Bai
Nestled in the small bay in the central east coast of Bali lies a beachfront oasis OK Divers Resort & Spa. Located in the heart of Padangbai, this new resort offers cozy high-quality accommodation in 30 rooms and suites. The resort features 2 pools, bar & a restaurant serving the world cuisine, a spa & massage center and a well-established dive center. Its proximity to the speed boat port to the Gili islands makes it the best place for short overnight stays as well as longer vacations.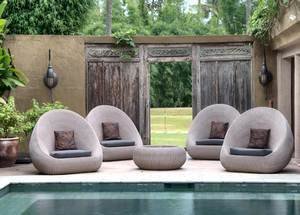 Jl. Uluwatu 18x, Jimbaran
The romantic hideaway of Villa Balquisse, located close to the beautiful beach and famous fishing market of Jimbaran, is the perfect place to unwind. The individually themed rooms, set amidst tropical gardens, are elegantly designed and feature antique Javanese and Balinese furniture blended effortlessly with modern comforts. Go for a dip in the natural-stone pool or pamper yourself at the stunning spa, and later enjoy a meal at the intimate restaurant.

Jl. Kajeng, Ubud
A veritable oasis in a sea of green, The Samara Villas is just a 10-minute stroll from central Ubud in a secluded and private area, surrounded by rice fields. Each of its 6 modern rooms features a king size bed, private bathroom with semi-outdoor shower, satellite TV and private terrace. Accessible only via a natural pathway, the property boasts a swimming pool, with views across the paddy fields, a restaurant serving both Italian and Balinese cuisine and a bar.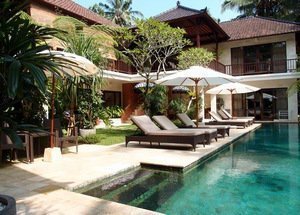 Jl. Rsi Markandya, Jl. Mpu Beradah, Ubud
Overlooking the Pura Dalem Temple by the Payogan River, Villa Saraswati is the perfect place to immerse oneself in peace and tranquillity. Taking its name from the Hindu goddess of knowledge and arts the villa, situated just 4km north of Ubud, boasts 5 well-appointed air-conditioned rooms, with 4-poster beds and en-suite bathrooms. Enjoy a swim in their infinity pool or relax in the luscious tropical garden. They also offer a free shuttle bus to Ubud.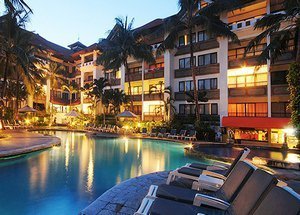 Jl. By Pass Ngurah Rai 83, Sanur
With a choice of 2 and 3 bedroom apartments, Sanur Paradise Plaza Suites is the perfect choice for families and small groups. Located in the heart of Sanur, each of its fully-furnished apartments combines modern home comforts with the benefits and facilities of a resort hotel. The complimentary kid's club – Camp Splash! – will keep youngsters amused while parents can indulge in a luxury spa treatment or simply relax by the pool. There's also a restaurant and pool bar.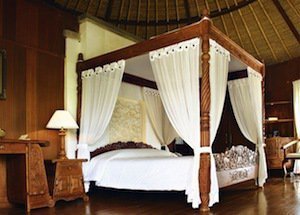 Jl. Dukuh Indah, Banjar Semer, Kerobokan
Surrounded by rice fields and coconut trees, Dewani Villa Resort in Umalas offers a feel of Balinese country living while still only a stone's throw away from lively Kuta. This boutique resort features 7 well-appointed air-conditioned rooms in round chalets, each with four-poster bed and elegant wood flooring. There's a swimming pool and garden area to relax in as well as an open-air restaurant. Transfers to/from the airport and main shopping areas are offered free of charge.
To bring you the very best selection of mid-range Bali villas and hotels, we've teamed-up with the world's leading online hotel platforms - Agoda.com & Booking.com. By clicking on the "More Info and Rates" button, next to any of our recommended properties below, you'll be taken straight to the Agoda.com or Booking.com website, where you'll be able to find out more about each property, check live room availability and get the best online prices. Booking via Agoda.com and Booking.com is safe and secure and every hotel booking comes with their "Best Price Guarantee". You can also check for more luxury Bali accommodation or perhaps something to fit a smaller budget.
While staying on Bali, why not consider taking a few days to visit some of the surrounding islands such as Lombok, Nusa Lembongan and/ or the paradisiacal Gili Islands? At Gilibookings.com we offer live availability e-ticketing for the most reliable fast boat services between all of these islands. We also feature travel tips and a selection of accommodation for you to browse. Simply take a look at the relevant pages in the menu at the top of our website. To book fast boat tickets, use the search box at the top left of our homepage.