Cheap accommodation Nusa Lembongan
Want to stay in paradise without spending a fortune? If you're looking for cheap accommodation Nusa Lembongan has plenty to offer. Apart from its wonderful beaches, Nusa Lembongan offers some of the most reasonably priced accommodation in the islands surrounding Bali. And with new properties being added all the time, there's plenty to choose from. We've selected our top recommended Nusa Lembongan bungalows and Lembongan homestay, all of which offer comfortable accommodation, great value and friendly service. Getting around Lembongan is easy, with the island's main attractions never that far from our selected properties. Check out our useful Travel Tips for more on what to see and do in Lembongan. View other Hotels, Locations and Price Ranges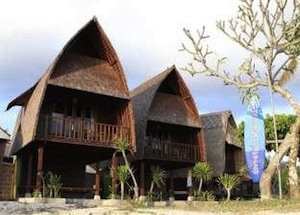 Jungut Batu, Lembongan Island
If affordable beachfront accommodation is what you're looking for, then Suka Beach Bungalow is the place to be. And for surfers, the infamous Shipwrecks is directly offshore. It boasts traditional fan-cooled or air-conditioned thatch-roofed cottages, each with private open-air bathroom, queen-size bed and private balcony/terrace. Breakfast can be served in room or taken at the restaurant, which serves Indonesian and Western dishes along with Balinese specialties. Traditional massage service available on request.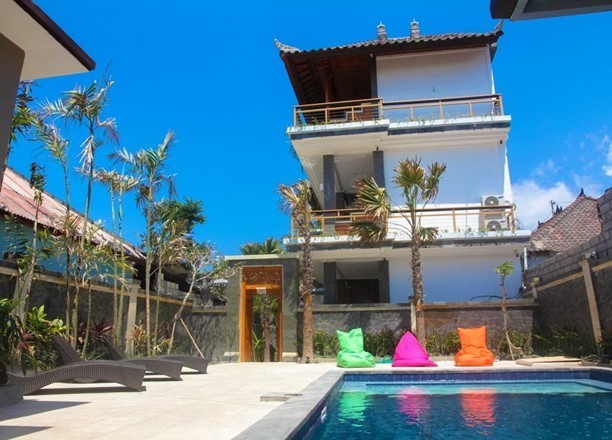 Jungut Batu, Lembongan Island
Just a 3-minute walk from the pristine white beach, this hotel offers modern accommodation with an outdoor pool + poolside bar, good free WiFi and friendly local staff who can arrange a vareity of activities. Guests can enjoy views of the distant Balinese mountains and sea from some of the rooms. For dining, the on-site D'Camel Cuisine Restaurant serves a selection of dishes and specializes in a fresh fish BBQ. The property is within short walking distance of many beachside restaurants and bars.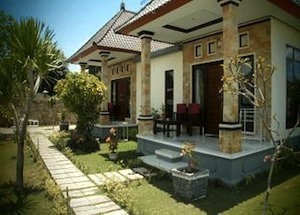 Jungut Batu, Lembongan Island
With panoramic views of Bali's east coast and the towering peak of Mount Agung, Yogi Beach Bungalows offers comfortable oceanfront accommodation, in a relaxed atmosphere. With plenty of bars and restaurants within easy reach, this family-run establishment is ideally situated and features a collection of individual beach bungalows, each with large double bed, en-suite bathroom, air-conditioning and private veranda; some with ocean view. Breakfast is included and drinks are available during the day.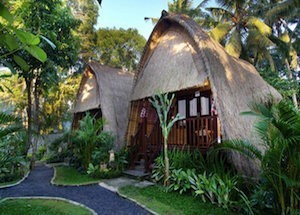 Br. Kaja, Sanghyang Bay, Lembongan Island
Set in a lush tropical garden, Alam Nusa Hut's & Spa is and exotic boutique-style resort situated only 50 metres from the white sandy beach of Tanjung Sanghyany Bay. It features 4 traditionally designed 'Lumbung' style bungalows, with typical Balinese thatched roof, double bed, en-suite bathroom, private terrace and a choice of either a fan-cooled or air-conditioned room. The resort also has a spa offering a range of massages and treatments as well as a popular restaurant.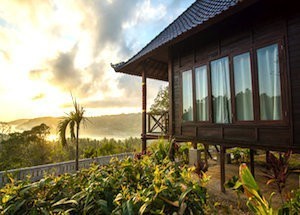 Klungkung, Lembongan Island
Perched atop Lembogan's highest peak, Poh Manis Lembongan offers 7 wooden bungalows all with spectacular panoramic views of neighbouring Nusa Penida and Ceningan Bay. Each room is air-conditioned and features a large double bed, en-suite bathroom with free toiletries, mini-bar and private terrace. Guests can relax by the pool and enjoy stunning views of the mangrove forest and ocean. The restaurant serves a variety of Indonesian and Western dishes. Free transfers to/from Mushroom Bay are included.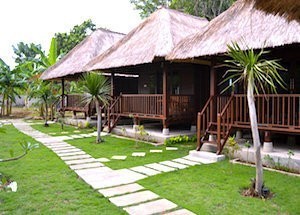 Jl. Devil Tears, Lembongan Island
Situated just a 5-minute walk from the gorgeous beaches of Sunset Beach and Dream Beach, The Akah Cottage is a collection of wooden Balinese cottages, with modern interiors, in a garden setting. Each air-conditioned unit features a queen-size bed, deluxe en-suite bathroom, fan, small refrigerator and complimentary drinking water, tea and coffee. Breakfast is served at your private terrace, with views of the garden, with a good choice of dining options within a 3-minute walk of the property.
With rates as low as US$13 per night for a double room in a Nusa Lembongan guest house, you'll be able to taste a piece of paradise without breaking the bank. Together with our affiliate partners Agoda.com and Booking.com - two of the world's leading online hotel providers - we are happy to offer some of the most affordable accommodation in Lembongan. To check live room availability and the best online prices just click the "More Info and Rates" button by your selected property below. You'll be taken straight to our partner's websites, where you can make instant online bookings. You can also find out more about our selected properties or browse the full selection of luxury and mid-range accommodation on offer. And don't forget, all rates come with a "Best Price Guarantee" offered by our partners.