Mid-range Lembongan Villas & Hotels
Whether you're looking for affordable Lembongan villas or a mid-level hotel Lembongan has it all. You'll find there's a great choice of mid-range Nusa Lembongan accommodation to be had on the island. Choose from beachfront or hillside properties, all with either sea views or tropical garden settings. To make your choice easier, we've picked out our top recommended mid-range properties. Mostly concenrated around Mushroom Bay, with its white sandy beach and calm waters, our selected properties all offer superior comfort at affordable rates. But don't miss out on the rest of the island, with world-class surf breaks and exceptional diving never that far away. See our handy Travel Tips section to find out what there is to see and do on Lembongan. View other Hotels, Locations and Price Ranges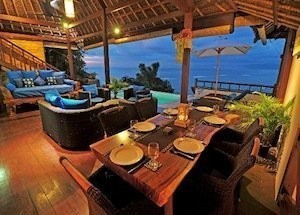 Jungut Batu, Lembongan Island
Just a short 5-minute walk from Jungut Batu beach, Lembongan Harmony Villas offers 1 or 2 bedroom villas, each with stunning views of mainland Bali and Mount Agung, afforded by its hilltop location. Each of the breezy, open-plan villas comes with a large living room and dining area, en-suite bathroom, air-conditioning, ceiling fans, flat-screen TV, full kitchen facilities, private patio and its own infinity pool. In-villa Balinese massage can be arranged on request.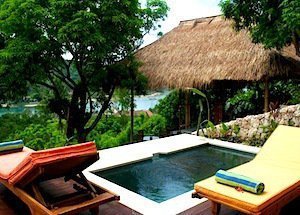 Ancak Village, Lembongan Island
With unrivalled views of Nusa Ceningan, the quaint, boutique resort of Twin Island Villas is the perfect place to kick back and relax. Each of the three 1-bedroom villas, along with the two-storey 2-bedroom family villa, comes with its own plunge pool as well as air-conditioning, fan, King size beds, en-suite bathroom, TV, fridge and private terrace/balcony. There's a cosy restaurant and bar and each room comes with its own moped for guests to explore the island!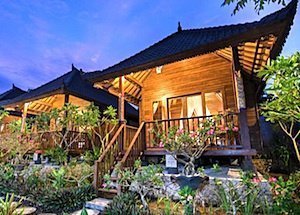 Pantai Tamarind, Lembongan Island
Set amidst landscaped gardens, Cassava Lembongan Bungalows is a unique tropical getaway offering the charms of nature along with friendly Balinese hospitality. Each of the four air-conditioned Balinese-style bungalows features wooden fittings and thatched roof, extra-large bed, en-suite bathroom and private veranda. Relax by the pool or dine at the open-air restaurant & bar. The white sands of Mushroom Bay are just a short 5-minute stroll away, as are several other dining options.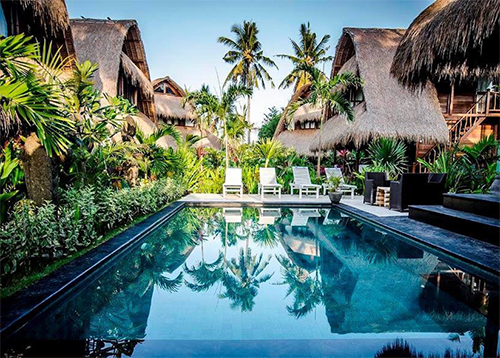 Jungut Batu, Lembongan Island
Inspired by traditional Balinese Lumbung-style living, with touches of India, Tigerlillys is an adult only boutique hotel set amidst tropical gardens. Located just a short stroll from the beach it features 6 stylish bedrooms complete with double or twin beds, air-conditioning, ceiling fans, mosquito net, safes, complimentary water tea and coffee and semi open-air bathroom. At the back of the property are 2 suites, with bedroom upstairs, and living area with DVD player, custom made sofas, and mini bar. There's a bar and restaurant serving delicious healthy food options, with food brought daily from Bali.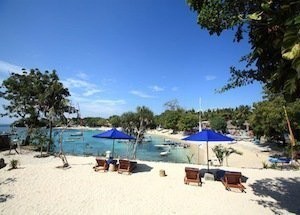 Mushroom Bay, Lembongan Island
A relative newcomer to Mushroom Bay, Sadeg Lembongan is located right by the beach and affords great views over the bay and beyond to Bali's east coast. All rooms are tastefully decorated and feature ocean and garden views, king-size bed, en-suite bathroom and private terrace. There's a choice of fan-cooled or air-conditioned rooms as well as connecting rooms for families. The resort boasts 2 swimming pools and a restaurant & bar, as well as a spa offering traditional Balinese massage.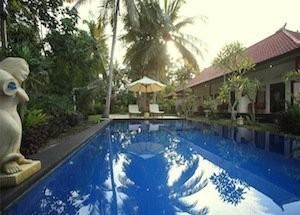 Mushroom Beach, Lembongan Island
Located just 25 metres from Mushroom Bay, surrounded by tropical gardens and coconut palms, The Well House offers great value accommodation with superior amenities and facilities. Featuring Standard and Deluxe air-conditioned rooms, each with king-size bed, semi open-air bathroom, ceiling fan and balcony/terrace with views to the garden or swimming pool. The restaurant serves Balinese and Western favourites and guests can relax at the pool bar or indulge in a massage (on request).
In order to bring you the very best Lembongan villas or Lembongan resort, we've joined forces with the world's leading online hotel providers - Agoda.com and Booking.com. Just click on the "More Info and Rates" button, next to any of our recommended properties below and you'll be taken directly to their websites, where you can get extra information about the property, check live room availability and make a secure online booking; all backed by their "Lowest Online Rates Guarantee". And if you're looking for something with a little more luxury or maybe a cheaper budget option, there are plenty of other resorts and guesthouses to choose from.
While staying on Lembongan, why not consider taking a few days to visit some of the other islands surrounding Bali such as Lombok and/ or the paradisiacal Gili Islands? At Gilibookings.com we offer live availability e-ticketing for the most reliable fast boat services between all of these islands. We also feature travel tips and a selection of accommodation for you to browse. Simply take a look at the relevant pages in the menu at the top of our website. To book fast boat tickets, use the search box at the top left of our homepage.