Lembongan Beach Villas & Resorts
With stunning views and white sandy beaches, Nusa Lembongan offers the more discerning traveller a range of top-end accommodation choices, from superior beachfront bungalows to luxury Lembongan cliff villas. Whether you're planning a honeymoon or romantic break, a family holiday or simply a well-earned vacation in paradise, there's a selection of luxury and boutique Lembongan hotels, resorts and villas to make your stay on the island as comfortable and relaxing as possible. To help you choose where to stay, we've selected our top recommend luxury Lembongan beach viilas, hotels and resorts, situated in the most popular parts of the island. Being only a fraction of the size of Bali, it's easy to explore all of Lembongan's attractions, no matter where you stay. See our useful travel tips for more about what to see and do on Nusa Lembongan. View other Hotels, Locations and Price Ranges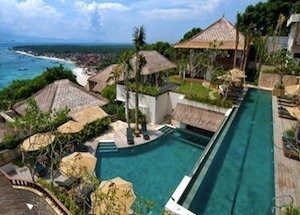 Banjar Kelod Desa, Lembongan Island
Carved into the coral hillside overlooking the ocean, Batu Karang Lembongan Resort is a stylish boutique retreat providing first class accommodation and quality facilities. It features a choice of well-appointed superior rooms, 1-2 bedroom villas and luxury suites, all with modern Balinese décor and 5-star amenities. Boasting 3 outdoor pools, a day spa and panoramic views across eastern Bali and Mount Agung, it also features a restaurant, café and bars as well as a private movie theatre!

Jl. Jungut Batu 56, Lembongan Island
Located right on the white-sandy shores of Jungubatu, Indiana Kenanga Luxury Villa is a haven of peace and relaxation. The 16 luxurious suites and 2 two-bedroom villas at this boutique hotel feature a mix of French design and Balinese décor, and come complete with all the amenities one would expect from a luxury property. Gourmet dining is featured at the restaurant and the hotel also boasts 2 outdoor pools and a spa - featuring a range of relaxing body treatments and massages.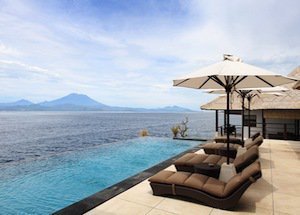 Br. Kaja, Lembongan Island
Set on the stunning headland of Nusa Lembongan, The Point is a small, private, luxury resort boasting spectacular views from its unique cliff-top location. Designed to take advantage of the stunning ocean and sunset panoramas, each of its four stylish suites comes with en-suite bathroom, king size or twin beds, air-conditioning, ceiling fan, satellite TV, fridge and private terrace. The resort also boasts an infinity pool, restaurant and bar. Connecting suites available for families.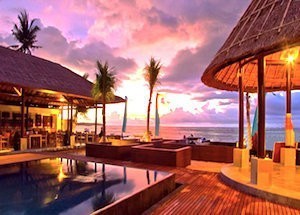 Jalan Pantai Jungut Batu, Lembongan Island
Overlooking the white sands of Jungut Batu beach, Lembongan Beach Club & Resort is a tropical retreat that offers 1 or 2-bedroom private pool villas, with 5-star services and amenities. Each spacious air-conditioned villa features its own terrace overlooking a private pool, en-suite bathrooms with luxury amenities, mini-bar and flat-screen TV. The resort has a large swimming pool, restaurant and bar and offers a range of watersports, excursions and other island (eco) activities.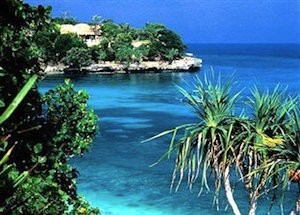 Jl. Raya Plbn. Benoa Hbr., Lembongan Island
Blending seamlessly with Balinese culture, the landscape and nature, Nusa Lembongan Resort offers twelve luxury 1-bedroom villas, beautifully designed to combine old-world charm with modern living. Overlooking the crystal-blue waters of Sanghiang Bay, each spacious air-conditioned villa features stylish bedrooms with private terrace, sunken bath, guest vanities and stereo system. The resort boasts a swimming pool, restaurant & bar, Kid's Club and spa. There's also a TV and video lounge as well as a library.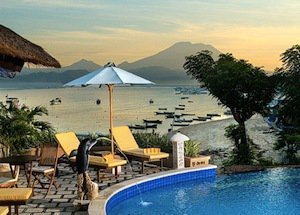 Desa Jungut Batu, Lembongan Island
With spectacular panoramic views stretching across the bay to the Bandung Strait and Bali's Mount Agung in the distance, Lembongan Island Beach Villas has everything one would expect from a first-class resort. Choose from 2 or 3-bedroom self-contained villas, which cascade down the hillside to the beach, and come complete with en-suite bedrooms, spacious living area and fully equipped kitchen; some villas even have a private plunge pool. A selection of restaurants are within easy walking distance.
Together with our affiliate partners Agoda.com and Booking.com - the world's fastest-growing online hotel platforms - we offer a "Best Price Guarantee" on all our hotels and resorts. To check the best prices and live room availability, simply click the "More Info and Rates" button by the luxury property of your choice. You'll be instantly re-directed to our affiliate partner website, where you can get additional information about our properties, as well as book your hotel online. You'll also be able to search through their selection of mid-range and budget properties.