Lombok Budget Accommodation
The tropical shores of Lombok greet many budget and backpacking travellers. Hence there is a wide range of affordable accommodtion throughout the Island, much offering great value for money. We have compiled a selection of the best B&B's, Lombok bungalows and budget hotels for you to view. Prices range from around US$15 - 50 per night for a cheap Lombok hotel (listed from most to least expensive). View other Hotels, Locations and Price Ranges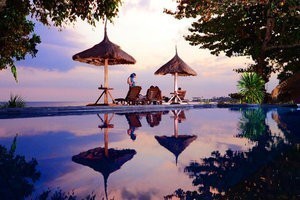 Senggigi, West Coast Lombok
Offering fanatstic quality for a small price, this boutique hotel features rooms with sea or mountain views. Sunset House features a tropical garden, large outdoor pool, beachfront restaurant and bar. The modern rooms are spacious and air conditioned, featuring a flat-screen TV and comfortable seating area, all beautifully decorated and furnished.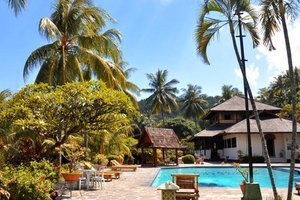 Senggigi, West Coast Lombok
Puri Bunga Beach Cottages is located in a tropical landscape on Lombok, just a 5 minute walk from Senggigi Beach. It features an outdoor pool, restaurant and a dive center. Rooms at Puri Bunga feature private balconies with views of Lombok. Featuring colorful wooden furniture, each room has cable TV and a minibar. Most bathrooms have either a bathtub or a shower.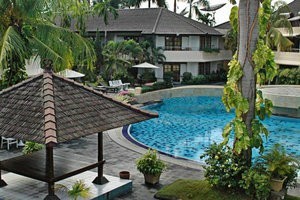 Central Mataram, Lombok
Located in Central Mataram, Lombok Raya Hotel offers an outdoor pool, spa and garden. All rooms come with Air Conditioning, minibar, bathroom, balcony and a flat-screen TV. The hotel is a 20-minute drive from Senggigi Beach. Sightseeing arrangements and car rentals can be made at the tour desk. A selection of Indonesian and Chinese cuisine is served in the restaurant. Room service is also available.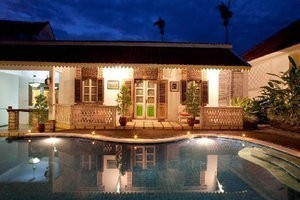 Senggigi, West Coast Lombok
Located in the heart of senggigi, just 5 minutes to Senggigi beach, this pretty clonial style hotel offers a lush green garden, swimming pool, bar and restaurant serving local, asian and western cuisine for breakfast, lunch and dinner. Rooms feature a cool water shower, fan with remote, private terrace and double bed.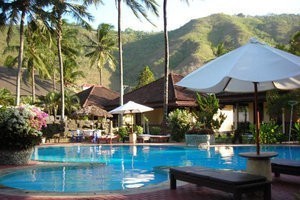 Kuta, South Coast Lombok
Kuta Indah Hotel is the first in the Sasak village of Kuta on the southern shores of Lombok, surrounded by natural beauty and just minutes from Kuta beach. Bask in the sunshine, surrounded by the tropical landscaped gardens or slip into the lagoon shaped pool. 29 air conditioned guest rooms and suites feature a private balcony or terrace, TV and hot water.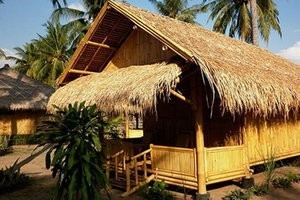 Tanjung, North Coast Lombok, nr. Mt. Rinjani
Offering a restaurant and an outdoor swimming pool, Rinjani Beach Eco Resort is just 10 minutes' walk from the beach. It offers accommodation featuring a patio with outdoor furniture. Guests enjoy private harbor access. All accommodation includes a fan, a wardrobe and private bathroom facilities. Each bungalow features a traditional bamboo thatched roof. The restaurant serves Indonesian cuisine.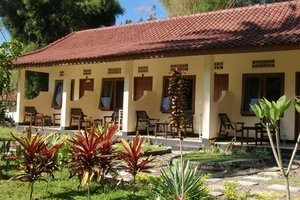 Senggigi, West Coast Lombok
Just 5 minutes' walk from Senggigi Beach, Indah Homestay offers rooms with a patio overlooking the lovely gardens. It features free breakfast and a 24-hour front desk. All rooms are simply furnished with a fan and a seating area. Each room has a private bathroom with a shower and toilet. Friendly, family run and affordable accommodation in one of the best areas of Lombok.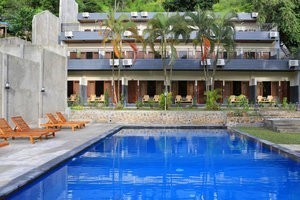 Senggigi, West Coast Lombok
Hotel Bumi Aditya offers rooms with either a fan or air conditioning. The property sits on a hill, within a peaceful village in Senggigi. Free Wi-Fi is available in public areas. Furnished in either a traditional or modern style, all rooms come with a private terrace overlooking the gardens. A flat-screen TV is included. En suite bathrooms are equipped with a shower. Hotel Bumi Aditya is a 10-minute walk from Senggigi Beach and a 15-minute walk from shops and restaurants at Senggigi Art Market.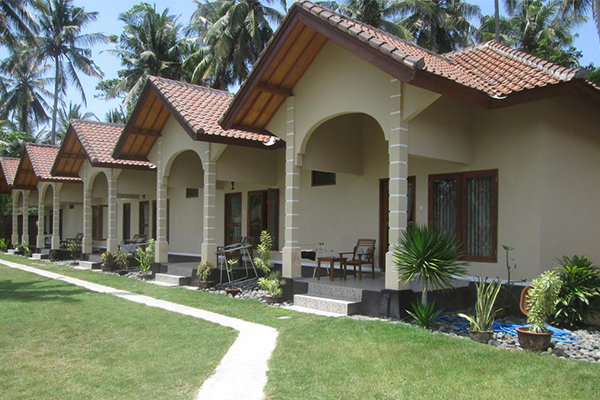 Kuta, South Coast Lombok
Yuli's Homestay is situated only 600 meters from the beautiful Kuta Beach in Lombok, offering guests a relaxing getaway surrounded by lush tropical gardens. All rooms have air conditioning, fans and a private bathroom. There's a choice of 3 swimming pools and 3 well-equipped kitchens available to use during your stay.
With rates as low as US$15 per night for a double room, you'll be able to taste a piece of paradise without breaking the bank. Together with our affiliate partners Agoda.com and Booking.com - the world's leading online hotel providers - we are happy to offer some of the most affordable accommodation in Lombok. To check live room availability and the best online prices just click the "More Info and Rates" button by your selected property below. You'll be taken straight to our partners' website, where you can make instant online bookings via their secure system. You can also find out more about our selected properties or browse the full selection of luxury and mid-range accommodation on offer. And don't forget, all rates come with a "Best Price Guarantee".