Divine Divers Gili Meno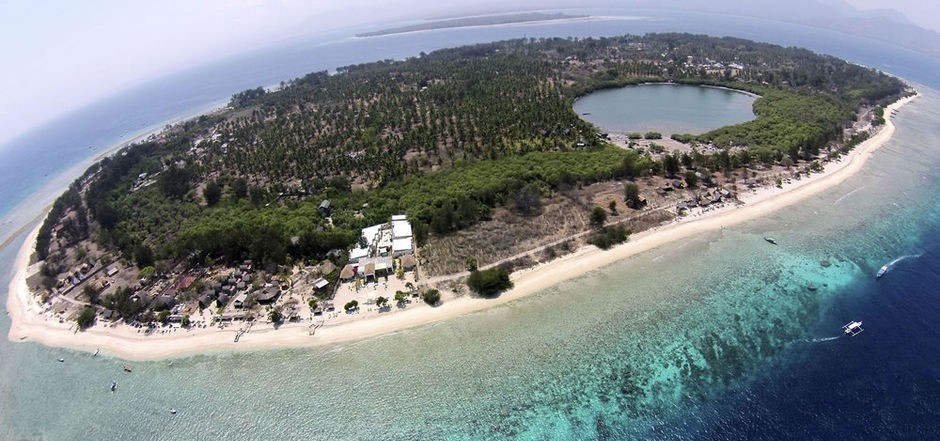 The beautiful island of Gili Meno is a 10min local boat ride away from Gili Trawangan, after a fast boat ride across from Bali or Lombok. Well known for its gorgeous beaches, pristine blue waters and amazing marine life. It's by far the most laid back and quiet of the three Gili Islands and remains largely unspoilt by tourism.
Motorized vehicles are not allowed on the island. The only means of transportation are horse-carts and pushbikes. Gili Meno has a population of only about 300 locals. The interior of the island is mostly palm trees surrounded by grass which is kept neat by cows grazing lazily in the shade. The relaxed pace of life and the community feeling on the island is really special.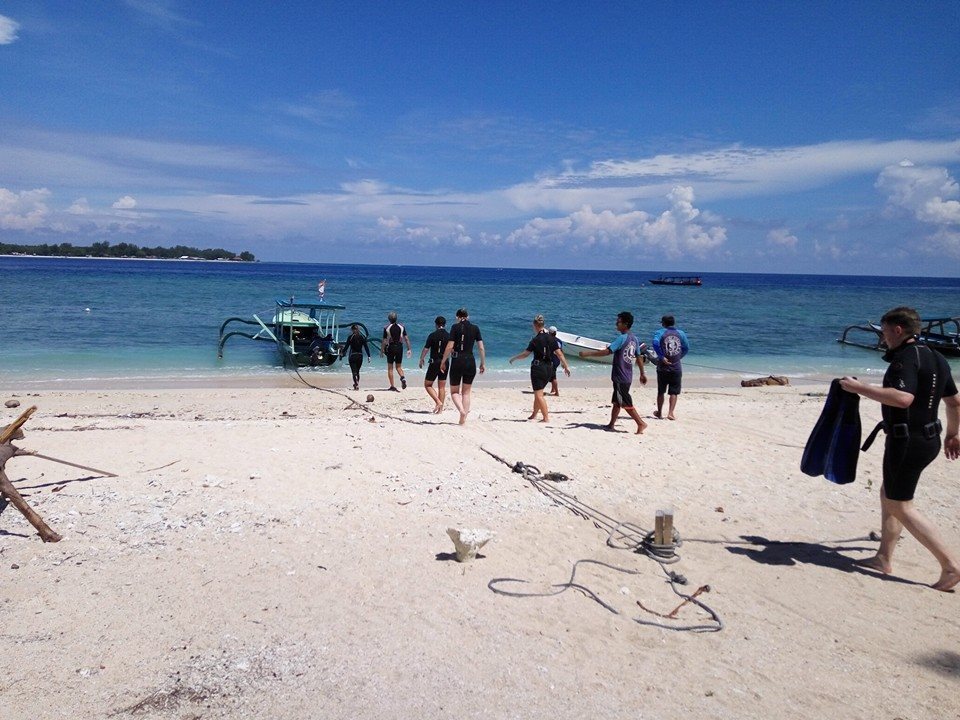 The eastern side of Gili Meno is the main 'village' where the tiny harbour is based alsongside some accommodation, shops and the doctors clinic. Sunset Beach, on the northwest side of Meno, is where Divine Divers are based. The scenery is more tranquill and most visitors consider it the best part of the island. There is a nice selection of restaurants and bars plus some shops for the daily necessities.
Divine Divers was established in 2011 and have gained a fantastic reputation within that short time. There a lots of dive sites surrounding the island, 15 minutes on the boat gets you to most of the divesites, Gili Meno Wall is even directly in front of the beautiful beachfront Diveshop. All Dive sites have an awesome marine diversity with creatures like ornate ghost pipefish, frogfish, nudibranchs, octopusses, reef sharks and lots of sea turtles!

Behind the dive shop are 6 luxury spacious bungalows with modern ameneties. All rooms come with breakfast, air-conditioning & fan, fresh hot & cold water showers, tv including media player, safety box and pool view. All just a few steps away from the beach.
Dive Courses Gili Meno
Most visitors to Divine Divers appreciate the relaxed and flexible ambience of the diveresort. Never taking more than 20 divers on the boat and a max of 4 divers per guide/instructor, the personal approach is obvious from the get go. The dutch owners are passionate divers who are enthusiastic in sharing the wonderful marine world that awaits just off shore.
Discover Scuba Diving

- Have you ever wondered what it's like to breathe underwater? If you want to find out but aren't quite ready to take the plunge into a full dive course, PADI Discover Scuba Diving will let you try scuba to see if you like it.
PADI open water course - When you complete the PADI Open Water Diver Course, you will be certified to dive with your friends and others in the open water, with no instructor assisting you.
PADI advanced open water - Taking your diving to the next level is the most amazing feeling, it enables you to fine tune the skills you have already learnt making you a much more competent and confirdent diver.

PADI Emergency First Response

- The PADI Emergency First Response course trains in basic first aid and life support skills, useful as part of your diving skills as well as on an everyday basis to help save someone's life should the need arise.
PADI rescue diver - The PADI Rescue course is a rewarding challenge that builds on the skills you have already learnt so far and allows you to spot and prevent potential problems before they even happen.

PADI Dive Master

- Become a professional diver, a life and career changing opportunity. Divine Divers offer fantastic Dive Master courses for you to join.
Enjoy special rates at Divine Divers GIli Meno when you book your fast boat to the Gili Islands on Gilibookings.com. Simply select from the list of discount offers at the end of your easy online ticket order and Divine Divers will contact you within 48hrs to provide full details and help you get ready for a fantastic experience.