At the beginning of August 2018, a magnitude-7 earthquake struck the island of Lombok. Over 400,000 locals lost their homes. Here is the story of how we (Island Bookings BV) - thanks to the help of many incredibly generous contributors - managed to build 8 homes for some of the most impoverished families, as well as provide materials to help another 80 families rebuild their homes.
What happened
On 5 August 2018, a 7.0 magnitude earthquake struck the island of Lombok, followed by hundreds of aftershocks. North Lombok, East Lombok and the Gili's were the worst affected areas.
The epicentre of the earthquake was in North Lombok. Many buildings (houses, schools, mosques, etc.) collapsed. Countless residents fled their homes, carrying the little belongings they could save. Hospitals too were damaged, so tents were set-up to tend to the injured.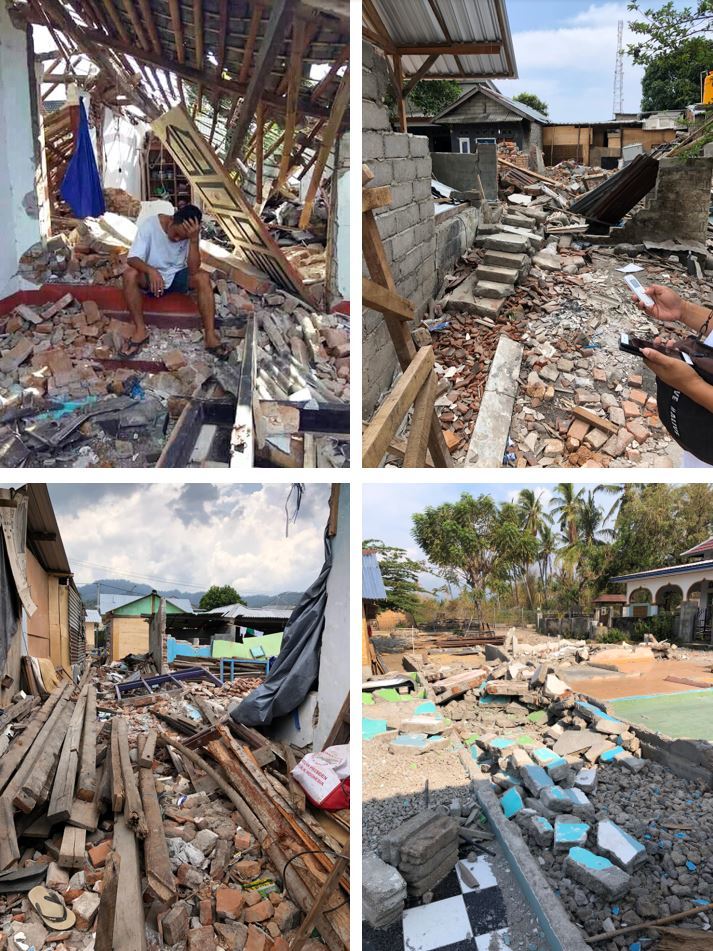 When the earth stopped shaking, this was the result:


What was needed
We have close ties with several businesses in Lombok and the Gili Islands (Manta Dive, Gili Teak, Gili Villas, The Waterfront Resort, Manta Dive Gili Air and Bale Sampan Bungalows). These businesses employ over 150 local staff, of which the majority come from villages in North Lombok. Most of them, along with their immediate families, lost their homes during the earthquake and, as a result, living conditions were frightful. Together with 400,000 local Lombok residents, they were in urgent need of a roof over their heads.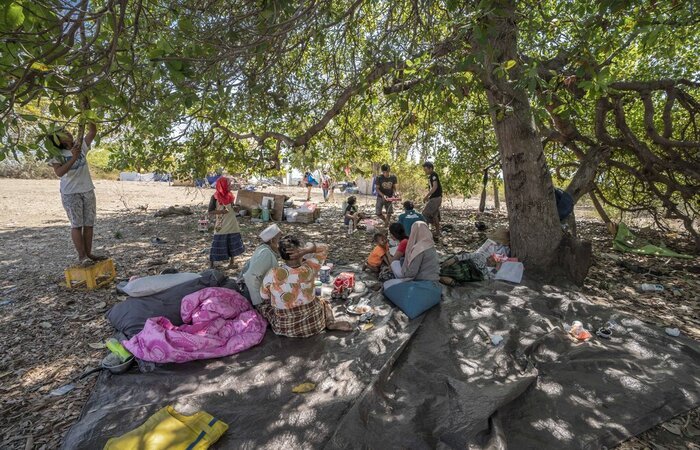 Food and everyday supplies were shipped-in within days, many of the westerners that were working in the region now set about helping raise funds to buy food, medical supplies, and other necessities. Teams - established in Bali, Lombok, and the Gilis - worked together with the locals and coordinated the purchase, shipment, and delivery of these supplies to villages in Lombok.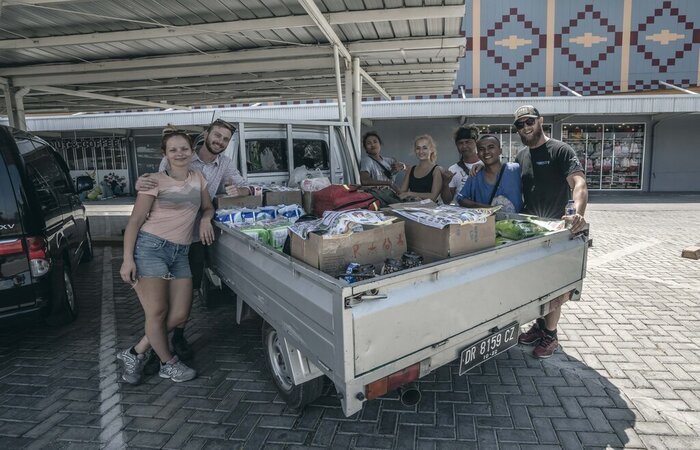 Given these immediate needs were already taken care of, we decided that the best thing we could do was to raise money to help rebuild homes. Obviously, our budget would limit us to what we could achieve, so we set about raising as much as we could.
Raising funds
We hung posters locally in Apeldoorn.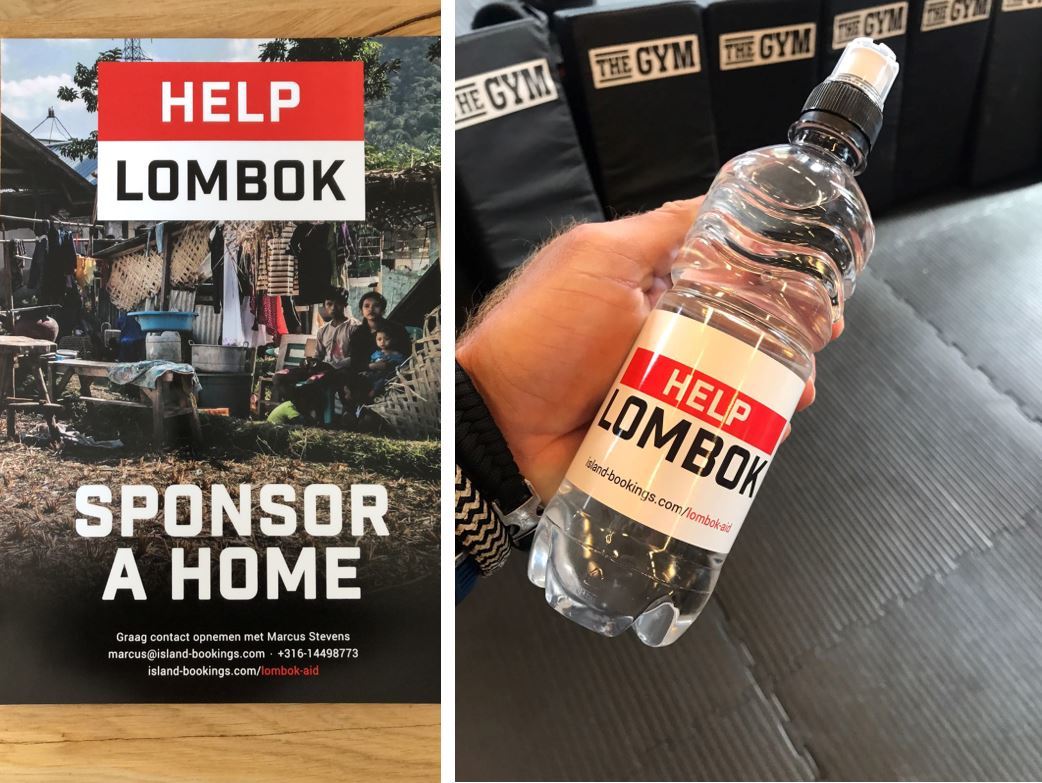 We joined in a charity auction at Quick Tennis Club during an annual tournament. People could bid for things such as a week on Gili Trawangan, a week in an apartment in Mallorca or a golf day with a Pro. A lot of local businesses kindly donated to the auction.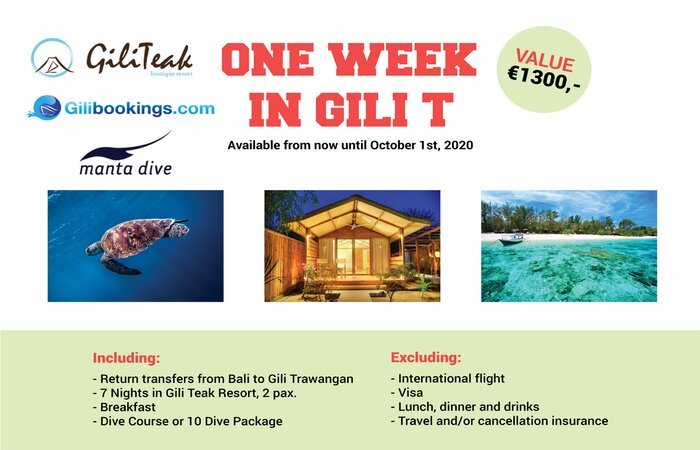 We reached out to our network, asking for donations. The Scherpenberg Golf Club kindly sent an email to all their members, we wrote to our old customers, and we used social media to draw attention to what had happened and what was needed.

We reached out to companies. Those who helped could decide on whether to sponsor a whole, half, or quarter of a home that would give basic shelter to a family. Many answered our call and sponsored our project: Rotary Club Apeldoorn Sprengen, CXP Commerce-Experts, The Webmen, Takes Two, Technoship BV, KIM Nederland, Ten Holter Realty Partners, Reinders Makelaar, Bisterbosch Makelaardij, Buurman Makelaardij, Boon Accountants Belastingadviseurs, Rene Boon Belastingadvies, Talent Eye, Hunink Dorgelo, Glove Box Technology Limited and Tonsley Investments. We are very thankful for their incredible generosity. Also a special thanks to: Ben, Harriet, Helen, Rais, Sudin and Menjali at Manta-dive.com, Lukman at Manta-dive-giliair.com and Rikky. There were also considerable donations from some private individuals, Alex Crombie, Nick Galagher, Daniel Barry, The Masters Tour 2018 and many others.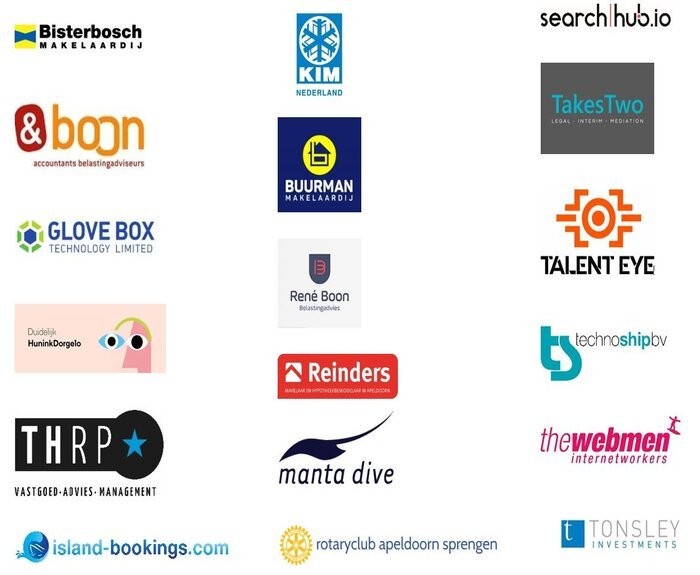 After 2.5 months, we had raised €53.000. Thanks to our sponsors and donors, we had a decent amount of cash to put to use. Now was the time to head off to Lombok and figure out how to make the most out of it.
Getting the job done
It took pretty much the whole of the 2-week trip to put a plan in place and set it in motion.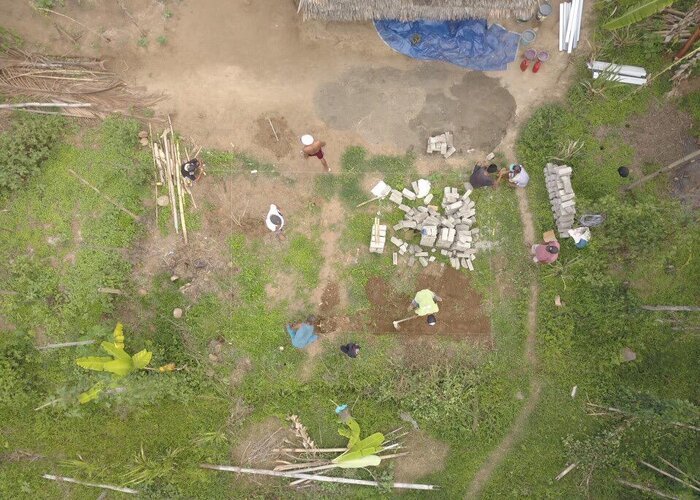 Initially, we asked all the local staff what materials they needed. We created a spreadsheet with their wish lists which came in massively over budget, so we asked them to cut right back and only list the essential materials required to get a roof back over their heads. It proved to be more difficult than expected, since as they all needed so much, and after a few attempts at reducing these lists, we scrapped this idea.
Then, while on a trip to Lombok to visit some of the villages, my local partner, Rais, suggested we build some homes for some of the most impoverished families. Families that lived off the beaten track, that had no means of being able to rebuild anything themselves.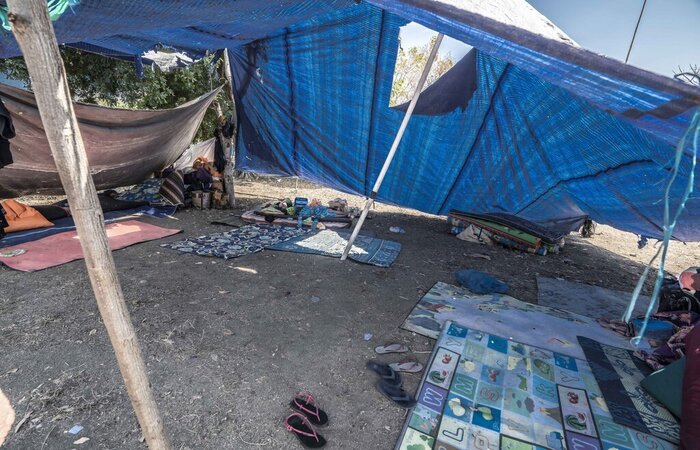 We decided to use part of the budget to build 6 to 8 small homes, with Rais in charge of this mini project. We also decided upon using materials that would be resistant to future earthquakes, rather than just rebuilding with bricks and cement. A lot of the buildings that sustained minimal damage were those built using metal frames and kalsiboard, all lightweight and flexible. The only problem with using these materials was that most of the locals were not familiar with using them. Rais had one builder who knew how to build with these materials. We also had a lot of staff that could help, meaning the labour cost would be almost zero. Also, if they learnt how to build with these materials properly, then hopefully they would take this knowledge back to their villages.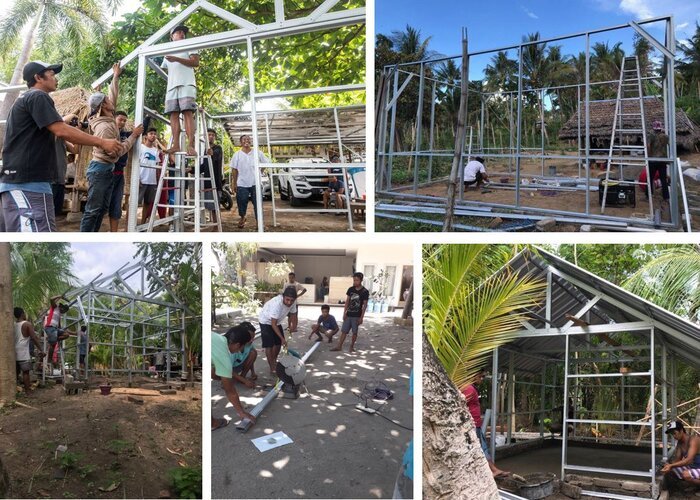 We therefore also decided that we would offer the staff a choice of 5 materials required to build these homes. We would bulk-buy the materials and distribute them based on what they pre-ordered. Each of the 80 families had a budget of 5 million Rupiah (EURO 300) credit that they could use to spend on materials. While this may not sound like a lot, it went a long way. We found the principal supplier in Lombok and managed to negotiate great prices for bulk orders. We nearly managed to halve the price paid in the shops. This saving on materials combined with the free labour meant we could stretch the raised funds even further than we could have hoped.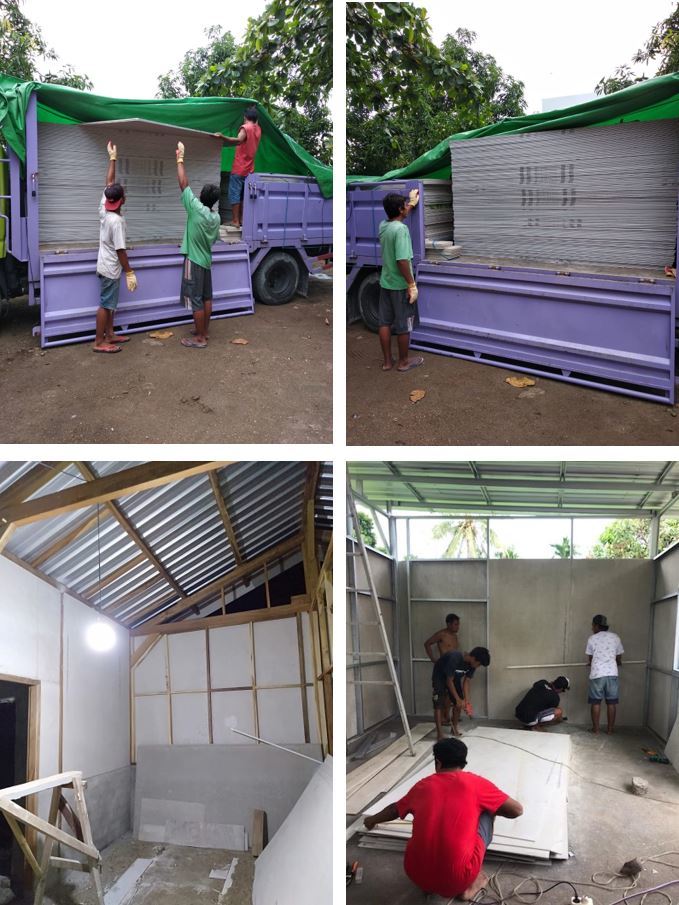 We bulk-bought the following materials:
Cement and sand: for the foundations and floors (in most cases the house pad was the only thing that survived the earthquake)
Kanal: metal beams used for the frames that make the skeleton of the walls
Kalsiboard: weatherproof sheets that fix to the skeleton frame for the walls
Gypsum board: for the ceiling or interior walls
Spandek: corrugated roof material
After two weeks in Lombok and the Gilis, I headed back to Bali. Between the local and western staff, we had a plan: roles were assigned to buy materials, store them, and distribute them.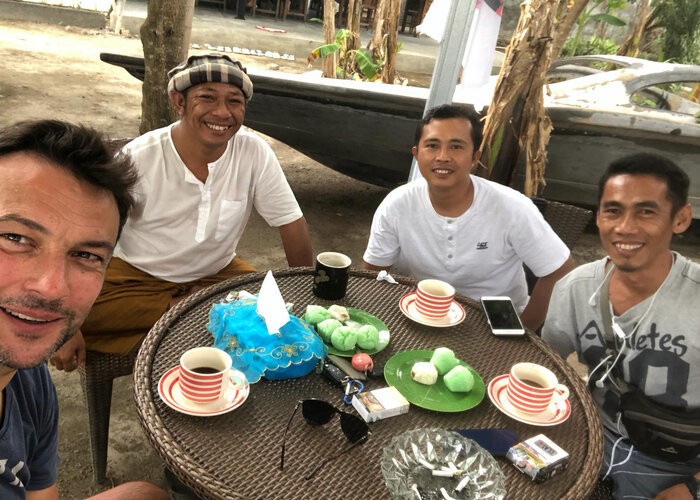 A local architect helped make some basic plans so we could order the correct materials for the homes and had a template to follow.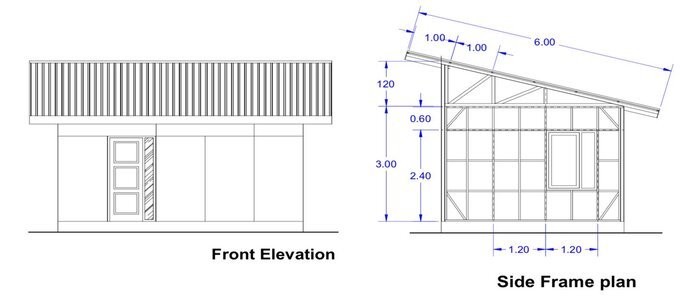 We used the Manta Dive storage shed in a harbour in Lombok to store the materials. Every day, deliveries came in. It was watched over by security every night to avoid the risk of materials getting stolen. Each day, some of the staff would come along with a bemo (small van) and pick up the materials they had ordered.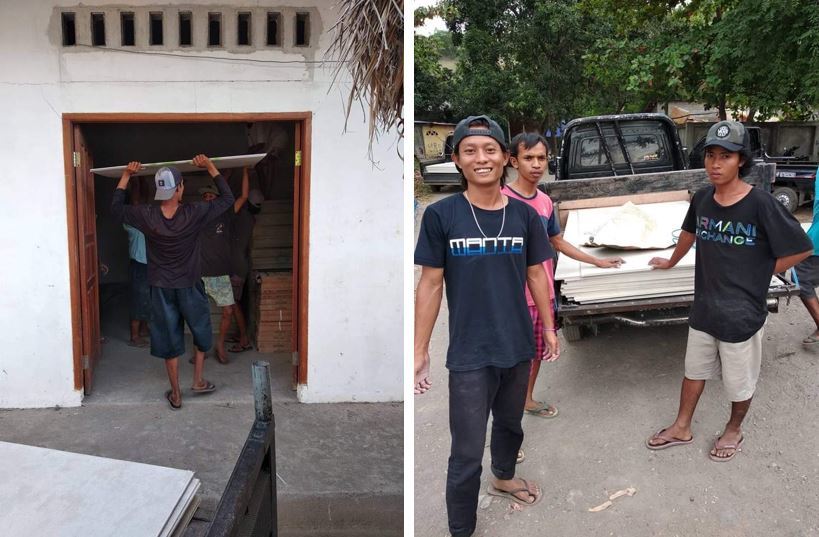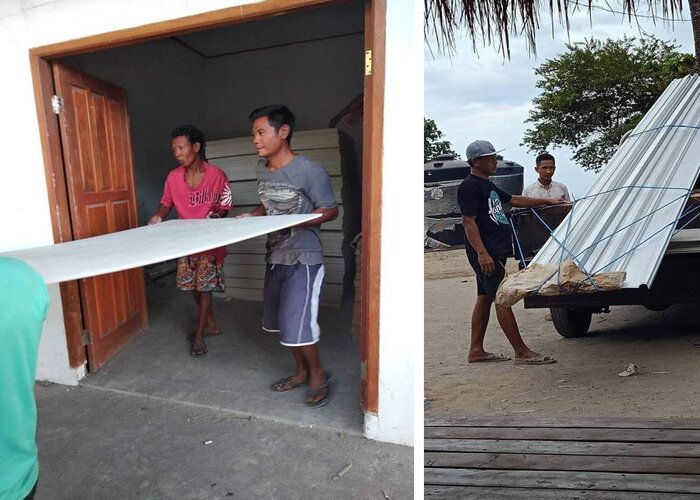 Once the materials were all distributed and the 8 homes almost finished, the rainy season kicked in, followed shortly by Ramadan. Construction had to stop and took a while to get going again. Our project took longer than planned but eventually completed in October 2019.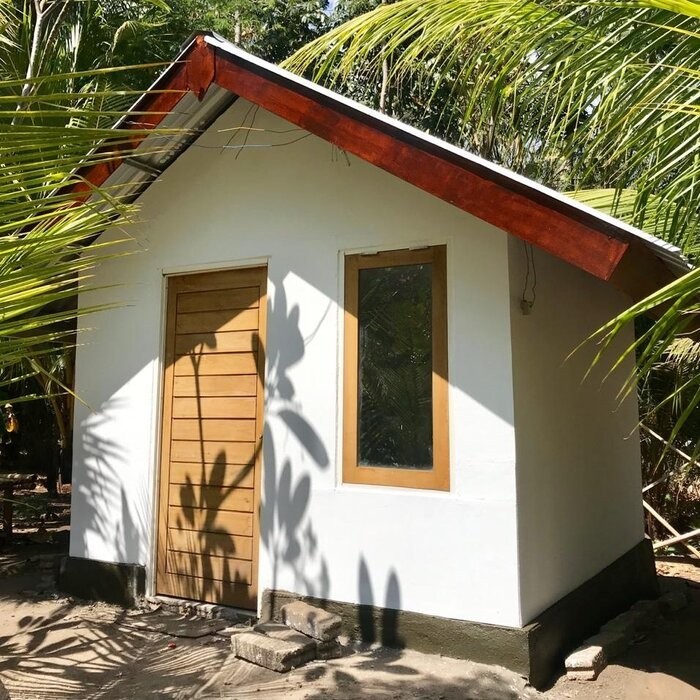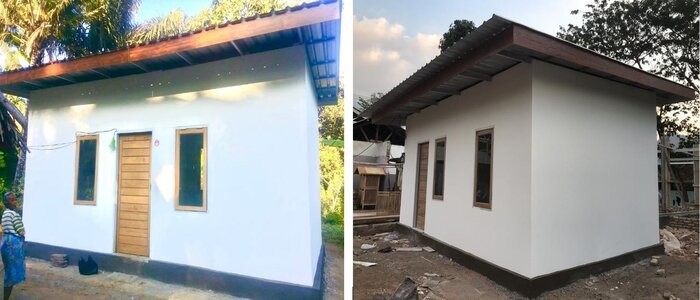 Together with our sponsors, donors, staff, and everyone else that assisted us, we were able to help 80 families that had lost their homes. We were also able to build 8 new homes for the families in dire need. During the entire process, it was inspiring to see the locals and westerners working together to help distribute much-needed help in Lombok and the Gili Islands. Without all the donations, this would not have been possible. A big Thank You for all the support and generosity. Also a big thank you to Alfred Minar and Big Al for photography and drone footage.
About the author
Hi! I'm Marcus, partner at Gilibookings.com.
If you have any feedback, feel free to contact me:
[email protected]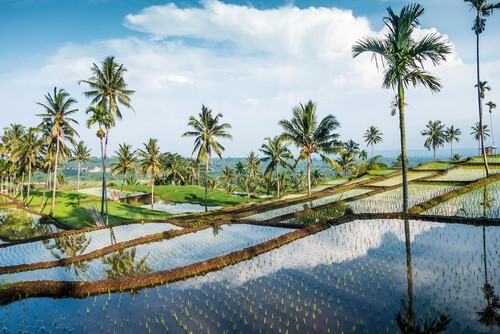 Check out our Lombok, Gili T and Gili Air Activities