Bali Bird Park
Tropical Bird Park Bali
Bali Bird Park is one of the most popular tourist attractions in Bali, and for good reason. This park is home to over 1,000 birds from more than 250 species, all of which are housed in stunning landscaped enclosures that mimic their natural habitats. With a diverse range of species from all over the world, as well as some rare and endangered species that are unique to Indonesia, Bali Bird Park offers a unique and educational experience that's perfect for nature lovers of all ages.

Bali Bird Park is located in the village of Batubulan, Gianyar regency, just a short drive from Bali's most popular tourist areas. Although visitors can purchase tickets on arrival, booking in advance online is highly recommended, as it guarantees entry to the park and often allows you to skip the queue at the entrance.
Inclusions
The ticket price includes access to all of the park's exhibits, as well as daily bird shows and other animal encounters.
Opening times: The park is open daily from 9:00am to 5:30pm, and visitors are advised to arrive early to make the most of their visit.
Booking your ticket is easy, just select the date of your visit, the number of tickets from the menu. Payment is made securely, and you will receive an e-ticket that you can either print out or show on your phone at the park entrance.
Park Details
For more details check out the "Park Info" tab above. In summary, Bali Bird Park is a must-visit destination for anyone traveling to Bali. With its stunning bird exhibits, educational talks, and daily shows, it's a fun and educational experience that's perfect for families, nature lovers, and anyone who wants to get up close and personal with some of the world's most beautiful and exotic birds. So if you're planning a trip to Bali, be sure to visit the Bali Bird Park and discover the wonders of the avian world!
Bali Bird Park Info
Once inside the park, visitors can explore the various bird exhibits, which are organized by geographic region. The park features a walk-through aviary, where visitors can get up close to some of the park's most exotic birds, including parrots, hornbills, and cassowaries. There's also a section of the park dedicated to Indonesian birds, including the critically endangered Bali Starling, which is endemic to Bali.

In addition to the bird exhibits, the Bali Bird Park also has several other attractions to keep visitors entertained. There's a reptile exhibit, which features a wide range of snakes, lizards, and other cold-blooded creatures. There's also a 4D cinema, which shows short films about birds and nature. Visitors can also grab a bite to eat at the park's restaurant, which serves both Indonesian and Western cuisine.

One of the highlights of a visit to Bali Bird Park is the daily bird shows. These shows feature trained birds performing a variety of aerial tricks and other feats, and they're a great way to see the birds up close and in action. Visitors can also participate in other animal encounters, such as feeding the birds or getting their photo taken with a bird of prey.

For those who want to learn more about the birds and their habitats, the park offers several educational talks and demonstrations throughout the day. These talks are led by the park's knowledgeable staff, who are happy to answer any questions visitors may have about the birds and their behaviors.
Bali Bird Park Map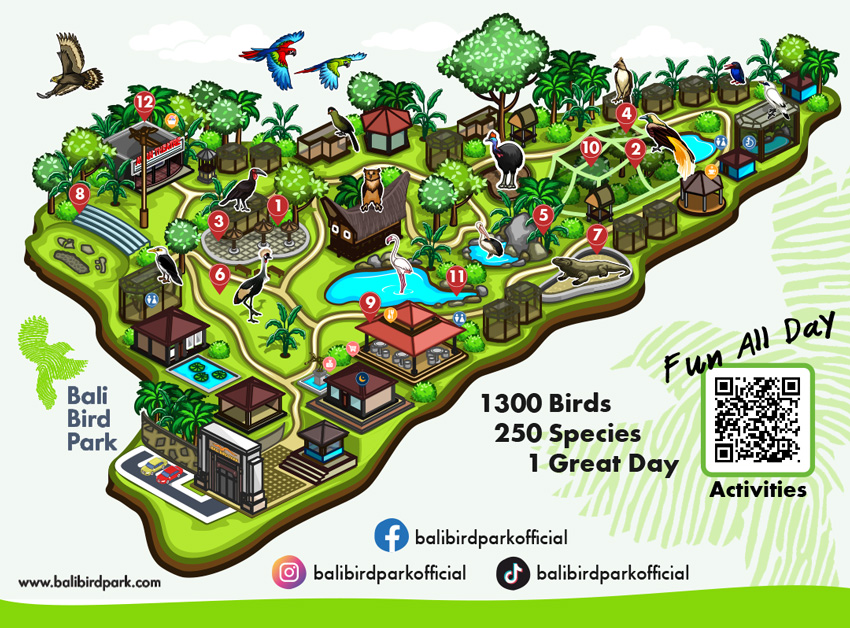 CANCELLATION AND NO-SHOW POLICY:
Cancellation outside 3 days prior to date for tickets reservations under 10 people (including adults and children): No cancellation Fee;
Cancellation of ticket with 3 days notice before arrival date: 50% cancellation fee will be charged;
Cancellation of ticket with less than 3 days notice before arrival date: 100% cancellation fee will be charged
Summary
Location: Bali
Duration: 8 Hours 30 Mins
Categories: Museums, Tours and Day Trips
Check availability