Hotels in Lombok
Do you need Lombok accommodation? Search on our website for one of the best selections of boutique resorts, villas and hotels in Lombok - brought to you in collaboration with Agoda.com and Bookings.com - where you can see live room availability, get lowest rates guaranteed and make immediate confirmed bookings. Featuring Lombok hotel and villas, all with a quick and easy booking process. Just select your preferred price range below to see our recommended Lombok luxury, mid-range and budget accommodation options. View other Locations

Lombok is an island paradise just waiting to be explored, described by some as Bali 20 years ago, check out our Travel Tips and list of things to do. Also check out our recommended top destinations in Lombok - Hotels in Senggigi, Hotels in Kuta, Hotels in Mangsit and Hotels in Tanjung.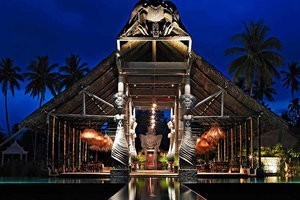 With its white sandy beaches, lush forests and spectacular volcanic mountains, the quiet tropical island paradise of Lombok also offers some gorgeous luxury accommodation to complement its serene natural beauty. Relax, be pampered and get away from it all at one of the spectacular resorts we have featured for you to browse.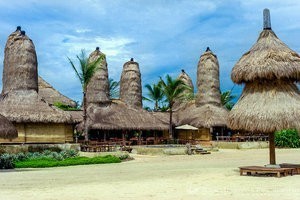 There's an excellent selection of mid-range accommodation available on Lombok. Choose from self-catering properties with all the amenities of home, to an affordable Lombok beach hotel with stunning views and the Ocean just a few steps away from your door. To make your choice easier, we've picked out our top recommended mid-range properties.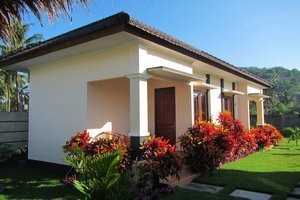 If the luxury price tag of the bigger resorts is stopping you from visiting this magical island, why not stay at a Lombok guest house or small bed & breakfast hotel? Whether you opt for a self-catering apartment or family-run guest house, Lombok has something to suit any budget.

There are an ever increasing number of hotels in Lombok to choose from as this beautiful island is rapidly becoming a highly desirable tourist destination. Boutique hotels and luxury villas in Lombok are now competing with those in Bali.
Lombok is an island in West Nusa Tenggara province, Indonesia. It is part of the chain of the Lesser Sunda Islands, with the Lombok Strait separating it from Bali to the west. The provincial capital and largest city on the island is Mataram.
Lombok now appears to be on the verge of a tourist boom. With the over commercialisation of Bali during the past decade, many tourists are discovering the charm of 'undiscovered' Lombok. With this new interest comes the development of a number of Lombok boutique resorts, Lombok luxury hotels and luxury Lombok villas, all serving quality food and drinks, but just a stones throw away from rural, unspoiled countryside — much as Bali was decades ago.
With the new international airport having moved to south of Mataram, it is now almost a 2 hour drive to the main tourist destinations on the north west of Lombok. The most popular way of getting to this part of Lombok and the Gili Islands is using one of the daily fast boats from Bali to Lombok. The new international airport is therefore only recommended if you are heading to the South of Lombok, an area that will see rapid development over the coming years.
For more detailed information on Lombok, the best things to do and places to visit, see our Lombok Travel Tips.