Scoot Cruise Fast Boats

Bali to Lembongan, Lombok (Senggigi) and the Gilis, daily transfers with Scoot Cruises and Island Hopping. Check live seat availability, prices and departure times for the fast boats from Bali to Lembongan and from Bali to Gili by using the search box on the left of this page.
All bookings are instant and you will receive an e-ticket confirmation immediately. Pay using your credit card or with your PayPal account through PayPal's secure online payment system.



See free hotel pick up and drop of info from your hotel in Bali.
View maps of all fast boat routes and compare their schedules here.
Scoot Cruises Schedule

Departure
point in Bali:


Distance
to Kuta:


Departing at:

Stopping at:


Arrival Time:


Departing
at:


Stopping at:


Arrival Time:


Baggage limits:

Approx Ticket Prices:
Sanur Beach
45 mins
09:30
Lembongan
Lombok
Gili Air
Gili T
10:00
12:30
13:00
13:15


13:45

Lembongan
Bali
15:45
16:30
25kg per person
US$64
$125 rtn
Sanur Beach
45 mins
09:30
11:30
13:30
17:00
Lembongan
10:00
12:00
14:00
17:30
08:00
10:30
12:30
16:00
Sanur Beach
08:30
11:00
13:00
16:30
25kg per person
US$37
$58 rtn
Padang Bai
90 mins
09:30
Lembongan
10:15
08:30
Padang Bai
09:15
25kg per person
US$37
$58 rtn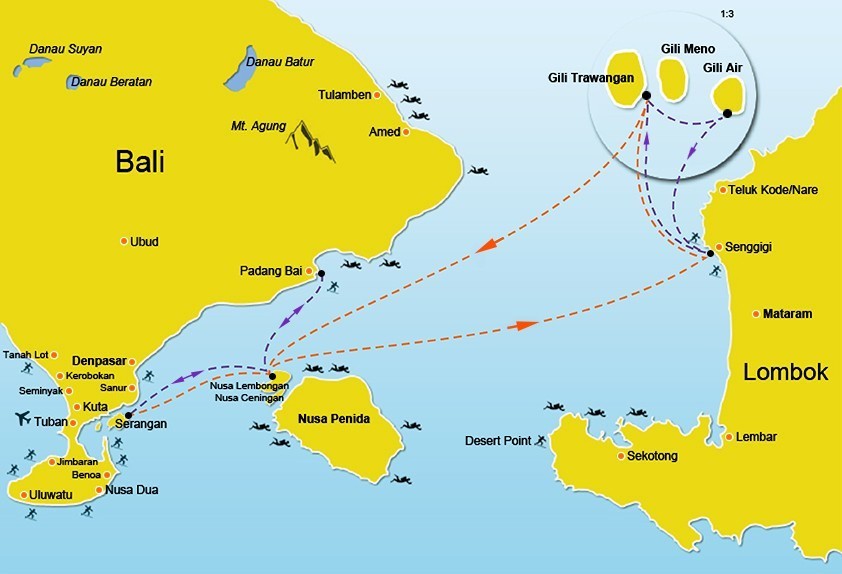 Bali to Lembongan and Gili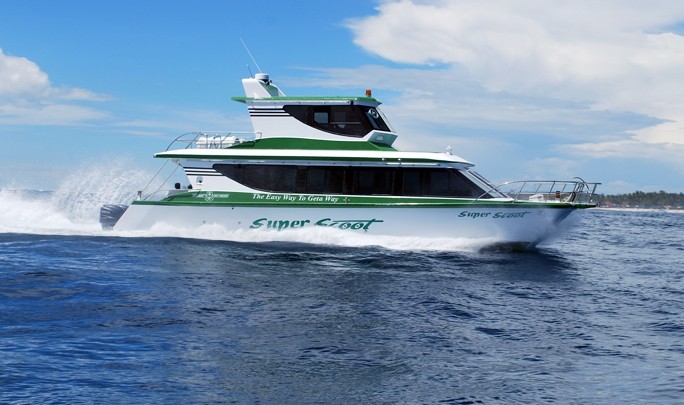 Scoot Cruises offer a daily return fast boat from Bali to Gili. The speed boat stops in Nusa Lembongan, Lombok (Senggigi), Gili Air and Gili Trawangan. Approx crossing time 3 1/2 hours. The cost of the trip to Lombok, Gili Air and Gili Trawangan is the same. Scoot also offer island hopping which means you can use the same ticket but break up the trip by stopping for a few days at any one of the islands for no extra charge. If you want to make more than one stop then there is an additional charge or 120,00rps per person per stop payable directly to Scoot on the day you travel.

NOTE: the island hopping service is sometimes limited by seat availability but once you have bought your ticket it can be arranged last minute by contacting Scoot directly.
Booking the island hopping is not as simple as booking a normal trip. If you want to stop off in Lembongan on the way to (or way back from) Lombok or the Gili Islands all you need to do is book a one way or return ticket from Bali to Gili (or Gili to Bali). Then just send us an email with the date you want to continue from Lembongan to Lombok and the Gilis or from Lembongan back to Bali. Please note: Island hopping includes only one stopover, extra stopovers (i.e. to Lombok as well) carry an added charge (see above), payable directly to Scoot Cruises.

Boat to Lembongan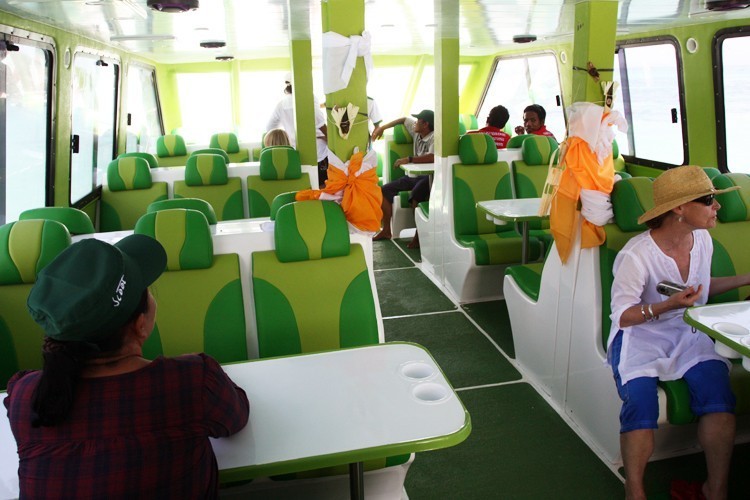 Scoot Cruises also operate 5 daily speed boat services between Bali and Nusa Lembongan island each day. There are 4 daily trips from Sanur to Lembongan, crossing time is 30 minutes. There is also now 1 daily trip from Padang Bai to Lembongan, crossing time is 45 minutes.

Services departing from Sanur beach include free hotel transfers to and from most areas in South Bali, including Kuta, Seminyak, Sanur, Ubud Center, Legian, Nusa Dua, Tuban, Jimbaran, Kerobokan, and Denpasar. Airport pick-up costs 200,000rps, though drop off is free. Canggu and Uluwatu require minimum 2 people for free pick-up or there is an additional fee of 150,000rps one way or 200,000rps return.
The Padang Bai to Lembongan daily departure includes a free pick-up from Candi Dasa and Padang Bai area, additional charges will apply for other areas. Pick-up from other areas is 200,000 - 250,000rps, payable on the day you travel.
Hotel pick up times vary depending on location but can be up to 2 hours before departure time. Once you have made a booking you will receive a follow up to confirm the exact time you will be picked up from your hotel. If your hotel is outside of the free transfer area and you would like Scoot Cruises to pick you up there will be an additional charge. If you´re arranging your own transport then check-in time is half an hour before departure time.
Pick-up and drop-off is also available inLombok, but only for Senggigi area.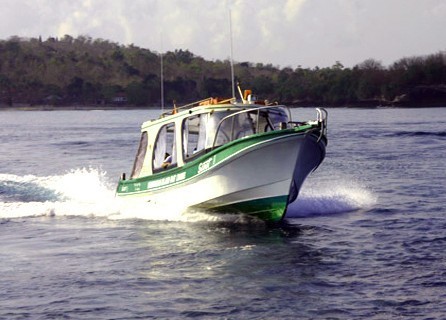 Schedule:
Bali - Lombok/Gili
Departure (Bali) 09:30 Arrival(Gili) 13:00
Departure (Gili) 13.45 Arrival(Bali) 16:30
Note: The boat will stop in Lombok and Gili Air to pick up and drop off passengers.

Bali - Lembongan
Depart Lembongan at: 08:30, 10:30, 12:30, 16:00
Depart Bali (Sanur) at: 09:30, 11:30, 13:30, 17:00
Depart Lembongan at: 08:30
Depart Bali (Padang Bai) at: 09:30


SCOOT II - boat from Padang Bai to Lembongan

11 meters High Speed Mono hull, 28 knots
18 passengers and 2 crews
Full compliances navigation equipment and complete safety gear.
SCOOT V - fast boat from Sanur to Nusa Lembongan
MORE INFO TO FOLLOW SHORTLY


SUPER SCOOT - Bali to Gili

14 meters High Speed Catamaran, 32 knots
54 Passengers and 6 certified crew.
Engine 4 x 200 HP Yamaha 4 stroke out Board.

The boat is complete with Electronics Radar, Map Plotter, Depth Sounder, Safety Equipment, Full compliance and Navigator Equipment, all safety devices including emergency beacons and life raft to international standards. Imported luxury seating and tables. Full size toilet & Bar facilities.

Insurance: liability limited to USD 500,000 each incident.

Immediate online bookings, e-tickets, check live availability with Scoot Cruise fast boats from Bali to Lembongan, Bali to Lombok, and Bali to Gili Islands only available on Gilibookings.com.