Book Fast Boat Tickets
To Check Prices, Live Seat Availability and make an immediate confirmed booking, simply use our search box. Enter your required dates, the number of passengers and desired route, and then click ´Search´. Results will appear displaying all availability for the dates entered. Make your preferred boat selection, click on "book" and proceed through the straightforward booking process. Make sure you don't forget to select some Discount Vouchers during the booking process and save $$$ while on your holiday. After secure online payment you will receive immediate e-tickets from us. The boat carrier will also send you an extra confirmation (detailing pickup and drop off information where applicable) within 24hrs. To see the current schedule and route map for each boat service, take a look at the Gili Fast Boat page.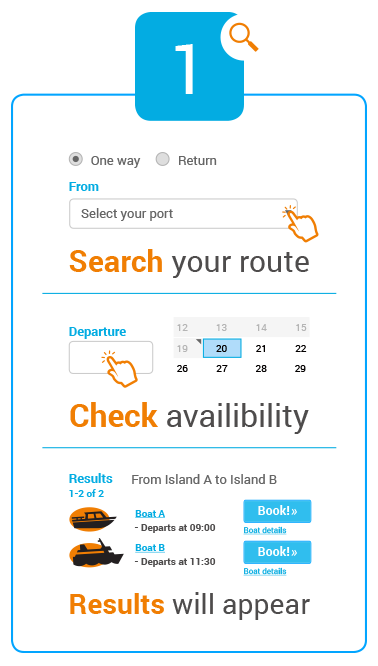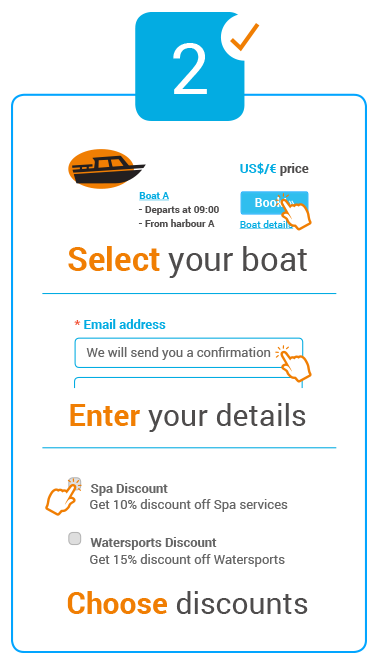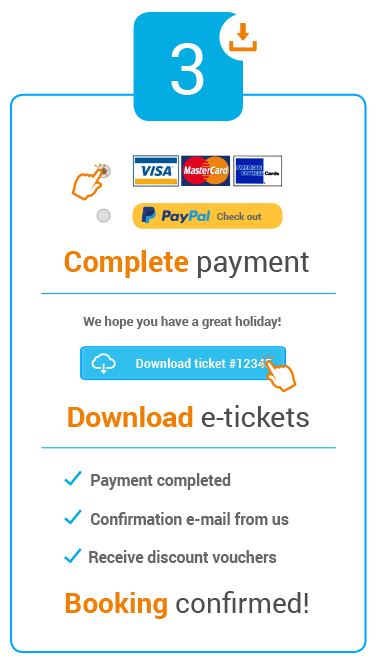 Bali to the Gili Islands and Lombok
Please be aware that there are multiple departure points (harbours) on Bali and it is important to choose one that is appropriate to where you will be staying. Serangan and Sanur for South Bali (Airport and Kuta/Seminyak area), though note that Sanur is only appropriate if you also wish to stop over on Nusa Lembongan. Padang Bai for Southeast Bali (and Ubud), and Amed for the far north east only. The harbour names are displayed within the individual boat results when you do a search from Bali to the Gili islands or Lombok. Day trips from Bali to the Gili Islands are not advisable, more info on why here.
All of our featured fast boat services depart in the morning. The only afternoon departures available are on our best of budget sister site www.Gilitickets.com. These are at 13.00 departing from Padang Bai (1hr30mins drive from the airport). If you're arriving later than 10:00 on an international flight, you will need to stay a night on Bali. Alternatively you can take a domestic flight from Bali to Lombok and then use www.gili-islandtransfers.com for a car and speedboat package from Lombok to the Gili islands.
Out to one Island, Back from Another
If you want to travel, for example, to Gili Air on the outbound trip but return to Bali from Gili Trawangan you can book simply in the following manner: Search for a one way from Bali to Gili Air and select your preffered service from the results. You will be taken to an order overview screen. Click on "add another trip" to be taken back to the search while your selection is saved. You can then search a one way from Gili Trawangan to Bali, adding it to your saved order. Proceed through to booking completion.
If you want to travel between the Gili Islands, simply use a local public or charter boat on the day. Alternatively you can book a speedboat on Gili-islandtransfers.com. If you want to include a stop over at Lembongan or Lombok, please see the below heading for Nusa Lembongan, which explains our featured Island Hopping ticket type.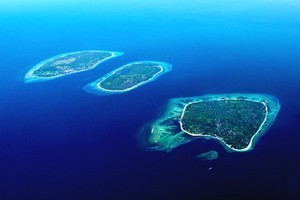 Free Hotel Pickup & Drop
All fast boat services (except Bounty Fast Ferry) currently offer free hotel transfers within selected areas of South Bali (Kuta, Seminyak, Sanur, etc.) to and from the boat departure/arrival point.
Depending on which fast boat and departure point you choose, the areas will vary. Simply click on the 'boat info' link provided in search results for the specific coverage info for each boat carrier.
Padang Bai Departures also include free pickup and drop off from/to central Ubud (see image). This is a very limited zone, considering the size of the area often advertised as Ubud by many hotels and resorts, which upon closer inspection are actually often located 20-30mins further out.
Please check your hotel address to see if you are elligable for free transfers. If your hotel is outside the free zone, simply request central pickup/drop during the booking process and take a cheap local taxi the remainder of the distance. Otherwise an extra pickup fee will be quoted to you by email within 24hrs after booking, payable on the day. You may find it more affordable to use a local taxi or arrange a driver through your accommodation.
If you want a boat departure from Amed, please note: pickup/drop services are only free in Amed area (far northeast Bali), transfers from elsewhere will incur significant charges and will likely involve a very long drive. For further info on free transfer zones, check the fast boats pages and/or the boat info within search results.
Back to Bali on Time for a Flight
Most fast boat services depart Lombok/Gili Islands around midday, with an average total journey time back to south Bali (Airport) of 3-4 hours. If your flight checkin time is later than 18:00, any service should get you there on time (note the different harbour locations as explained above).
If your flight is earlier in the day, we advise that you return to Bali a day in advance and stay at a Bali hotel for the night (Kuta/Jimbaran/Seminyak suggested areas). Alternatively you can head over to our best of budget sister site www.Gilitickets.com to check for a morning crossing from Gili to Bali. Boats sailing to Padang Bai will drop to the Airport for free. Allow for at least 4hrs total journey time, and factor in check-in well in advance of your flight. Any risk of delay or missed flight is your sole responsibility.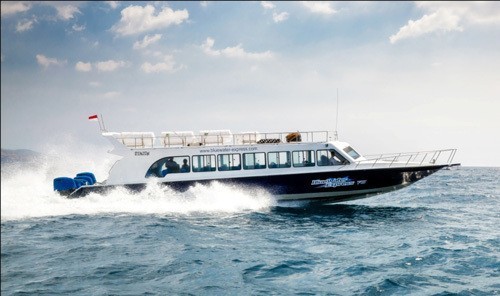 Lombok to the Gili Islands
There are daily fast boat services from Lombok to Gili Trawangan and Air provided by Scoot Cruise and Gili Getaway. You can use the search box to book this. From Lombok airport arrivals, the taxi journey to Senggigi takes around 1hr 30mins. Note: Scoot and Gili Getaway do not provide airport pickup services on Lombok.
If the timings don't work with your flight arrival, if you prefer a private car & speedboat transfer or if you want to go to Gili Meno, you can use our new site www.gili-islandtransfers.com. Alternatively local boats are available from Bangsal harbour (north Lombok), however beware of the hawkers and only purchase tickets from the public harbour office.
From the Gilis going to Lombok, tickets can arranged through the above site or purchased from the ticket office on each of the islands. Options are: Public boat (costs about US$4 and leaves when full), Shuttle boat (about $10, departs a few times a day), or Charter boat (roughly US$35, leaves on demand).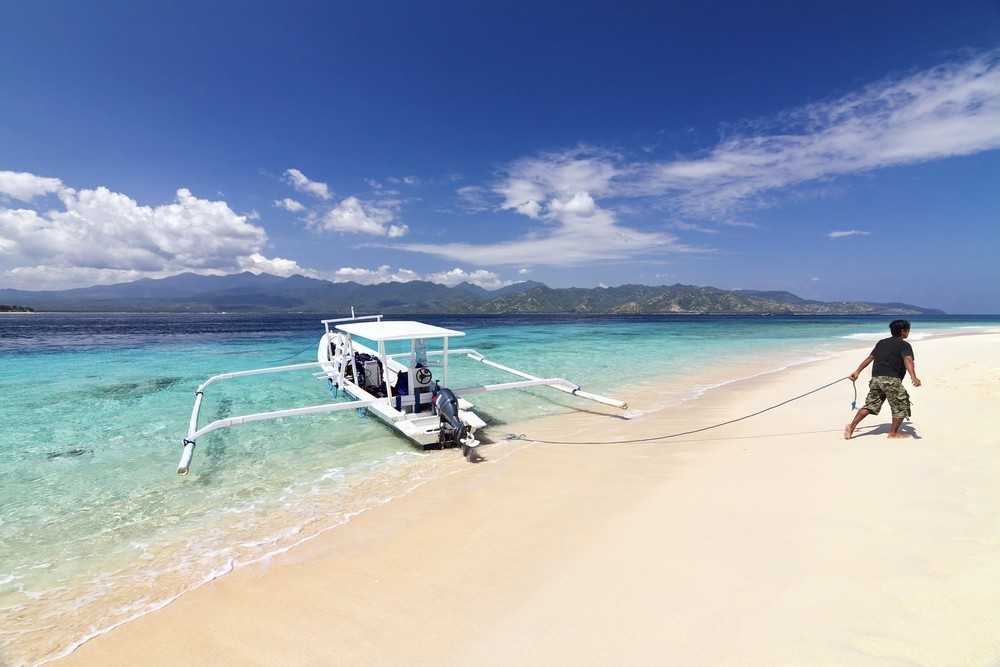 We offer multiple departures with Blue Water Express from Serangan to Lembongan, Scoot Cruises from Sanur and also the huge Bounty fast ferry departing Benoa.
For travelers wanting to stop over on Lembongan en-route to or from the Gili Islands/Lombok, the best option is to book an Island Hopper ticket with Blue Water Express or Scoot Cruises. Simply perform a search from Bali to the Gili Islands/Lombok (or the reverse). Select an 'island hopper' ticket from the results that appear. This ticket type includes a free optional (minimum 1 night) stopover on Lembongan.

Once you have made your booking, we will send you immediate e-tickets. The boat carrier will also confirm within 24hrs. Please reply to them in a quick email regarding the desired hop off in Lembongan and the date you wish to continue to your final destination. They will then make sure your itinerary is organized* at no further charge.
(*= Preferred stopover dates on Lembongan are subject to seat availability. Booking far in advance is strongly recommended.)
For more details and a comprehensive range of frequently asked questions, please take a look at our FAQ page. There you will find information about currency (Gilibookings is an international company and uses United States Dollars), secure Payment options, cancellation & refund policy, our quality and safety standard guaruntee and more. If you still can't find an answer to your questions after reading through the FAQ, feel free to contact us.
PLEASE NOTE: If you have already booked, please direct any transfer related inquiries to your carrier first, using the contact details that are found on your tickets.