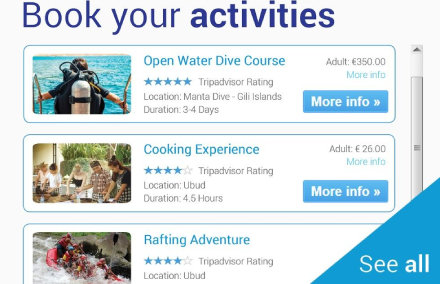 Regional Travel Guide
Here you can find some frequently asked questions and general info relating to travel in Bali, Lombok, Lembongan and the Gili Islands. This culturally and geographically diverse region boasts some of the most spectacular places to visit in southeast Asia, ranging from rice paddies, Hindu temples and active volcanoes to pristine beaches, Coral reefs, Surfer's paradises and tiny tropical islands.
For specific travel guides relating to each of the main islands check our individual pages by selecting from the below boxes or clicking on the map.
Underneath the boxes are some general tips for first time visitors to Indonesia and the region. If you're looking for information on fast boat tickets, please take a look at our how to book page or use the search box on our homepage.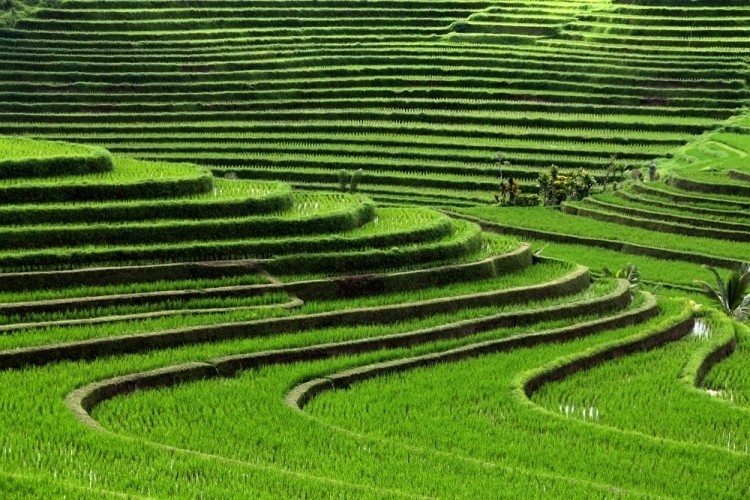 With its varied landscape of hills and mountains, rugged coastlines and sandy beaches, lush rice terraces and barren volcanic hillsides all providing a picturesque backdrop to its colourful, deeply spiritual and unique culture, it's no wonder Bali has become known as the Island of the Gods.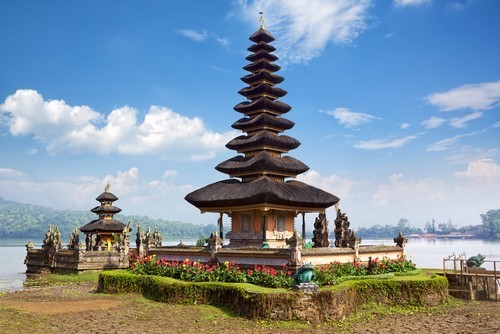 Lying to the east of Bali, Lombok has wonderful beaches, enchanting waterfalls, Indonesia's second highest volcano, unspoilt forests and stunning landscapes. In addition to its natural beauty, Lombok has a rich and endearing culture, with its indigenous Sasak people being one of the many unique attractions of the island.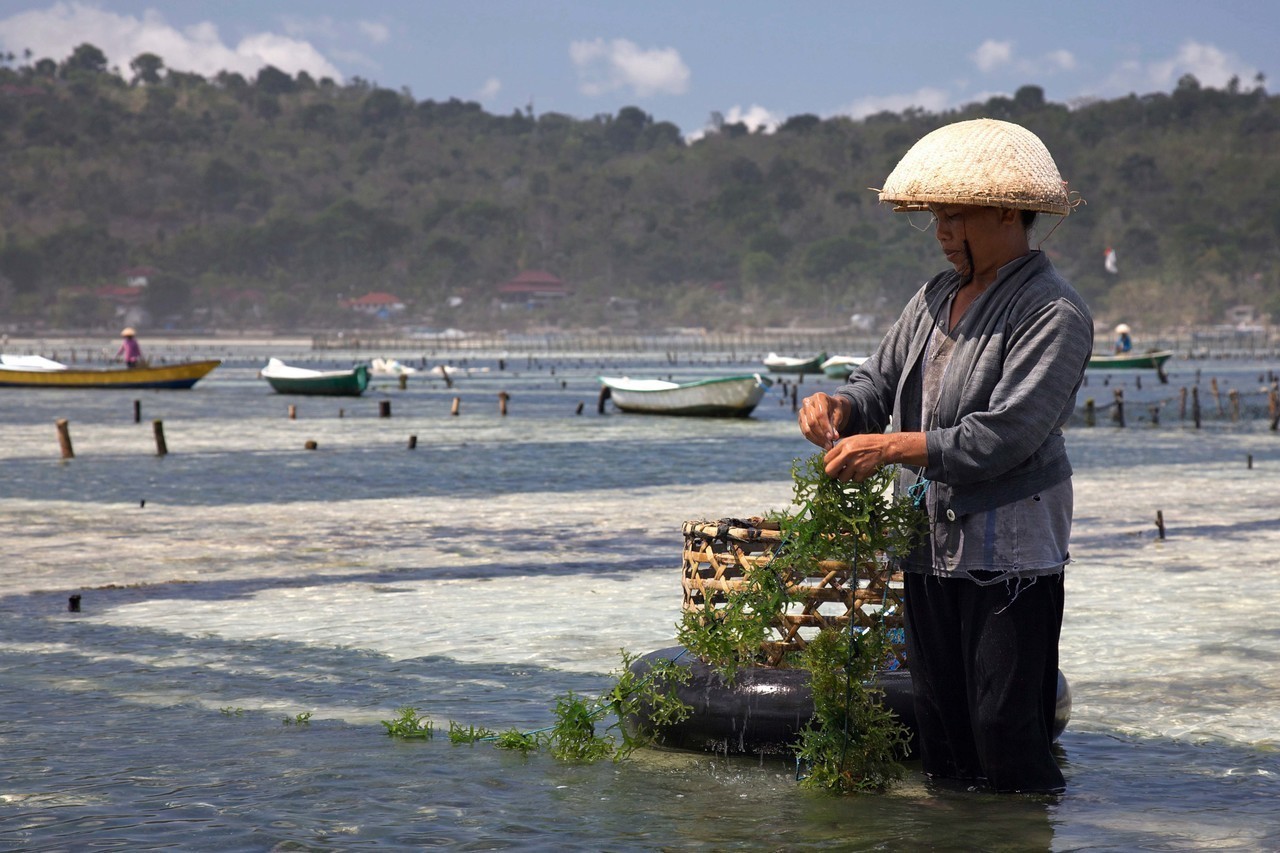 Only 20 kilometres off the southwest coast of Bali, this island paradise is no longer just a day-trippers' attraction, but has become a popular holiday destination in its own right. Uncrowded white sand beaches, excellent diving and snorkelling, along with world-class surf breaks, makes Nusa Lembongan the ideal destination for families, extreme sports enthusiasts or anyone looking to have an island experience without the hustle and bustle of neighbouring Bali.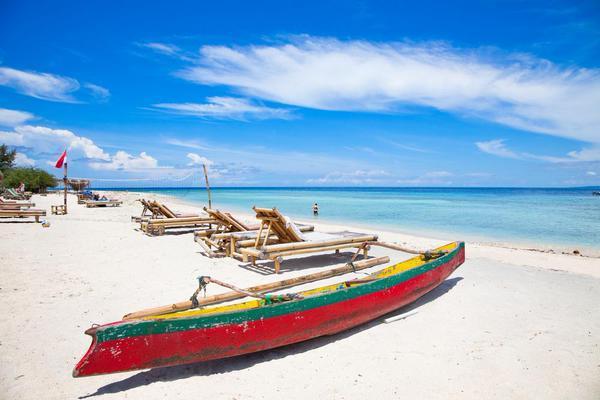 Gili Trawangan is the most visited of the three and has earned a 'Party Island' reputation amongst travel enthousiasts internationally. Once a backpacker's haven – with basic beach huts and simple bars, serving concoctions that offer 'free lunar transport' – Gili Trawangan has undergone some dramatic changes over the past five years and now caters to a decidedly more upmarket crowd, often with family in-tow, all seeking that tropical island experience with the luxuries of home.
Aside from the laid-back beach culture, the main draw of the island is scuba diving. Accommodation choices range from budget guesthouses through a large selection of mid-range beachfront hotels, to resorts and luxury villas.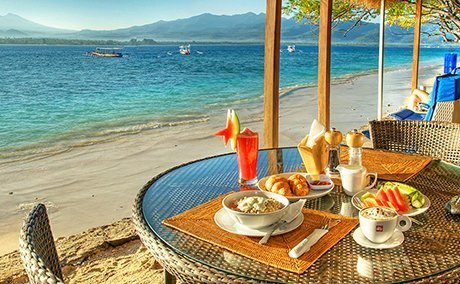 Although closest to mainland Lombok, Gili Air lays somewhere between the tranquillity of Gili Meno and the bustle of Gili Trawangan – making it a great option for backpackers and families wanting to get away from the crowds and acquaint themselves in local culture. As with Meno, the pace of life is slow and endearing but like Trawangan there's plenty to do, such as diving, snorkelling and even some surfing by day, to live music and restaurants at night. There's a surprisingly wide range of accommodation on the island to suit every budget, on the beach or set back in the coconut groves.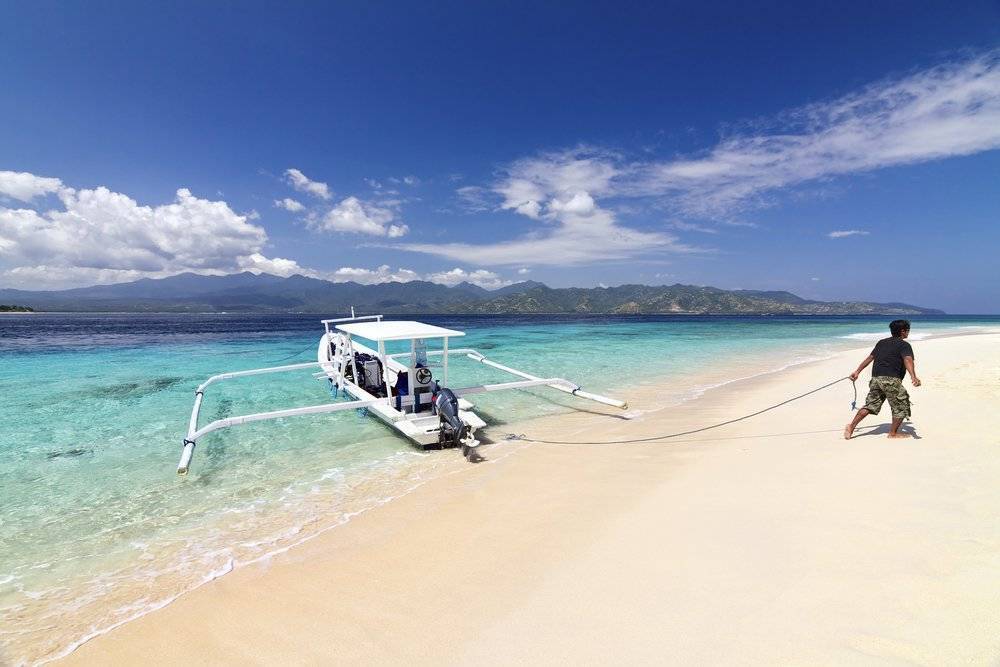 Gili Meno may be the smallest and quietest of the three islands but it's as close as you'll get to a true tropical island getaway. Sandwiched between Gili Trawangan and Gili Air its stunning beaches and laid-back charm provide a great escape for honeymooners looking for seclusion or those just wanting to get away from it all! Accommodation is provided by a variety of small hotels and beachside bungalows; with more luxurious options slowly being developed. Dining is a casual affair with fresh fish BBQ's dominating the menus of the beachside cafes. And when not relaxing, there's plenty of great diving and snorkelling on offer as well as bird and turtle sanctuaries to visit.
---
Good to know when travelling in Indonesia
Ladies are advised to always carry a sarong – they are light and cheap, and you may need to cover up if you find yourself near a temple or mosque

Apart from the larger department stores and supermarkets, no prices are fixed - even if the vendor says it is. You can always haggle!

When there are monkeys around, protect your belongings because they are curious and love to steal things!

Learn how to say 'no' to the hawkers politely; a simple but strong "Tidak, terima kasi" (Tee-dak, ter-ee-ma ka-see) will do the trick.

The dogs in Indonesia (particularly Bali) are known to be rabid. And they're everywhere. If you find one following you, hiss at it loudly. Never run.

Never sunbathe nude or topless (women), and cover up away from the beach (no bikinis), when on Lombok and the Gilis. Although it may feel like Bali, the locals are Muslims so it's good to show some respect.

If you're travelling with kids to Bali, and want some time to yourself, Cubby House Kids Club offers the perfect solution for holidaying parents. Drop the kids off for a few hours while you go shopping or treat yourself to a relaxing massage. And while you enjoy yourself you'll be happy in the knowledge that your kids are having fun too; with lots of activities and games to keep them entertained.

With regards to your personal safety, behave as you would at home. Always lock the door to your hotel/guesthouse room; even when in the room. Don't leave bags/valuables unattended. Take care when being offered drinks from someone you don't know.

There have been a number of deaths in recent years from Methanol poisoning throughout the region. The source is locally distilled spirits, so you are well advised to stay away from these, as well as cocktails containing local spirits. Even if you are ordering an imported spirit if you suspect it is not what you are paying for then send it back. If you are unsure the simplest thing to do is just stick to the beer and wine.

FAQ for Bali, Lombok, Lembongan and the Gili Islands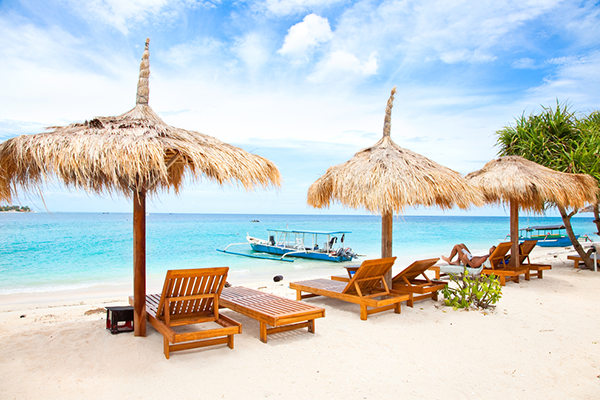 What is the weather like in Bali/Lombok?
Like all tropical climates, Indonesia has two seasons – Wet and Dry. Wet season runs from October to March (with January and February being the wettest months) with Dry season for the rest of the year. The average humidity is 70%.
Are there any health precautions I should take?
Although there is malaria throughout Indonesia, the risk to travellers staying in the main tourist areas of Bali, Lombok and the Gili islands is quite small and prevention by malaria tablets is usually not prescribed. Always check with your local health authority for the latest recommendations.
Although the risk of malaria may be small there are still mosquitoes, and with the increase of dengue fever throughout S.E. Asia, it's recommended to use repellents and to stay covered around sunrise/sunset. Sleeping under a mosquito net is also a good idea.
What are the visa requirements for Indonesia?
Visa requirements have changed dramatically in 2015. We advise that you check with the Indonesian embassy in your own country to check the latest rules. Currently (Nov 2015) there is no visa required for a stay of up to 30 days for 90 countries, which includes most of Europe, Asia and north Americas. The most notable country not on the list is Australia, who must pay US$ 35 for a 30 day visa.
If you want to extend longer than 30 days you must apply 7 days before your visa expires. On arrival you also have the option to pay for a visa longer than 30 days. All visitors must have proof of onward travel and passports must be valid for a minimum of 6 months from the date of entry into Indonesia and have at least 2 blank pages available for stamps.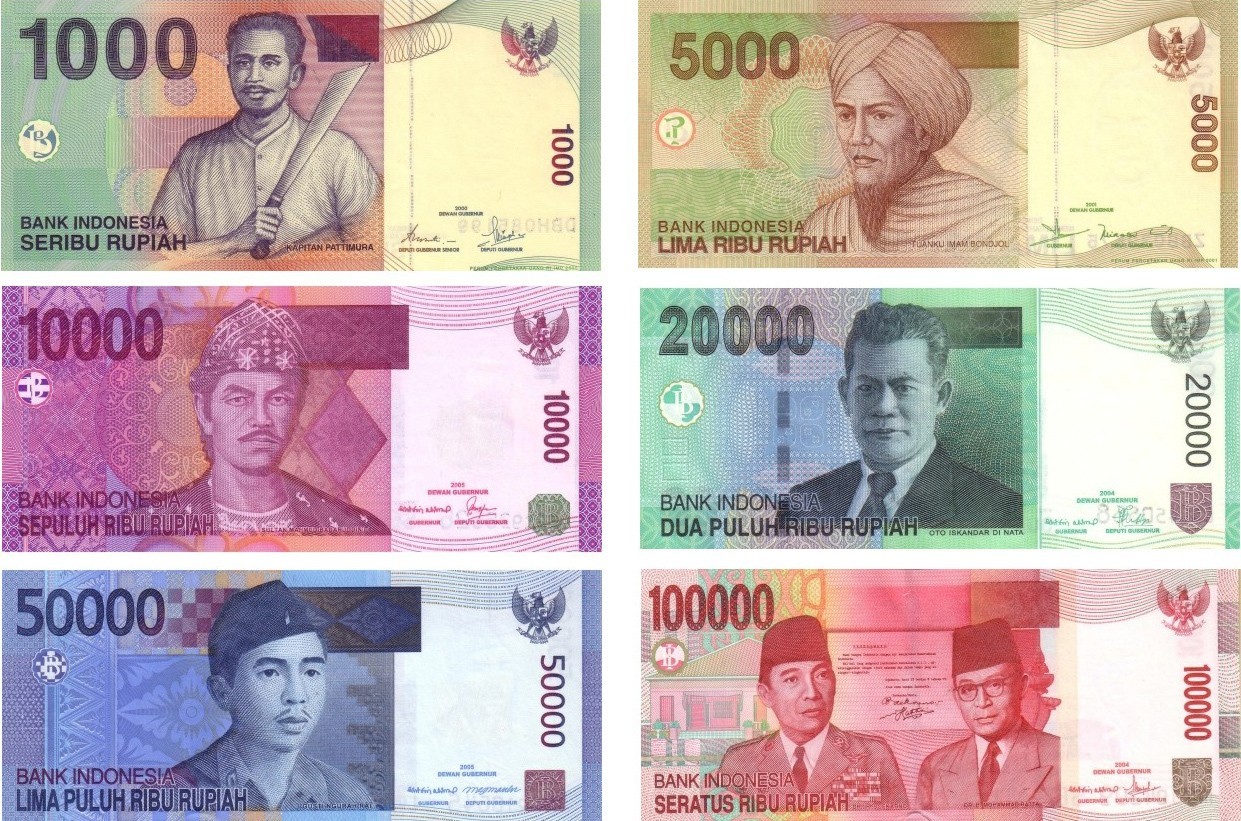 What is the currency in Indonesia?
The local currency is the Rupiah (IDR). US dollars are also accepted, however be careful of the exchange rates quoted as they may not always be as accurate as at the currency exchanges. (US$1 : IDR 14500 as of Sept 2015). Be wary of unofficial money changers as many people have ended-up with less Rupiah than they expected! Best is to change money at official money changers and/or banks. ATM's can be found in most major towns/cities, becoming scarcer as soon as you leave for more rural destinations. Credit Cards are accepted at most hotels as well the majority of shops and restaurants in tourist areas.
How do you get to/from Denpasar airport?
Unless your hotel provides a shuttle service, the best way to get to/from the airport is by taxi. Book your taxi at the office just outside arrivals. Fixed prices ensure you pay the exact fare and nothing more. Taxis are available to Kuta, Nusa Dua, Sanur, Seminyak, Ubud and all major tourist destinations.
How do you get to/from Lombok airport?
From the new international airport in Lombok you can take a taxi to most destinations, however recent tourist experiences have indicated that pre-booking transport avoids a lot of hassle. If you want to get to the Gili Islands you will also need to arrange a boat. Local boats depart from Bangsal harbour until about 15:30 but bear in mind that Bangsal is notorious for aggressive hawkers and porters. There are also speed boats that depart from Teluk Nara just around the corner from Bangsal. We recommend prearranging your airport transfer so that a driver is waiting for you to take to directly to your destination. Use the search box on www.gili-islandtransfers.com to check prices and make a booking.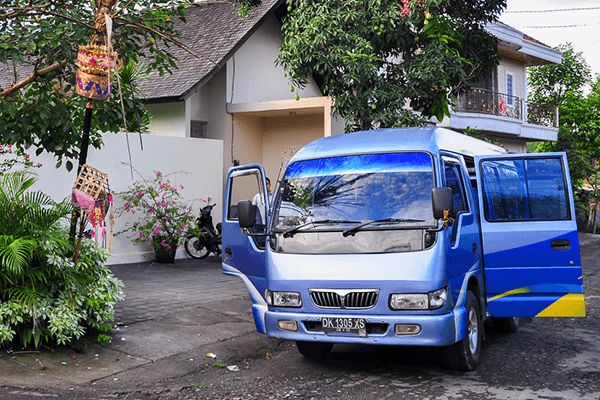 What´s the easiest way to get around?
The easiest way to get around is by taxi; however there are local transport options available. Bemo's (mini-bus/van) travel set routes between towns and cities and can be flagged down anywhere along their route. They're usually very cramped and journeys can be quite time-consuming; although any ride in a Bemo is definitely an adventure! Car and motorbike hire is another possibility. No real need to book in advance as prices locally will probably be cheaper. Whether it's a small jeep, dirt bike or moped always check the vehicle carefully before signing for it. Insurance, if offered, is usually minimal so always check your liability. Some travel insurance policies may offer additional vehicle and third-party cover or even have restrictions for motorcycle riding, so it's best to check your policy first.
There are also a variety of apps that can be used to source cheap transport, Uber, Grab and Go-Jek are widely used in Bali.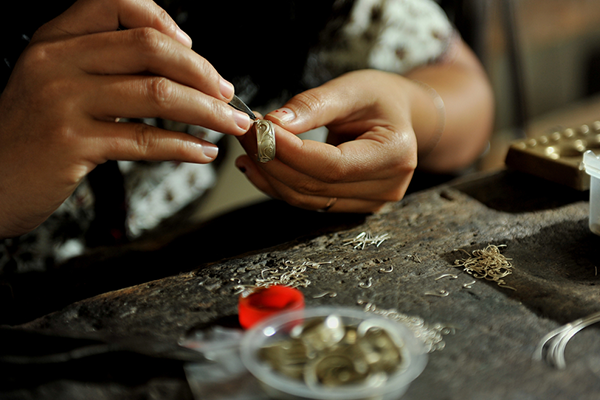 What are the best things to shop for in Bali/Lombok?
Shop for the Indonesian textile batik, silver, leather crafts, baskets, cloth, porcelain, tin art objects, wood, ikat, masks, coffee, tea and honey. Be prepared to bargain for everything! Start low and expect to meet the seller at least halfway.
What are the voltage requirements?
Voltage: 220V – It's recommended to get a universal adapter.
How much is the departure Tax?
As of the 9th Feb 2015 departure tax is included in the cost of your flight ticket. If you purchased your ticket prior to this date you will need to pay IDR 200,000 per person when you checkin for your flight out of Indonesia. Transit passengers continuing their journey on the same day, and infants under the age of 2 are exempt.