Gili Islands Overview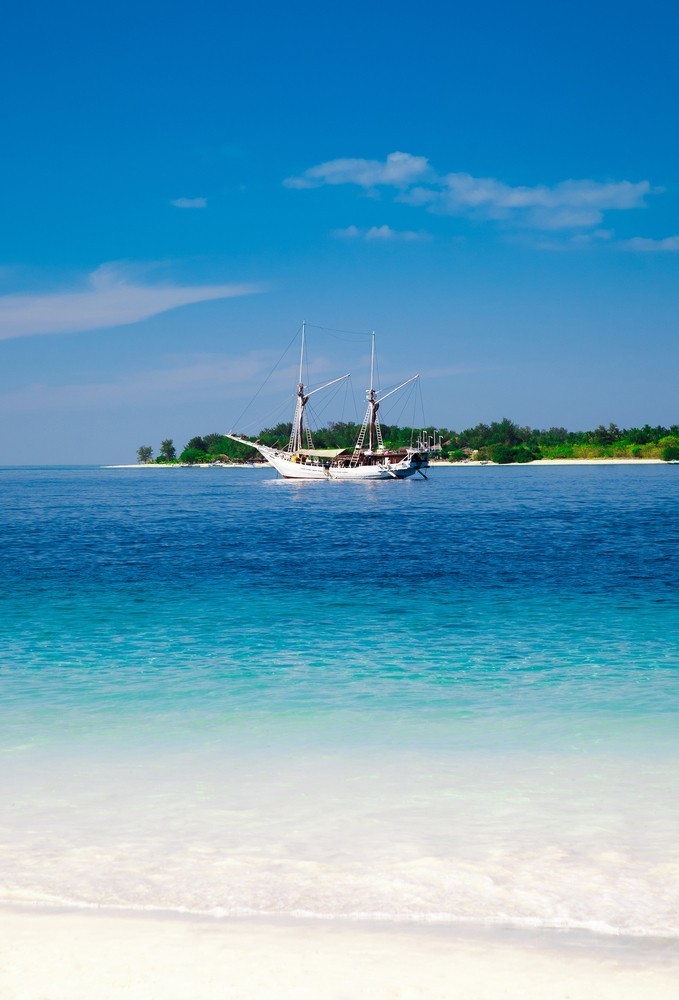 Only a few kilometres off the northwest coast of Lombok lay the idyllic Gili islands – Gili Trawangan, Gili Meno and Gili Air. This archipelago of three small coral isles are rapidly becoming one of the most popular destinations for visitors to Bali and Lombok.

Although each island has its own particular charm they all boast powdery white sand beaches, crystal clear waters and some of the best diving and snorkelling opportunities in the region; so no matter which island you choose, whether it be to party or just to relax (or a bit of both!), you'll always be rewarded with the key elements that make the Gili Islands an unforgettable tropical paradise. And with no cars, or any form of motorised vehicles to disturb the peace – getting around is either by 'cidomo' (horse cart), bicycle, or on foot – the laid-back rustic appeal of the Gilis has people coming for a days and staying for weeks!

There's also a strong environmental outlook on the Gili Islands, with efforts focused on reef protection and regeneration. The Gili Eco Trust was set-up to protect and monitor the environment, both under the water and on land. Through visitor donations they have managed to erect over a dozen artificial Bio-Rock reefs and ensured that local fisherman now use more sustainable fishing practices.

There's a range of Gili Islands accommodation options to suit all budgets, with a steady number of new Gili Islands hotel and more luxurious villas being slowly added to the list. Over the years, the quality and choice of dining on the Gili Islands has come a long way, with restaurants serving everything from authentic Indonesian food to Sushi, Pizza and a good variety of western cuisine, accompanied by imported wines.

Not only known to backpackers as a party destination, the Gilis are steadily becoming a great holiday choice for families too – a number of Gili Islands hotel and villas now cater for children, offering good value and additional services such as baby sitting.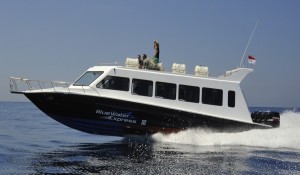 Getting to the Gili Islands is easy, with a range of Fast Boat services direct from Bali. If you're already in Lombok, private transfers from Senggigi can be arranged locally (mini-bus/speedboat) otherwise you can opt for the slower (cheaper) and less reliable public boats that leave from Bangsal harbour. To book a transfer to the Gilis by car and speed boat contact Zulva by email myjourney004@gmail.com or mobile: +62 (0)81936715991. You can get a quote for car and /or speed boat to and from all destinations in Lombok and the Gili Islands.
THINGS TO REMEMBER
Don't try to swim between the islands. They may not look that far apart but the currents that run in the channels between the islands can be very strong and unpredictable. There are plenty of chaep local boats to get you across.

Never sunbathe nude or topless, and cover up away from the beach (no bikinis). Although it may feel like Bali, the locals are Muslims so it's good to show some respect.


When snorkelling or diving you should avoid touching the coral or any other marine life…..take only pictures, leave only bubbles!

Malaria and dengue are found throughout Indonesia and although the risk is minimal in the immediate region, there are plenty of mosquitoes. Staying covered around sunrise and sunset and using repellents (DEET 50%) throughout the day and night will ensure your stay isn't an itchy one.

Avoid locally distilled spirits such as Arak, as well as cocktails containing local spirits. There have been a number of cases of Methanol poisoning in 2012/13, the most recent being at Rudy's Bar on Gili Trawangan which was fatal. Stick to beer and wine.
A BRIEF INTRODUCTION TO THE GILI ISLANDS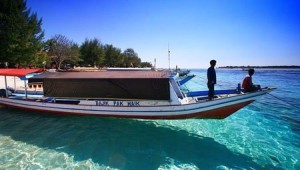 Getting between the Islands and Lombok is cheap and easy, simply use one of the many local services available by public or chartered boat. Fast boat tickets from Bali to the Gili Islands will get you to Gili Trawangan or Gili Air. To get to Gili Meno, you will need to catch a local boat from the jetty in Gili T or Air when you arrive.
No need to pre-book the local boats, the approximate rates in indonesian rupiah are as follows: Gili Trawangan to Lombok - Public boat: 13,000idr or Charter with 30 capacity: 400,000idr. Island hopping betwen the Gili's - 25,000idr. There is also a reliable Speedboat service that can be pre booked for about 350,000idr by sending an email to the following address: myjourney004@gmail.com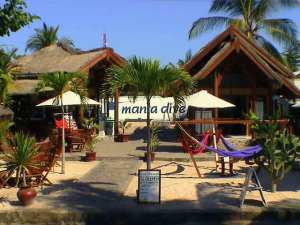 Gili Trawangan is the biggest and most visited of the three and has earned the title of 'Party Island' amongst the world's travellers.
Once a backpacker's haven – with basic beach huts and simple bars, serving concoctions that offer 'free lunar transport' – Gili Trawangan has undergone some dramatic changes over the past five years and now caters to a decidedly more upmarket crowd, often with family in-tow, all seeking that tropical island experience with the luxuries of home.
Aside from the laid-back beach culture, the main draw of the island is scuba diving, with a number of professional dive centres offering courses and fun dives to all ages. Gili Trawangan accommodation choices start from budget guesthouses through to a large selection of mid-range beachfront hotels, going all the way up to resort-style hotels and luxury villas.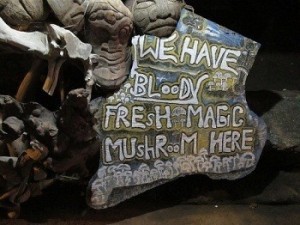 It's highly recommended to book your accommodation Gili Trawangan in advance during the peak season (Jul-Sep) to ensure you don't end-up sleeping on the beach! There's a wide variety of restaurants along the beachfront, offering everything from local street-food to high quality international cuisine, along with some of the freshest seafood BBQ's around. And at the end of the day – when you're done soaking up the sun or diving to new depths – there are plenty of bars to quench your thirst, with weekly party nights to keep you dancing to the early hours.
Gili Air, although closest to mainland Lombok, lays somewhere between the tranquillity of Gili Meno and the bustle of Gili Trawangan – making it a great option for backpackers and families wanting to get away from the tourist crowds and immerse themselves in the local culture. As with Meno, the pace of life is slow and endearing but like Trawangan there's plenty to keep you entertained – with diving, snorkelling and even some surfing by day, to live music and socialising at night.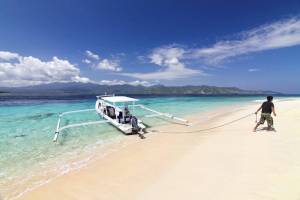 There's a surprisingly wide range of accommodation on the island to suit every taste and budget, whether it be on the beach or set back in the coconut groves. Dining options are also quite varied, with inexpensive local food available inland to grilled fish and international cuisine being offered at the many beachside restaurants.
Gili Meno maybe the smallest and quietest of the three islands but it's as close as you'll get to a true tropical island getaway. Sandwiched between Gili Trawangan and Gili Air its stunning beaches and laid-back charm provide a great escape for honeymooners looking for seclusion or those just wanting to get away from it all! Accommodation is provided by a variety of small hotels and beachside bungalows; with more luxurious options slowly being developed. Dining is a casual affair with fresh fish BBQ's dominating the menus of the beachside cafes. And when not relaxing, there's plenty of great diving and snorkelling on offer as well as bird and turtle sanctuaries to visit.

BEST THINGS TO SEE ON THE GILI ISLANDS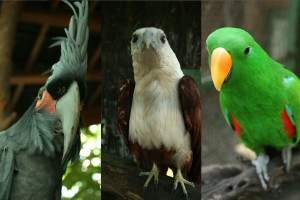 Gili Meno Bird Park – Hidden in the centre of the island this park offers bird lovers the opportunity to see exotic species in a beautifully landscaped environment. It's home to a number of wonderful species such as macaws, flamingos, cockatoos, pelicans, eagles and parrots and more. As you wander through the maze of pathways you'll discover miniature gardens, pools and cascades, flowering plants and fruit trees with bird-feeding stations. Aside from their 'feathered citizens' there's small deer, a crocodile and even a kangaroo!
Sunset (Gili Trawangan) – As the sun starts its journey back towards the horizon, take a stroll up the hill for an unforgettable sunset. Head away from the main beach and through the village to the foot of the hill, where clearly-trodden paths wind their way upwards. Passing through coconut groves, grazing cattle and wandering goats you'll eventually be rewarded with stunning 360° views of the 3 Gilis and of Lombok and Bali beyond. Don't forget to bring your camera!
If a walk up the hill is bit too strenuous then how about a trip in a Cidomo (horsecart) to the east side of the island where you can relax at the Gili Teak Beach Club while enjoying a cocktail as the sun sets over Bali.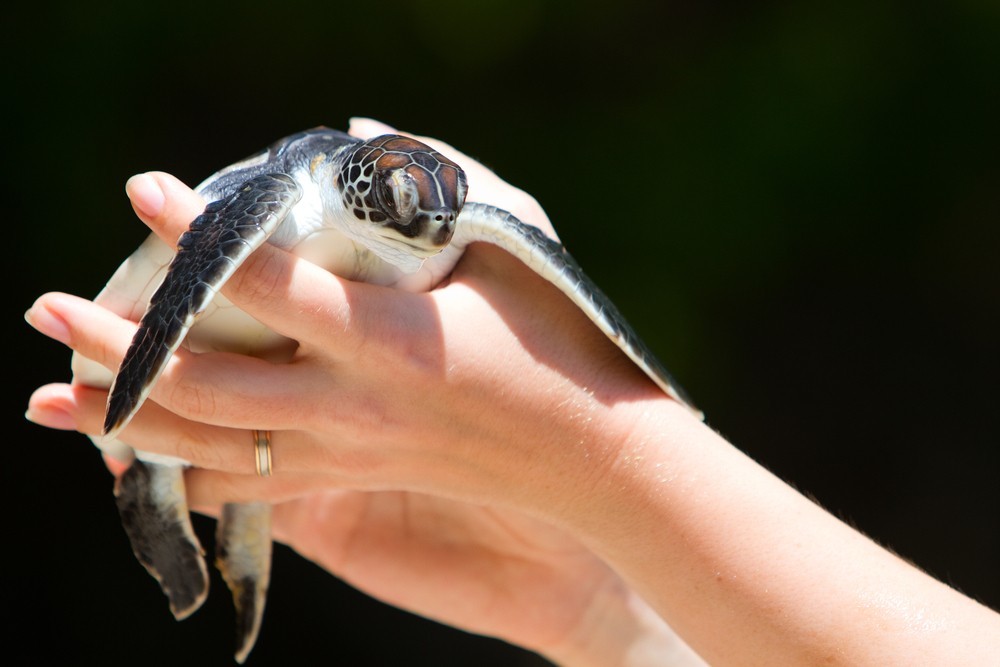 Turtle sanctuary (Gili Trawangan & Gili Meno) – Green and loggerhead turtles are now common to the waters around the Gilis. To ensure the on-going survival of these creatures, sanctuaries have been set-up on both Gili Trawangan and Gili Meno.
Their main purpose is to save the turtle eggs from predators, hatch them and then raise the young turtles for a year before releasing them safely into the sea. You can visit the sanctuaries, see the baby turtles in their pools and learn more about these fascinating creatures. Donations to aid the volunteers in saving the turtles are always greatly appreciated.

BEST THINGS TO DO ON THE GILI ISLANDS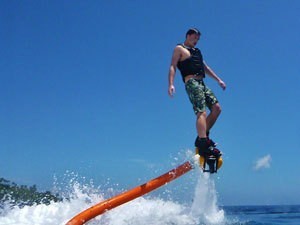 Aquaflight - Newly available on Gili Trawangan! Experience a radical new water sport that is rapidly gaining in global popularity.
Forget swimming with dolphins, how about swimming like a dolphin instead?! Spend time soaring and spinning through the air, diving into and out of the tropical waves.
Essentially a water jet strapped to your feet, Aquaflight gives you constant thrust that you can use to suspend yourself a few feet above the water's surface in a controlled hover. By pointing your legs in different directions, you can take specatcular dives into and under the glistening sea, exploding powefully back out into the air at will. Experienced staff will guide and train you so you'll get the hang of it in no time, all the while in capable and safe hands.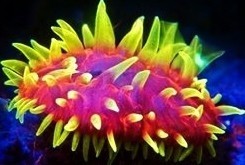 UV Dive - Ultraviolet or Fluro Diving takes you out to the reefs around Gili Trawangan at night and exposes the vibrant colours that are usually hidden to the human eye. You'll be amazed at the visual wonders awaiting you in the nocturnal shallows - nothing short of an ecological full moon party unfolding on the ocean floor! Fluorescence occurs when ultraviolet light is shined on corals and fish containing proteins that absorbs some of the UV light and reflect it back at different wavelengths (colours). Expect to see incredible fluo pink scorpion fish, orange crabs, yellow shrimps and moray eels, green, pink and yellow corals.
Gili Cooking Classes - In the Art Maket. The class offers a unique opportunity to learn the secret of six tasty and delicious Indonesian dishes and Lombok specialities which you'll be able to not only prepare, cook and eat yourself, but also take the recipe and knowledge home with you to enjoy the dishes again many times over.
Snorkelling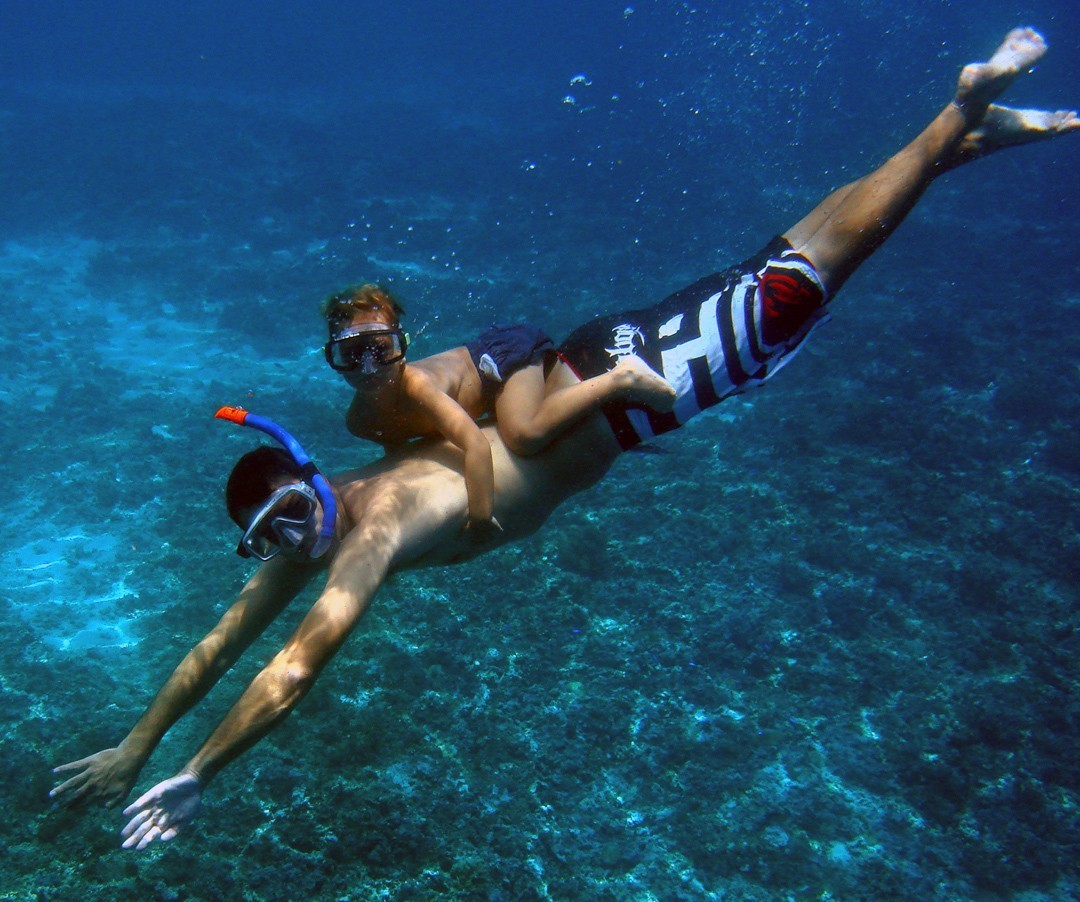 Since backpackers first started coming to the Gilis in the mid- 80's the main attraction has always been the coral reef and its marine life; and the easiest way to enjoy this aquatic realm is to go snorkelling.

Just a few metres off the main island beaches the sand drops-away to reveal coral heads, sponges and an amazing array of colourful fish life. Just remember to watch out for the current, especially at low/high tide. If you don't have your own equipment, masks, snorkels and fins are readily available to rent from the beach-side kiosks or dive centres.
Party on a boat!
Set sail on the crystal clear waters of Gili Trawangan with South Sea Nomads on the Gilis one and only party boat! Leaving mid afternoon on Mondays, Wednesdays and Fridays there is no better way to soak up the sun and scenery as you swim, snorkel and dance your way around the 3 Gilis! Enjoy a picture perfect sunset on the way back to Gili T before dinner onboard then party late into the night with a whole crew of new friends! Enquire at Manta Dive.
Dive! Dive! Dive!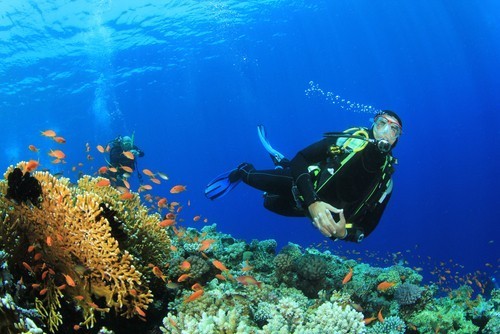 The Gilis are now synonymous with scuba diving, so for those wanting more than what snorkelling can offer there's no better place to take the plunge! Indonesia is home to over 3000 species of marine life - more species than the Great Barrier Reef and the Red Sea put together – so you can be sure that the crystal clear waters around the Gilis will captivate scuba divers of all levels. For beginners there's a range of courses available (PADI and SSI) from dives of discovery to fully certified open water courses. If you're already certified, you can join daily fun dives to one of the 20 dive sites around the islands. Expect to see green and hawksbill turtles, bumphead parrotfish and white-tip reef sharks along with an impressive array of other sea creatures, coral formations and plant life. Visibility is commonly in the 15-20 metre range; with drift diving being the norm due to changing currents. For those divers wanting to further their diving education, the numerous dive centres all offer more advanced and specialty courses; some all the way up to instructor level.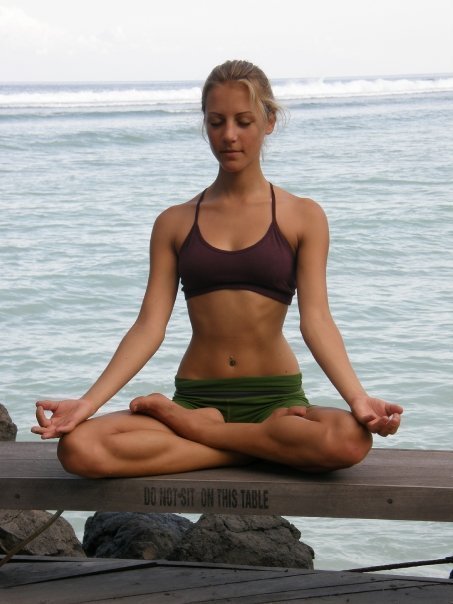 Gili Yoga (Gili Trawangan)
Yoga is an ancient science that improves flexibility, circulation and strength, and cultivates comfort and stability in all aspects of life. Gili Yoga offers yoga classes, workshops and retreats for anyone who wants to learn and evolve. Based out of Freedive Gili, sessions are held in their purpose-built outdoor 'shala'.
Horse Riding (Gili Trawangan)
With a variety of horses to suit all levels of rider, Stud Stables offer a unique opportunity to discover Gili Trawangan on horseback. Quiet paths will take you through serene coconut groves and lead you out for a ride along sandy beaches – truly a wonderful way to explore the island at a leisurely pace.
Sink a hole in one! (Lombok mainland)
Only a stone's throw from the Gili islands is the 18-hole championship course of the Lombok Golf Kosaido Country Club offering a challenging experience for golfers of all levels. A short speed boat journey (tides permitting) brings you to the 4th hole where you'll be greeted with a buggy to drive you to the clubhouse prior to tee-off. One day and half day all-inclusive packages can be arranged by Manta Dive who offer discounted special rates.
Hold your breath! (Gili Trawangan)
Ever wanted to swim like a fish without all the equipment? At Freedive Gili they'll teach you all you need to know to become a breath-hold diver. Whether you're a complete novice or a more experienced apnoea diver, their range of certified courses will train your body to be more efficient with oxygen and provide you with all the skills necessary to have you Freediving to depths of 20 metres (or more!) in no time.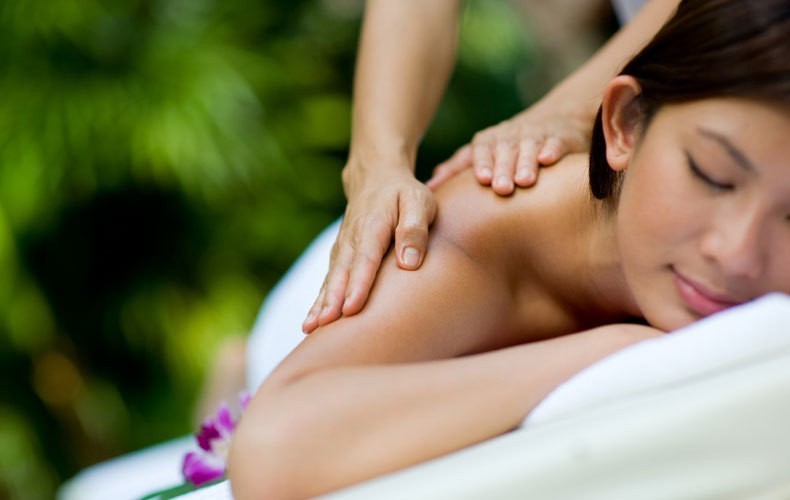 Your instructors are both recreational and competitive Freedivers who love to share their passion and expertise with you. For some it may be about diving deep while for others it's a way to peacefully interact with the marine life; either way, it all starts with one breath!
Soothe your body (Gili Trawangan)
Some of the more expensive hotels and villas offer spa and beauty treatments but for a traditional Sasak massage, a session with the legendary Pak Ali (Mr. Ali) is not to be missed. For over 15 years this man-of-few-words will soon ease away any aches and pains, leaving you totally relaxed and ready for whatever the day throws your way. If he's not available, Pak Sahir is pretty good too! To find them, enquire at Manta Dive.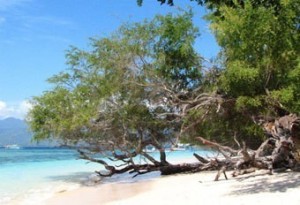 Motorised water sports (Gili Trawangan & Gili Air)
Although motorised vehicles may be absent on the islands, there's still the possibility to enjoy a range of speed-boat powered activities on the water. Choose from Banana Boat rides at Villa Ombak (Gili Trawangan) to Wakeboarding and Water-skiing off the shores of Lombok, arranged through Manta Dive (Gili Air) or The Beach House (Gili Trawangan).
Go for a paddle (Gili Trawangan)
Why not explore the clear blue waters surrounding the Gili islands for yourself and join one of Karma Kayaks' guided sea kayak trips. Your certified Western instructor will teach you all you need to know to have you gliding over the ocean in no time. See the Gilis from a whole other perspective whilst encountering turtles and other wildlife on the way. Trips over to neighbouring Gili Meno can also be arranged, with a picnic lunch on one of the white sandy beaches.
Kitesurfing - Now available with Gilikitesurf on Gili Air, along with Stand up Paddle, Surfing, Kayaking and Wakeboarding. The consitent winds and perfect waves off the coast of Gili Air make for an ideal sport to get great air and practice your tricks. Also a great place to learn the ropes of this exciting extreme sport.

BEST PLACES TO EAT & DRINK ON THE GILI ISLANDS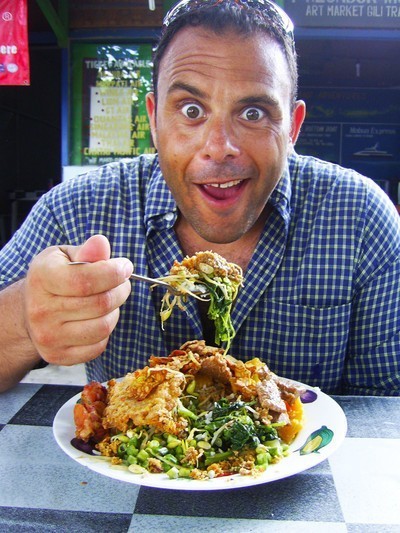 With numerous cafes, restaurants and bars to suit all tastes and budgets, the Gilis now offer a wide range of dining possibilities from tasty street food to fine dining and everything in between.

GILI TRAWANGAN

Manta Cafe - Tucked away just next to the swimming pool at Manta Dive is a hidden lunch time cafe. Serving crisp baguettes filled with an assortment of delicious ingredients, smoothies, milkshakes, and a hearty all day breakfast. Don´t miss the chocolate brownies!
Gili Teak Beach Club - Set in possibly the most peaceful part of the island is a new resort and Beach Club. A great spot grab a bite and a cocktail while the sun sets over Bali.
Il Pirato – Set-back about 50m from the beach (behind Free Dive Gili) this Italian-run pizza restaurant serves up some of the best wood-fired pizzas on the island.
Ryoshi – For quality Japanese food look no further than the island's first Sushi restaurant (franchised from Bali). Enjoy everything from Sake, Miso Soup and Tuna Panko to some of the tastiest Sushi and Sashimi this side of Bali.
Pesona - Chill on the beach with a sheesha and sample some great Indian food. The only real Indian food on the island and absolutely delicious. Some dishes can be extremely spicy so be careful!
Kiki Novi – For the best local food on the Gilis you have to try the daily-changing menu at this simple warung, located in the heart of the Art Market. Ibu Rose and her family use fresh ingredients to conjure-up dishes like Urap-Urap, Pepes Ikan and Beef Rendang along with assorted vegetable dishes and curries; all served with a smile and a little sambal on the side.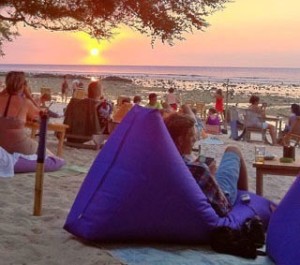 Karma Kayak – What better way to round off a beach day than to catch the sunset at `North Beach' with jugs of sangria and a variety freshly made Spanish and Indonesian tapas. Great service, great location!
Night market – For cheap eats under the stars you can't miss the nightly food market that sets-up on the volleyball court in front of the art market.
You can find everything from fried fish to nasi campur, Bakso and other local delicacies.
Ko-Ko-Mo – Serving an eclectic mix of Asian and Western cuisine, such as home-made ravioli filled with mud crab and coconut to "Harvey" beef tenderloin from Western Australia, along with a mouth-watering menu of other delectable dishes, all prepared from prime quality local and imported produce.
This is probably one of the more expensive places on the island, but certainly worth a visit!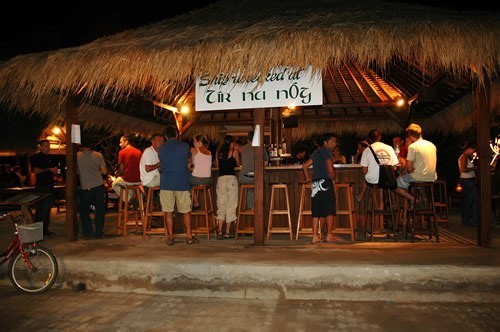 Tir Na Nog - Irish Bar & Restaurant – Biggest Irish bar on the smallest island in the world! This 'island favourite' serves good food, great drinks and is the place for watching international sporting events on its giant screen. And if that doesn't take your fancy there's darts, table football, Wii games and even an outdoor pool.
The Beach House – Another island favourite this eatery has one of the best BBQ's around, with everything from freshly caught seafood to imported steaks and kebabs. Their menu also features a great selection of western and Indonesian dishes to keep all the family happy.
Wok this Way - A small restaurant serving asian fusion located on the road to the right of the Art Market. Taste the broccoli beef chestnut special or the tasty chicken salad. Open from 10.30am to 10.00pm. Also check out some of the other new eateries along the same street; The chicken rotisserie is not to be missed!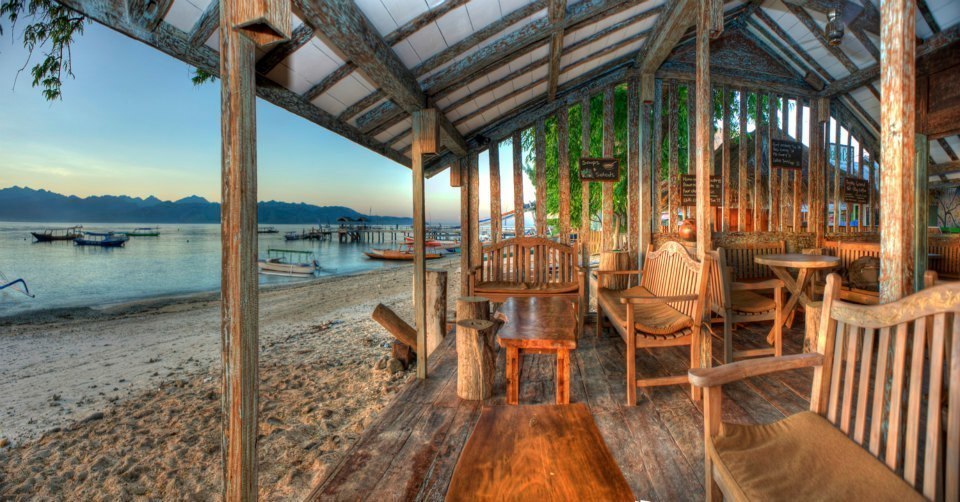 Greens & Beans - Offering a vareity of well portioned and perfectly prepared food, ranging from Ceasar Salads and Nacho's to Currywurst and Veggie Samosa's. This gem of an eatery is located around the corner from the mains strip on GIli T, on the street behind the market.
The Roast House - Located on the street behind the art market on Gili Trawangan, this place sends mouthwatering smells wafting through the vicinity. Roast whole chickens, a range of tasty burgers to western taste and cool bintang beers all for a fair price.
Thai Garden - Original Thai Restaurant on Gili Trawangan with an authentic Thai chef. This sweet little place is a few meters away from the main strip on Gili T. The staff are friendly and the atmosphere compliments the great food, which though priced slightly above average, is well worth it!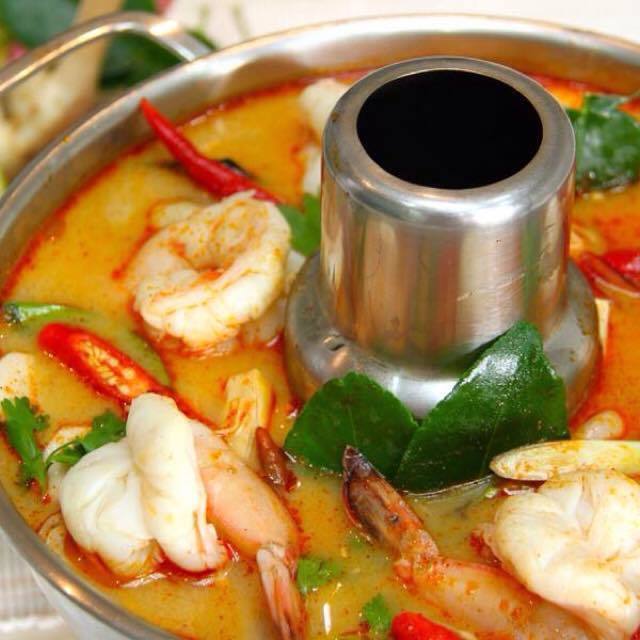 Kayu Cafe - Gorgeous beachfront location and design. Smoothies, salads, sandwiches and sweets to go with the delicious coffee. Airconditioned inside and a rooftop open terrace boasting spectacular views.
Pizzaria Regina - Fresh, coal fired stone oven pizza's expertly made. Authentic Italian taste, with swift service. JL Ikan Hiu, Gili Trawangan.
Coba Coba - Authentic middle eastern and mexican food. Located in the heart of the main settlement along Gili Trawangan's eastern shore, open for Breakfast, Lunch & Dinner. Menu includes Beef Ribs, Salads & Veggie friendly meals. Coba Coba offer a 10% discount for Gilibookings customers!


GILI MENO


Rust Warung – This smart beach café has lots of local character and an imaginative menu centred predominantly on fresh seafood. Offering casual fine dining at affordable prices this lively spot is great for lunch or dinner. There's also a decent choice for vegetarians too!

Good Heart – Situated in the quiet northwest of the island, this unassuming rustic beach bar serves up a wide array of tasty local curries and seafood. It's the perfect spot for lunch in between snorkelling with turtles at nearby Meno Wall.

Bibi's Café (@ Nautilus) – Serving some of the best wood-fired pizzas on the island along with the usual mix of Indonesian and Western dishes, with an emphasis of freshly caught seafood. All served in a relaxed atmosphere with gorgeous sea-views.

More Horizontal – This newly opened venue from the owners of Horizontal on Gili Trawangan serves a delicious selection of tapas for nibbling, while you enjoy the cool drinks and cocktails that have made Horizontal famous. It's also a great spot to catch the sunset.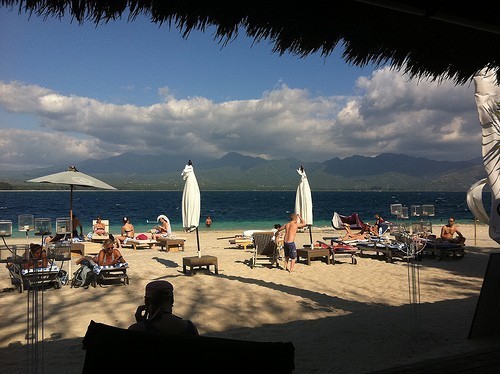 Beach Café – Simple rustic beach bar serving romantic fish dinners right on the beach, complete with a bonfire. They also serve a mean curry and the usual local offerings. After your meal lay back and enjoy some stargazing – a truly unforgettable island experience!


GILI AIR

The Waterfront Bar and Restaurant - Sit right on the Waterfront and enjoy breakfast, lunch or dinner at one of the newest restaurants on Gili Air. Serving a mix of local and western dishes, and a seafood BBQ in the evening. They have great coffee and the bar is a great place to chill in the evenings.
Scallywags Organic Beach Club – A lovely place, next to the main beach, with freshly barbecued fish and meats served with a choice of side dishes and a help-yourself organic salad bar. Since a lot of the food is imported daily, fresh from Bali, you may pay a little more but it's worth it.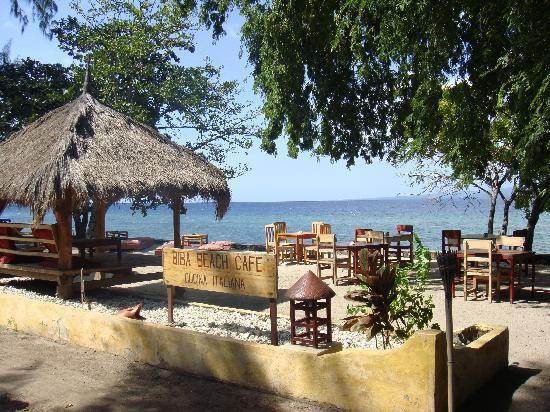 Chill-out Bar – Literally 'on the beach' this laid-back beach bar and restaurant serves tasty seafood, barbecued to order, along with a good variety of other Indonesian and western favourites. A great place to hang-out during the day too!

Zipp Bar – Another great place for spending a lazy day by the beach, sipping cocktails, lounging on one of the sunbeds and jumping into the ocean when it all gets a little too hot. Once you've worked up an appetite, their selection of wood-fired oven pizzas along with a range of pastas, burgers, local food and sandwiches are sure to satisfy.

Biba Beach Village – For traditional Italian home cooking served under the stars. Enjoy their freshly made pasta dishes – Tagliatelle, Gnocchi, Ravioli and Lasagne – along with other specialities like their seafood Bolognese.

Wi Win (@ Bulan Madu) – This popular spot gets quiet busy in the evening thanks to its large selection of fresh fish prepared any way you want. There's some pretty good Indian curries and lots of vegetarian options to choose from as well.

NIGHTLIFE ON THE GILI ISLANDS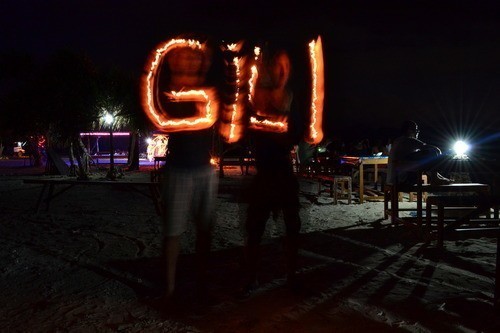 Known to many as the 'Party Island', Gili Trawangan is where most of the after-dark action can be found, with bars often staying open until 2am and until dawn on party nights. Gili Air has a slightly lower-key approach but still has enough entertainment to keep the average traveller smiling, whereas Gili Meno currently offers very little in the way of nightlife.

GILI TRAWANGAN

Party Nights
Monday @ Blue Marlin : The island's legendary Monday-night rave with DJ's spinning trance & techno. Look out for their themed party nights
Wednesday @ Tir Na Nog 'Irish Bar' : Probably the island's busiest party night, playing anything from hip-hop to house, along with more mainstream dance-floor fillers
Friday @ Rudy's : One of the longest running party nights on the island with something for everyone to stomp the night away – watch out for the Magic cocktails!
South Sea Nomads Party Boat - Take a break from the island bars and step aboard the Gilis only party boat! Swim, snorkel and dance your way around the 3 Gilis enjoy a stunning sunset and onboard dinner as you party into the night! Enquire at Manta Dive.
Sama Sama – For its great live music and impromptu jam sessions, this bar has gained lots of popularity over the years. Some of the best reggae music can be heard here every night, not only from the band but from the lively musical crowd too.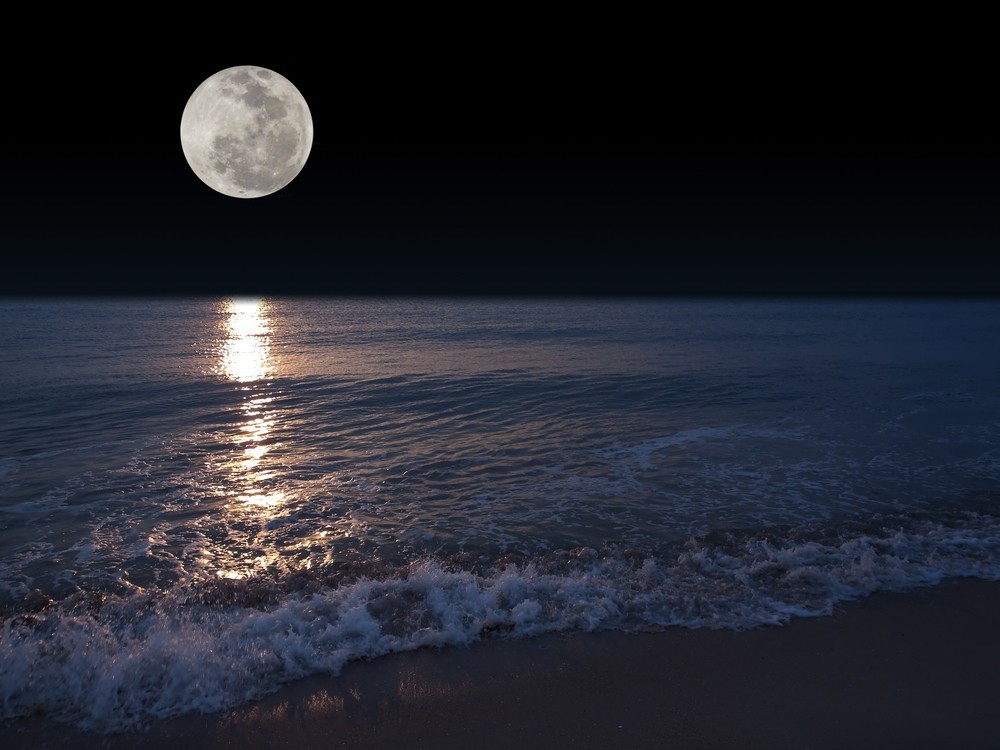 Horizontal Lounge – Adding a touch of glam to the island, this über-stylish lounge bar plays mellow grooves every evening to its discerning crowd of trendy cocktail drinkers. Occasional DJ club nights for those wanting to dance the night away under the stars.
Full Moon Party – During the peak season Full Moon parties are organised on the beach towards the southern part of the island, not too far away from the main strip. Normally hosted by locals, they play a mixture of hard house, trance and techno until sunrise.


GILI AIR

Space Bar – This place draws crowds from as far afield as Bali for their legendary psychedelic full moon parties on the beach.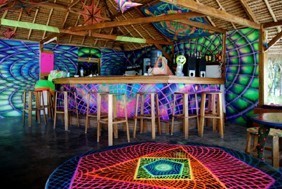 Local and international DJ's play the latest Goa-trance and hard techno through to sunrise.

Zipp Bar – Playing mainly mainstream party tunes this breezy cocktail bar is a great place to socialise with locals and other travellers alike. They too have occasional party nights that draw large crowds and keeps them dancing to the early hours.

Legends – Home to the island's weekly party night, this place truly is a legend on Gili Air; playing loud reggae and groovy dance music until 2am. During the busier months they also host Full and Black Moon parties to an unpretentious mixed crowd.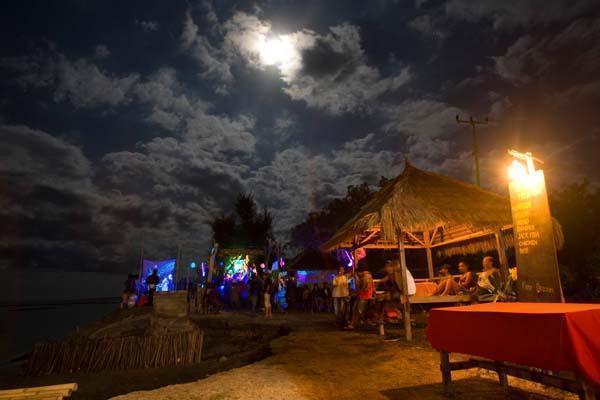 GILI MENO
Diana Café – Open as long as there are people enjoying themselves, this relaxed place is ideal for meeting other travellers while listening to the talented guitar strumming staff.

Jungle Bar – Another popular place to hang-out after dark, renowned for its unique Bohemian atmosphere and eclectic tunes. Sometimes plays host to traditional local bands and musicians.