Gili Gili fast boats
IMPORTANT: During 2018-2019 Low Season (October - April), Gili Gili may occasionally transfer passengers to an alternative boat for the crossing to/from the Gili islands and Lombok. This will be based on daily passenger numbers and any changes will be communicated to customers prior to travel. In such cases, hotel transfers and customer service will still be handled by Gili Gili.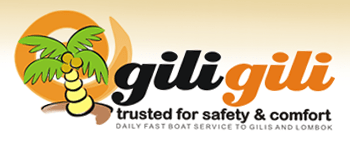 Gili Gili is a fast boat operator that offers a daily departure from Padang Bai on Bali, to Lombok and the Gili Islands. In the past Gili Gili operated a seasonal departure from Serangan as well, however this has been replaced by a second high season departure in the afternoon from Padang Bai. In 2018, Gili Gili updated their fleet with a brand new fast boat, the comfortable Gili Gili III. With it's top cruising speed of 35 knots, this vessel represents one of the fastest and best ways to get to the Gili Islands from Padang Bai.
From Padang Bai the boat departs at 08:30, arriving at Gili Trawangan at 10:00, Gili Air at 10:20 and Lombok (Bangsal harbour) at 11:35, followed by a return trip to Bali. Note: Your e-tickets contain the contact information of the the fast boat you have booked and you will receive a reconfirmation email prior to travel.
Padang Bai to Gili Islands
Gili Gili previously operated from Serangan but have since siwitched to exclusive use of Padang Bai harbour for their boat departures. They will still pickup for free from areas around Serangan so the total journey time remains similar and the ticket price is cheaper as a result. Padang Bai lies on the south eastern shore of Bali, closer to central Bali locations such as Ubud. The travel time by sea from there to the Gilis is somewhat shorter, approximately 1 1/2 hours.
Gili Gili fast boat provides air conditioned free pick-up and return to your hotel or villa in Bali from Sanur, Kuta, Legian, Seminyak, Jimbaran, Nusa Dua, Tanjung Benoa, central Ubud and Padang Bai. Pick up time for Padang Bai departures is approx 2-3 hours beofre departure time, but the exact time depends on your pick up location and will be confirmed once you have booked.
Pick up from outside the free areas will incur an extra charge, this is payable directly to Gili Gili on the day you travel. Depending on the location the extra charge will be 75,000 - 400,000 rps per car (max 4 pax). Exact costs are detailed below:
Ubud (Payangan, Tanah Merah, Tegal Alang, Sangingan, Sayan, Kedewatan), Canggu (Berawa, Batu Bolong, Echo Beach), Padang Padang, Balangan and Uluwatu costs 100,000rps per pax based on sharing a car.
Denpasar 100,000rps per pax
Amed and Tulamben private car up to 4 pax costs 450,000rps per car
Candidasa and Sengkidu costs 100,000rps per person, but if more than 2 pax it's free
Sidemen - Karang Asem cost 350,000rps for a private car for up to 4 pax.
Tanah Lot costs 450,000rps for a private car for up to 4 pax.
Complementary mineral water and face towels on board. Informative maps of Lombok, Bali and the Gili's are also provided.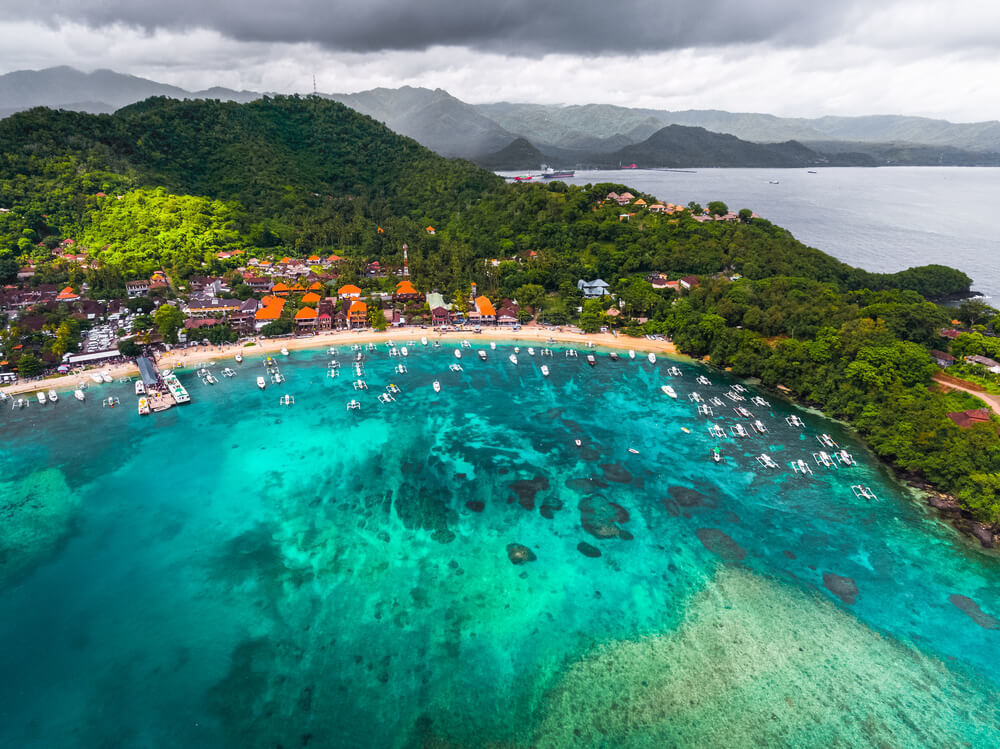 Departure
point Bali:

Distance
to Kuta:

Departing
at:
Stopping
at:

Arrival
Time:

Departing
at:

Stopping
at:

Arrival
Time:

Baggage
limits:
Approx
Ticket Price
Padang Bai
90 mins
08:30

Gili T
Gili Air
Lombok (Bangsal)

10:20
10:35
10:50
10:30
10:45
11:00
Bali
(Padang Bai)
12:30
25kg per
person
US$39
$75 rtn
Departure
point Bali:

Distance
to Kuta:

Departing
at:
Stopping
at:

Arrival
Time:

Departing
at:

Stopping
at:

Arrival
Time:

Baggage
limits:
Approx
Ticket Price
Padang Bai
90 mins
8.30

Gili T
Gili Air
Lombok

10:00
10:20
10:35
10:15
10:30
10.45
Bali
(Padang Bai)
12:15
25kg per
person
US$42
$84 rtn
Padang Bai
90 mins
13:00

Gili T
Gili Air
Lombok

14:30
14:50
15:05

14:45
15:00
15:15

Bali
(Padang Bai)

16:45

25kg per
person
US$42
$84 rtn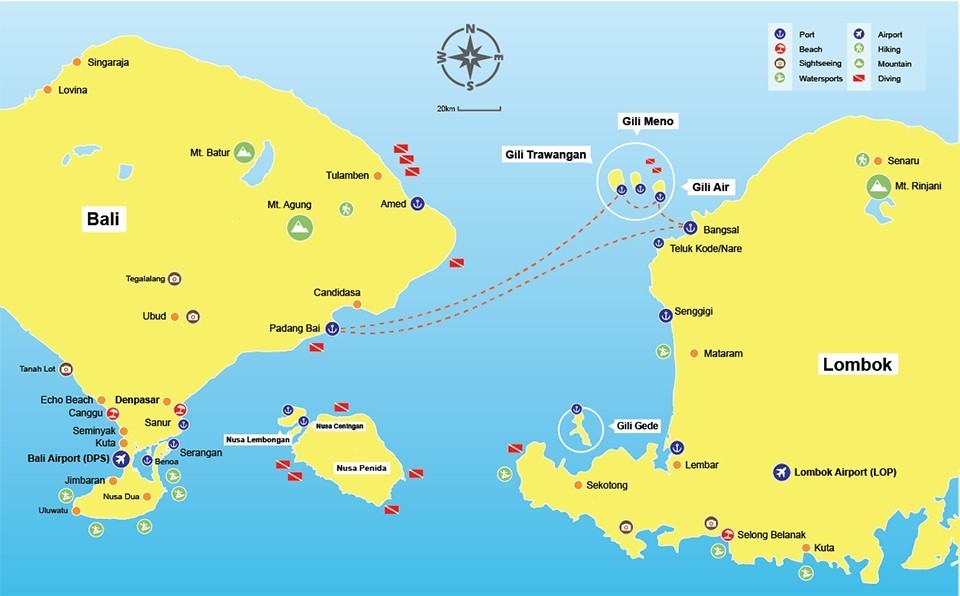 View maps of all fast boat routes and compare their schedules here.
Cancellation & Amendment Policy
Gili Gili operate the following cancellations and refund policy: For cancellations made more than 2 weeks prior to travel, a full refund is provided. Cancellations less than 2 weeks but more than 48 hours from departure are subject to 50% refund only. Cancellation less than 48 hours prior to departure are non-refundable.
In cases of unexpected illness etc., exceptions can be considered if doctor's notes/other proof can be provided. Contact Gili Gili using their details found on your e-tickets. If you wish to change your travel dates, you can do so for free (subject to availability), up to 48hrs prior to departure. If you need to change your route or boat carrier entirely, please contact us direct for assistance, bearing in mind the above mentioned refund policy.
---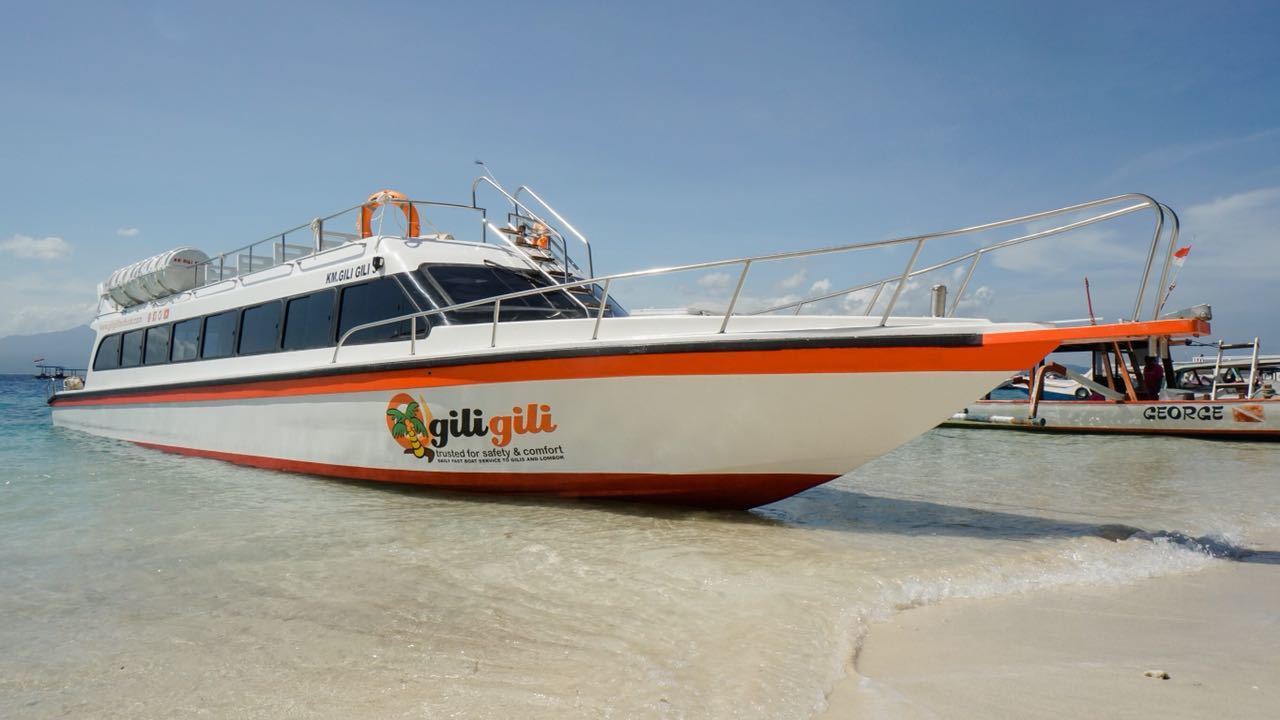 Fast boat features of the NEW (2018) Gili Gili III
Seat capacity 40 (reclining seats)
40 life rafts, with hydrostatic release and manual release

Life Jackets for all passengers and crew

life raft

EPIRB

GPS system

Marine VHF ship to shore radio

full set of distress flares

First Aid

Electric flushing Toilet

x3 SUZUKI 300HP engines and x4 SUZUKI 250HP engines (total 1900hp)

Spacious sundeck on roof

LCD TV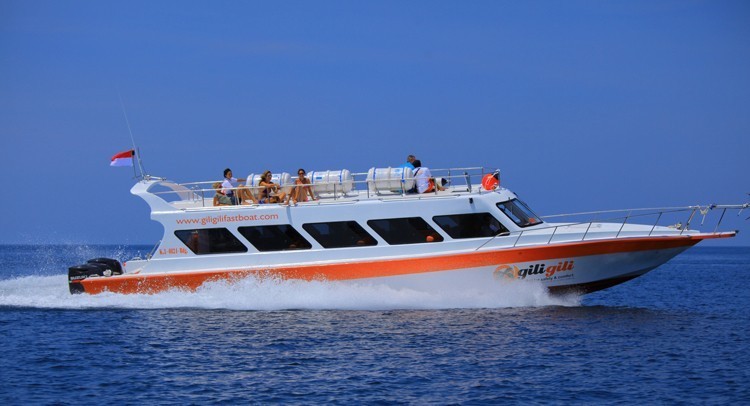 Fast boat features Gili Gili II
Seat capacity 36 (reclining seats)

40 life rafts, x4 life rings

Life Jackets for all passengers and crew

x2 life raft

EPIRB

GPS system

t

Marine VHF ship to shore radio

full set of distress flares

First Aid

Electric flushing Toilet

x4 SUZUKI 250HP engines (total 1000hp)

Spacious sundeck on roof

21" LCD TV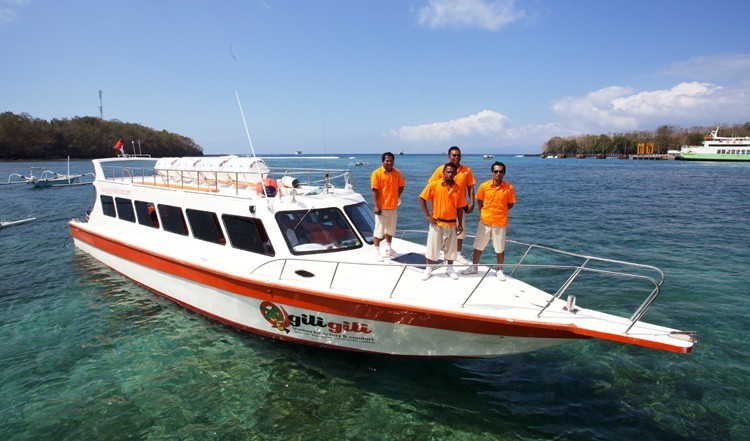 Fast boat features - Gili Gili I
Seat capacity 30 (reclining seats)
Life Jackets for all passengers and crew
40 life rafts, x4 life rings
x2 life raft
full set of distress flares
EPIRB
Marine VHF ship to shore radio
First Aid
GPS system
x3 SUZUKI 300HP engines (total 900hp)
Electric flushing Toilet
Spacious sundeck on roof
21" LCD TV