Lombok Luxury Hotels and Villas
With its pristine white sandy beaches, lush forests and spectacular volcanic mountains, the quiet tropical island paradise of Lombok also offers plenty of gorgeous luxury accommodation to complement its serene natural beauty. Choose to stay in a Lombok villa, or relax, be pampered and get away from it all at one of these spectacular Lombok resorts that we have selected for your viewing convenience. Prices of Lombok luxury accommodation start from US$100 and range all the way up to almost US$800 per night (listed in order of most to least expensive). View other Hotels, Locations and Price Ranges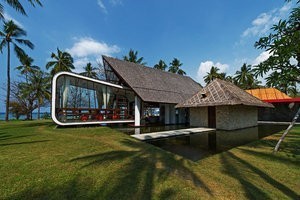 This georgeous villa, a spacious fusion of contemporary and traditional Indonesian styles, boasts a private beach directly in front of the property along with deluxe furnishings, a private pool, sun deck, tennis court, tropical garden and sleeps up to 10. It is also situated right next to the best 18 hole Golf Course on Lombok. Perfect for groups or for the ultimate splurge, this represents the latest and ultimate top end luxury accommodation on the Island.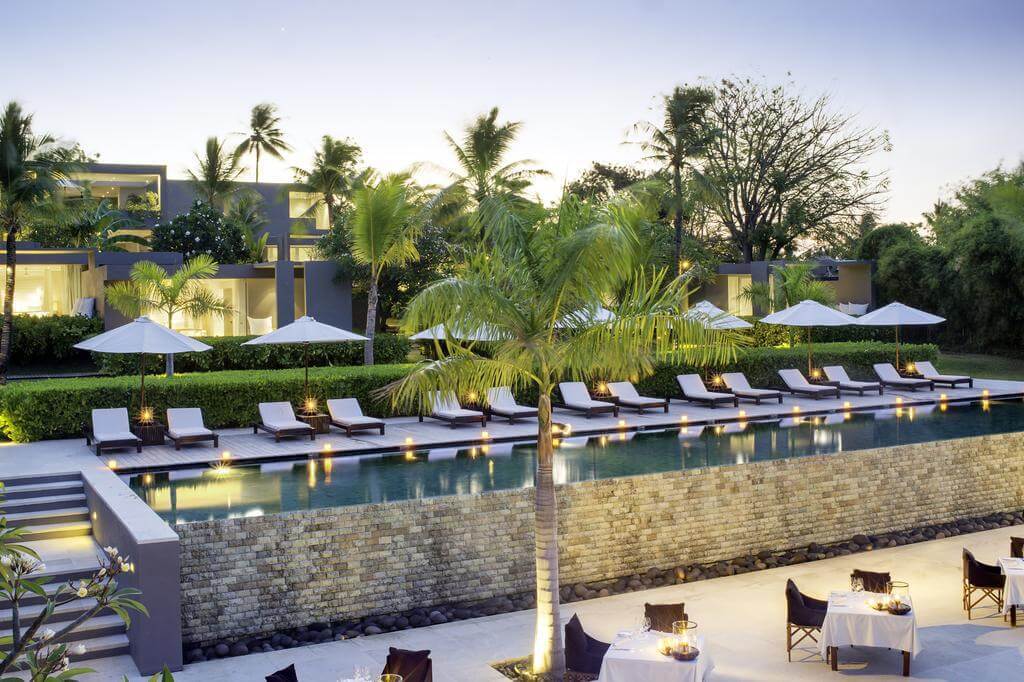 This unique beachfront hotel is located on the tranquil shores of Medana Bay and only a 15-minute boat ride from the Gili Islands. The Lombok Lodge is renowned for its contemporary design and extraordinary cuisine. Each spacious suite has elegant décor and all the standard amenities you may need to enjoy your stay. Guests can enjoy an al la cart breakfast and 5-course fine dining dinner at their restaurant at no extra cost. Other available activities include scuba diving, snorkelling, swimming, cruising and game fishing or just relax on their private beachfront.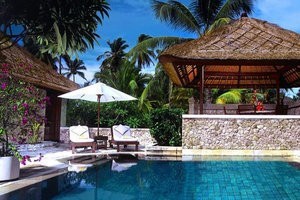 This tropical hideaway in northwest Lombok boasts 24 acres of tropical gardens, shimmering ocean views and golden sands along a private beach. The Oberoi has an intimate ambience, with thatched-roof villas and terraced pavilions that have expansive, shaded terraces to relax in, while you look out at beautiful gardens or beaches. All the villas and terrace pavilions offer spacious bedrooms and feature local colours, textures and artefacts.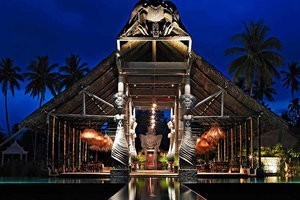 Located on Sire Beach, Hotel Tugu Lombok offers spacious rooms with private balconies. Overlooking the ocean and Mount Rinjani, it features a fitness center, 2 pools and free Wi-Fi. It is also situated next to an 18-hole golf course. The spacious bathrooms all feature a bathtub and rain shower. Guests can relax at the spa or take a swim in the freshwater swimming pool. Activities such as diving, village tours and golf are easily arranged. Guests are offered a variety of special dining settings to choose from - in the grounds, at a private hut or even on the beach.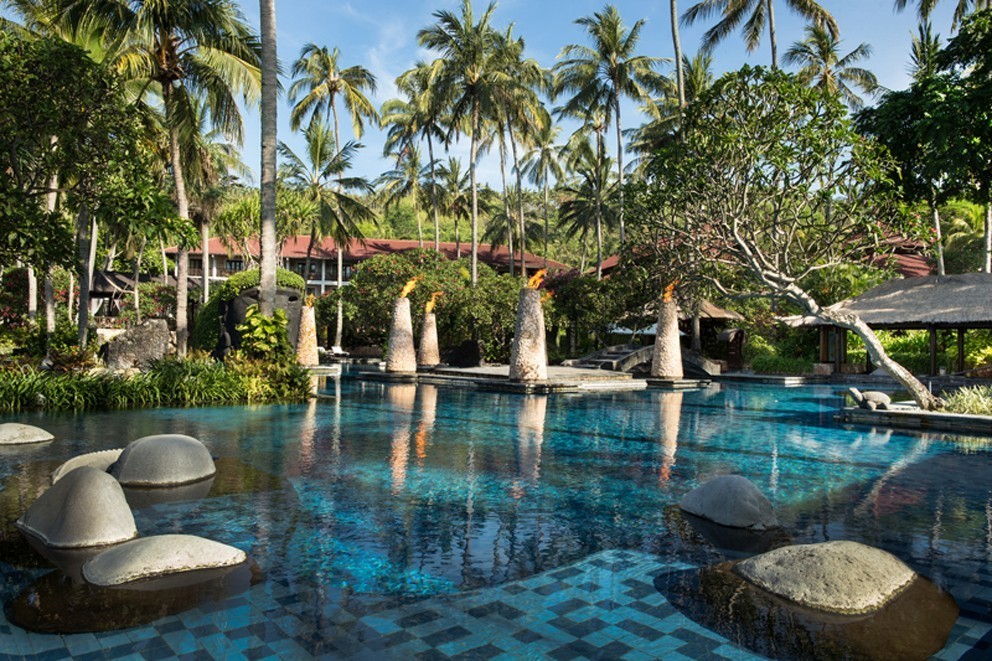 Sheraton Senggigi Beach Resort overlooks the scenic Senggigi bay with its multicoloured fishing boats. The spacious resort totals 154 rooms including 2 private pool villas. Extensive tropical pools overlook a long private beach. Enjoy a delicious buffet breakfast at Kebun Anggrek restaurant, dine at award winning Bawang Putih and sip a creative cocktail at Sunset Bar, served by attentive and friendly staff. Pamper yourself at Laguna Spa on the beach or get active at the 2 tennis courts or Fitness Center followed by Jacuzzi and Sauna indulgence. Sheraton is nearby the many cafes, restaurants and shops at Senggigi art market.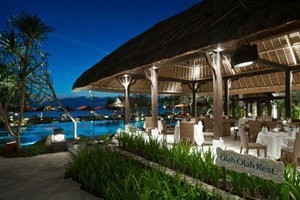 Sudamala refers to the cleansing and purification of body and soul. The resort features a range of fantastic rooms and villas, built in indonesian style. Located on the magnificent winding coastal road in the West of Lombok, Senggigi's serenity makes it a delightful tropical retreat. The sparkling beach is lined with tall coconut trees and traditional outrigger boats. It is also the ideal base to explore Lombok.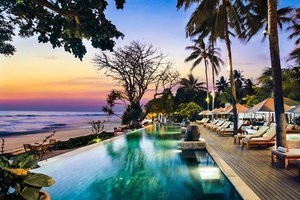 Qunci Villas Hotel is set directly on the tranquill Mangsit Beach, one of the most blissfull locations on Lombok. This tropical hotel features a spa and an outdoor infinity pool. Guests can enjoy body treatments at Qambodja Spa, or browse items in the Qul-Qul Gallery. Each room has a private garden bathroom with shower facilities. Dining options include Asian and seafood specialities at Quali restaurant, and Mediterranean with Lombok twist at Quah restaurant and Nooq Tapas Bar. Meals can also be served on the beach.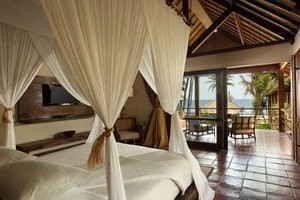 In North Lombok, Jeeva Klui Resort offers spectacular accommodation along with a restaurant, infinity pool and spa. The spacious suites feature private patios and flat-screen TVs, air conditioning and a rainshower in the private bathroom. Guests can relax on the terrace or enjoy a massage. Asian and Western dishes are served at The Warung, while light snacks and refreshing beverages are offered at Wallace.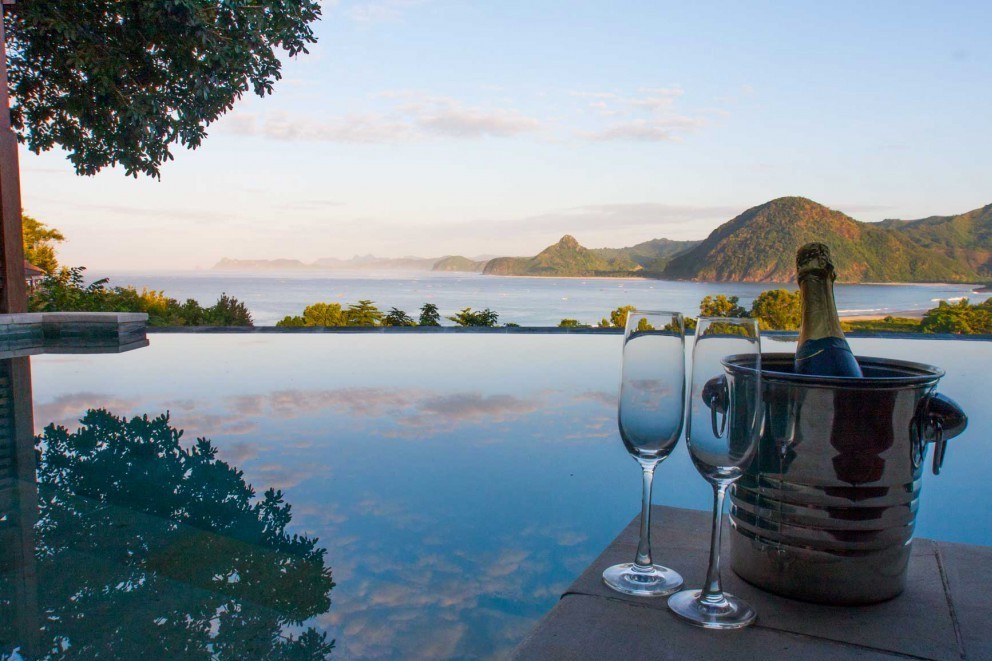 Enjoy the stunning vistas of Selong Belanak Bay, the pristine sugar white beach and the unspoiled surroundings of this beautiful, largely uninhabited part of Lombok. Sempiak Villas is the only luxury accommodation in the area and offers its guests a retreat with beauty and comfort. Each villa is unique and designed with total comfort in mind. Hidden away from the crowds, Selong Belanak is a 30 minute drive from Lombok's international airport in Praya. Transfers from many other points on Lombok are available.
Together with our affiliate partners Agoda.com and Booking.com - the world's fastest-growing online hotel platforms - we offer a "Best Price Guarantee" on all our hotels and resorts. To check the best prices and live room availability, simply click the "More Info and Rates" button by the Lombok luxury accommodation of your choice. You'll be instantly re-directed to our partner's website, where you can get additional information about our properties, as well as book your hotel online via their secure system. You'll also be able to search through their selection of mid-range and budget properties.