Mid-range hotels in Lombok
With its gorgeous white beaches, lush tropical forests and spectacular volcanic mountains, the quiet and pristine island paradise of Lombok also offers some fantastic mid-range accommodation that more than complement its serene natural beauty. Relax, explore Lombok and get away from it all at one of the great affordable Lombok hotels that we have selected for you to browse below (listed roughly from most to least expensive). Prices for mid-range Lombok accommodation start from US$ 50 per night and go up to US$ 100 per night for a Lombok beach hotel. Want to get a feel for what else might be on offer? View other Hotels, Locations and Price Ranges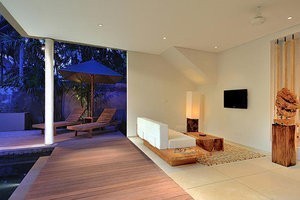 The luxurious retreat of Svarga Resort Lombok is just a 5-minute walk from the centre of Senggigi. Boasting spacious accommodation with free Wi-Fi access, it features an on site restaurant and a spa. Elegant rooms are tastefully appointed with a seating area and large windows overlooking the garden. The private bathrooms are semi open and fitted with a hairdryer and free toiletries. Seaview Restaurant specialises in Indonesian cuisine and seafood dishes and alos caters for Room Service.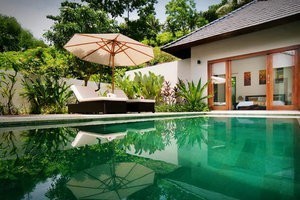 Luxurious villas featuring private pools, nestled in the tropical landscape, this resort is an oasis of relaxation. Featuring a 24-hour front desk, daily housekeeping and free WiFi access, Kebun Villas & Resort is also just a 2-minute walk from the sandy white shores of Senggigi. The spacious villas feature a private sundeck and a home theatre system with DVD player. Guests can enjoy meals at the Kebun Restaurant or have a drink at the bar.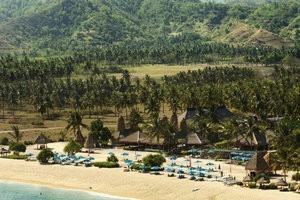 Novotel Lombok is located on Sasak Island in South Lombok, directly on Kuta Beach. Presenting traditional architecture, it has 4 swimming pools, a private beachfront and 2 restaurants. Air conditioned rooms are equipped with a private bathroom, flat-screen TV, personal safe and minibar. Guests can relax with a massage at the spa or along the beach while children are entertained at the kid's club. Watersports activities such as scuba diving and kayaking are also available. Up to 2 children (15 years and under) stay free when sharing with parents.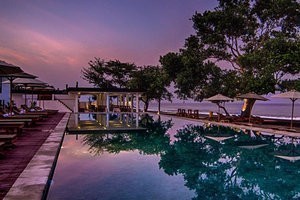 Featuring direct access to the pristine sand of Senggigi Beach, Living Asia Resort and Spa consists of modern bungalows with sea views, a restaurant and an infinity pool. Each air-conditioned bungalow has a private balcony, flat-screen satellite TV, minibar and refrigerator. En suite bathrooms feature a private outdoor shower. Guests can relax with a massage or sun tan by the beach. The beach-front restaurant also offers room service.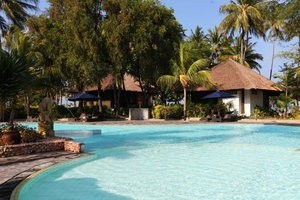 Set on a beautiful beach, Senggigi Hotel features thatched-roof accommodations with tropical views, a large lagoon pool and a spa. Rooms feature a spacious seating area, private balconies, air conditioning and private bathrooms. For meals, guests can visit the all-day dining Rinjani Restaurant serving both European and Asian dishes. Fresh seafood can be enjoyed at Beach Comber Brasserie and delicious Italian delicacies with fine wine at Basilico Italian Sunset Cafe.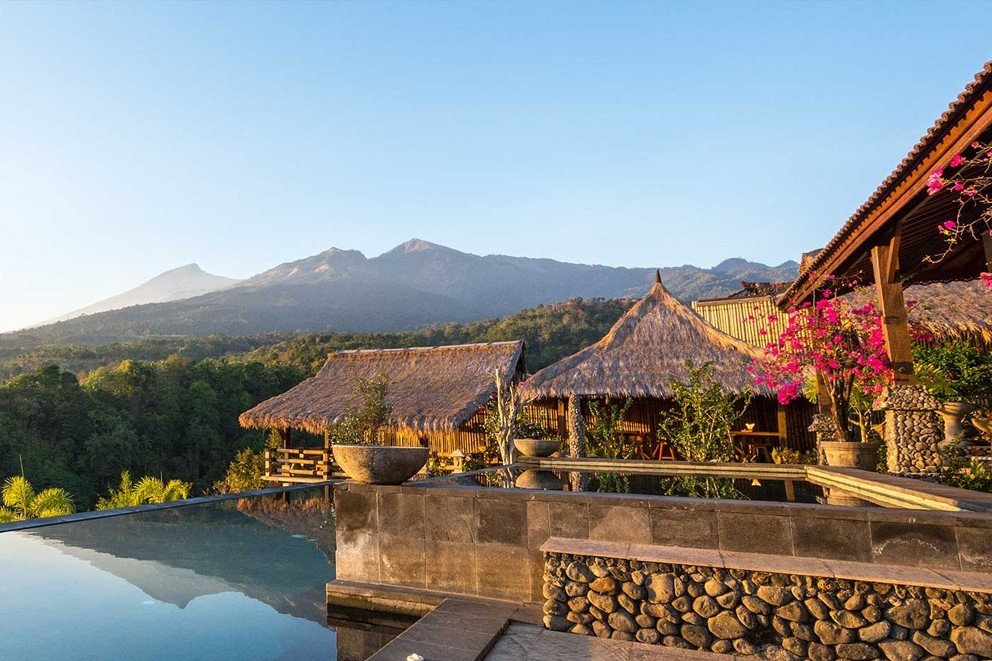 Rinjani Lodge is situated 1 km away from Rinjani National Park and the traditional Sasak Village of Dusun Senari.Rooms with private terraces overlook the mountain and surrounding greenery. Free WiFi is accessible in all areas.
The property is a 20-minute walk from Sindang Gila Waterfall and a 40-minute walk from Tiu Kelep Falls. Rinjani Lodge Restaurant serves a spread of Western and Indonesian delicacies.
In order to bring you the very best mid-range Lombok accommodation, we've joined forces with the world's leading online hotel providers - Agoda.com and Booking.com. Just click on the "More Info and Rates" button, next to any of our recommended properties, and you'll be taken directly to either the Agoda.com or Booking.com website, where you can get extra information about the property, check live room availability and make a secure online booking; all backed by a "Best Price Guarantee". And if you're looking for something with a little more luxury or maybe a cheaper budget option, there are plenty of other resorts and hotels to choose from.
While staying on Lombok, why not consider taking a few days to visit some of the surrounding islands such as Bali, Nusa Lembongan and/ or the paradisiacal Gili Islands? At Gilibookings.com we offer live availability e-ticketing for the most reliable fast boat services between all of these islands. We also feature travel tips and a selection of accommodation for you to browse. Simply take a look at the relevant pages in the menu at the top of our website. To book fast boat tickets, use the search box at the top left of our homepage.