Hotels in Senggigi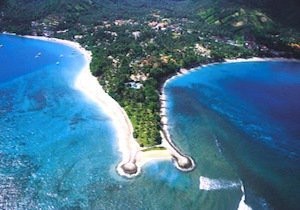 Looking for good Senggigi accommodation? We offer one of the best selections of resorts, villas and hotels in Senggigi and the surrounding area, live room availability, the lowest rates guaranteed, and you can make immediate confirmed bookings online. Featuring Senggigi hotels and villas, all with a quick and easy booking process. Just click here to see what's available.
Senggigi was the first tourist area to develop in Lombok and is still he main tourist area on the mainland. It's a fairly quiet coastal resort town that is spread along the west Lombok coastline covering a 2 kilometre stretch. Although it's a fairly quiet destination there are a number of luxury villas, large beach resorts and hotels in Senggigi, as well as cheaper homestays and family-run losemens. Swimming off the beach is safe and for some retail therapy there's an Art Market selling local handicrafts and souvenirs. The nightlife is an interesting mix of bars and clubs, and there is a decent selection of restaurants to choose from.

Senggigi is approximately an hour and a half drive from the new Lombok International airport and 45 minutes or so from the ferry dock of Lembar. The Gili Islands are only 40 minutes away and the drive north along the coastal road offers some stunning views of the islands.
Still not sure where to stay? Have a look at our travel tips for more on what to do and see in Lombok, as well as our full range of Lombok accommodation.