Bounty Cruises fast ferry
IMPORTANT NOTE: Bounty sail exclusively between Bali and Nusa Lembongan. The extended route to Lombok and the Gili Islands is currently not operational, please use an alternative carrier.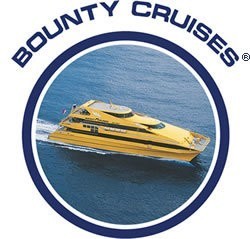 Bounty Cruises operate from Benoa harbour in Bali to Nusa Lembongan.
The Bounty is the largest and most comfortable boat operating from Bali to Lembongan, offering spacious seating, a bar serving drinks and snacks, air conditioned cabin as well as open deck seating.
To check live ticket availability and book your tickets just use the search box on the left of this page.
Just enter your required travel dates and number of passengers in the search box to view live seat availability. You can pay using your credit card or with your PayPal account. You will receive an e-ticket for your trip immediately. Date changes are possible dependant on availability, for cancellations and refunds see our terms and conditions.
Benoa to Gili Trawangan and Lombok via Lembongan
It is currently unclear as to when Bounty will resume operating this route. They may continue services using a seperate smaller vessel in 2017. Check back in future for updates and live availability, and in the mean time we reccommend the Gili Getaway or Blue Water Express departues from Serangan (nr. Benoa) as the best alternatives, which you can find by using the above search box.
Departing from Benoa harbour in South Bali (close to Denpasar airport) at 09:00, the fast ferry sails to Nusa Lembongan arriving at approximately 9:45. From there the route is expected to go non-stop to Gili Trawangan, getting there at 12:00 and finally Lombok at 12.45, before returning to Bali at around 16:00 via Nusa Lembongan. Checkin is 30 minutes prior to departure time. Benoa harbour is about a 30 minute drive from Kuta and Seminyak areas and about an hour and a half from Ubud. Travel time to Lombok and Gili Trawangan with Bounty Cruises will take longer than with other operators due to the stop in Nusa Lembongan.
Benoa to Nusa Lembongan
Bounty is the best established service to Lembongan from Bali, offering by far the largest and most comfortable vessel on the water. Book tickets simply by using the search box at the top left of this page. The daily crossing departs Benoa harbour at 9.00am and takes up to 45mins to reach the destination. The scheduled return departure is daily at 2.15pm.
Hotel transfer services for all ticket types are provided upon request, for a small additional fee and in Bali only. This extra charge can be paid on the day of travel. If you wish to make use of a pickup/drop off service, simply fill in your hotel details during the booking process. For hotel transfers to/from Kuta, Sanur, Nusa Dua, Seminyak, Jimbaran and Denpasar there is an aditional fee of 50,000 rps per person (adult or child). Pickup time will be approximately 1 1/2 hours before departure time.
Transfers to/from Ubud, Uluwatu, Candidasa and Tanah Lot costs 500,000rps per car for 4 people. Pickup time will be approx 2 hours before departure time. Exact pickup time will be confirmed by email after you have booked.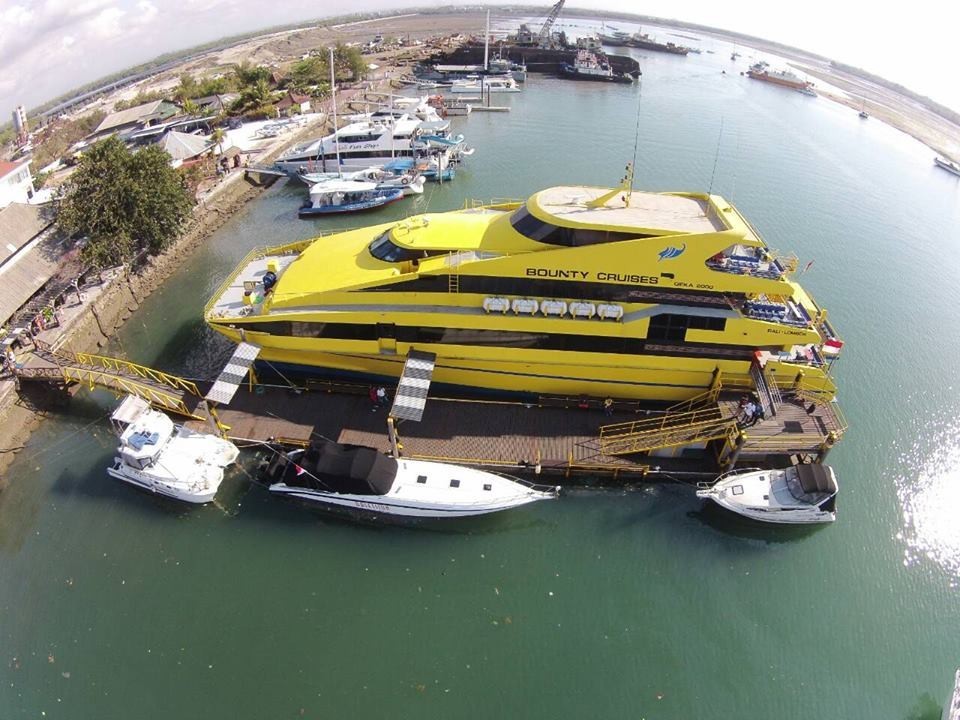 Note:
Passengers departing from Bali should go to the Bounty pier in Benoa.
Checkin is 30 minutes before departure time.
Each passenger can take up to 25kg of lugguage on the boat, if you require more please contact us in advance.
Bounty Cruises schedule and route


Departure
point Bali:

Distance
to Kuta:

Departing
at:
Stopping
at:

Arrival
Time:

Return
Departure:

Arrival
at:

Arrival
Time:

Baggage
limits:
Approx
Ticket Price
Benoa Harbour
(Bali)
30mins
09:00

Lembongan


09:45


14:15

Benoa (Bali)
15:00
25kg per
person
US$19*
US$38 rtn*
*does not include hotel transfers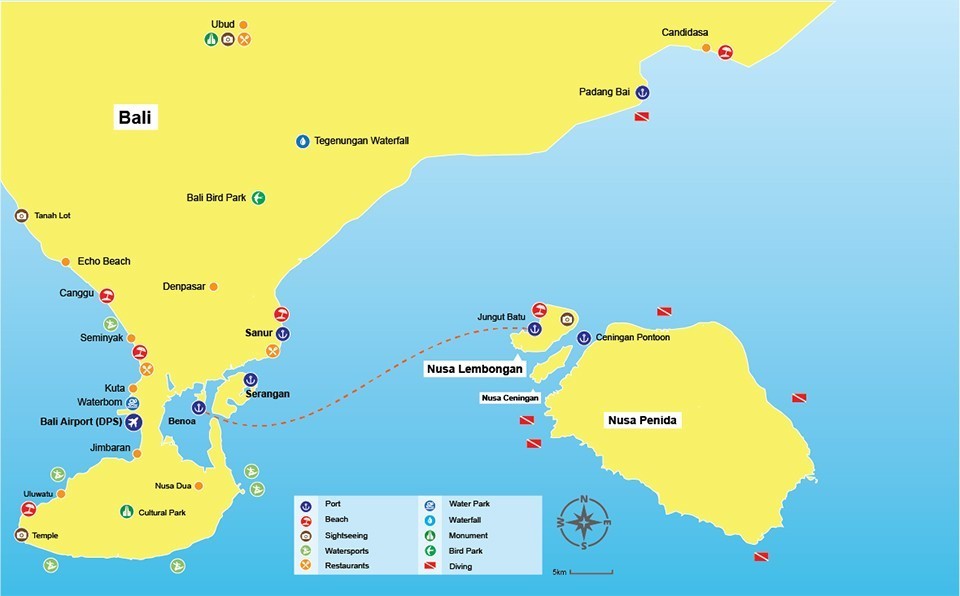 View maps of all fast boat routes and compare their schedules here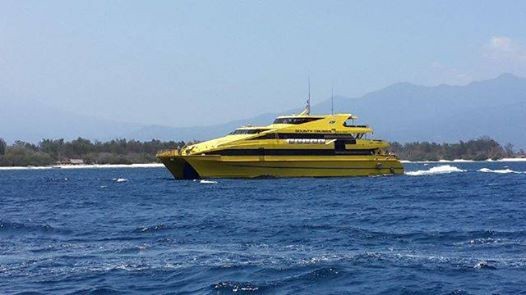 Bounty Cruises Technical Specifications:
Builders : Austal Ships Australia
Materials : Marine Grade Aluminium alloy
Overal Length : 44.00 meters
Breadth Molded : 11.8 meters
Depth Molded : 3.8
Draft : 2.5 meters
Speed : 28.0 knots
Main Engines : 2 x MTU 16V 396TE 74L
Passenger Seats : 559
Classifiction : Western Australia Department of Transport USL Code, Class 1-C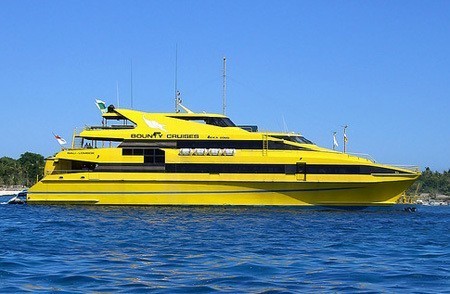 The Bounty Catamaran is equipped with state of the art computerized stabilizer and is fully compliant with Australian & international safety standards.
Features:
Sunset Deck
Upper & Main Deck
Inside & outside seating
Toilet facilities
Bar service
TV & Video Movie
Removable dance floor
Full array of lifejackets, rafts & safety equipment