This service is currently suspended until further notice
Daily Fast boat between The Gili Islands, Lombok and Gili Gede!!
A trip is now possible from the Gili Islands (located off North West Lombok) to Lombok (Sengiggi) and to Gili Gede (located off South West Lombok). The boat from Gili Trawangan to Gili Gede takes approx 90 minutes stopping briefly in Gili Air and Lombok to pick up and drop off passengers. New in 2016 Gili Getaway IV 'The Bullet' operates daily from the Gili Islands to Gede.
Check live seat availability, prices, book online and receive e-tickets for fast boat tickets on the left of this page.
Fast Boat Schedule from Gili Gede to Gili Trawangan -
Departure
point Bali:

Pickup distance
from Kuta area:

Departing
at:
Stopping
at:

Arrival
Time:

Departing
at:

Stopping
at:

Arrival
Time:

Baggage
limits:
Approx
Ticket Price
Serangan Harbour
(Gili Getaway V)
30 mins
09:00
Gili T
Gili Air
Lombok

11:15
11:30
11:45

11:30
11:45
12:00

Bali Serangan


14:15


25kg
per person

EURO 46
EURO 88 rtn

Serangan Harbour
(Getaway V - Gede)
30 mins

10:30



Penida
Gili Gede


11:15
12:15
11:15
12:30
Penida
Bali Serangan
13:30
14:15
25kg
per person
Use search box
to check pricing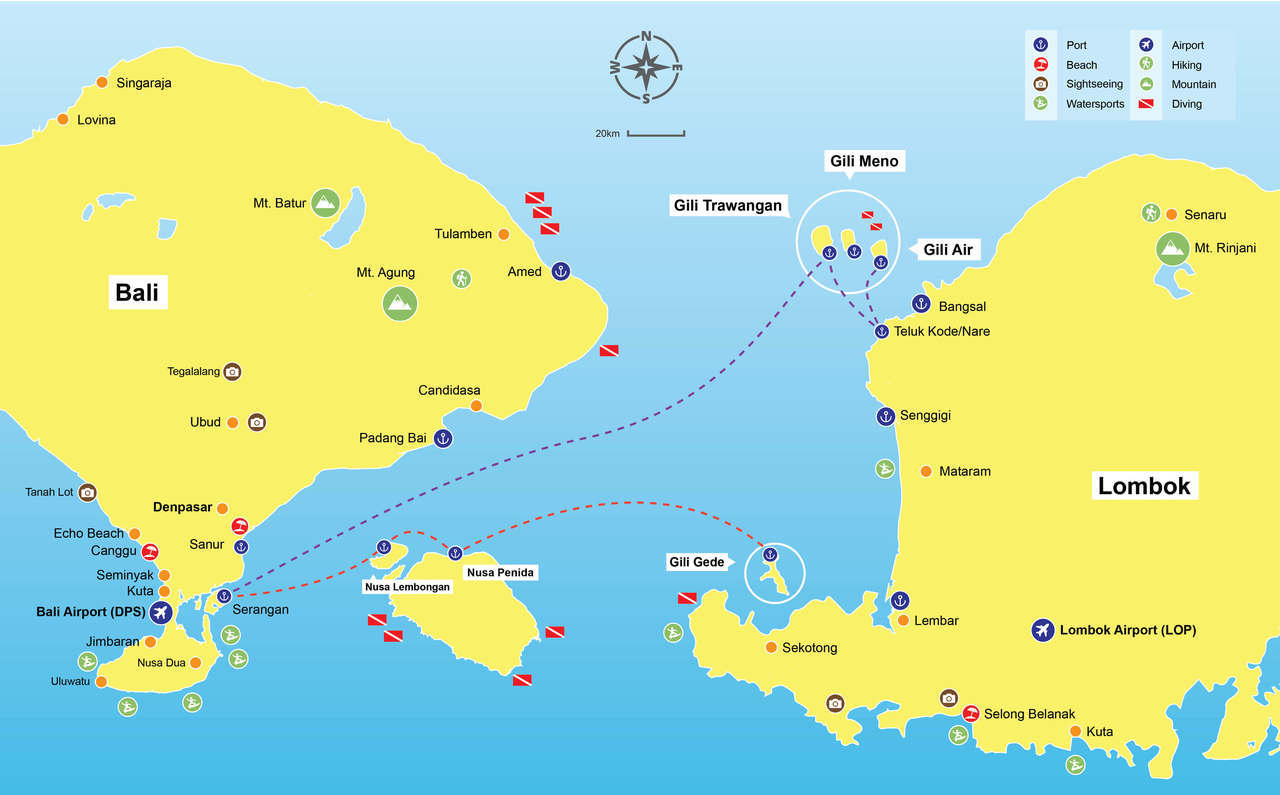 Your e-tickets contain the contact information of the the fast boat you have booked and you will receive a reconfirmation email prior to travel. Checkin must be made 30 minutes before departure. Checkin in the harbour at Gili Air and Gili T. Gili Getaway also have an office on the jetty in Senggigi, Lombok. The jetty on Senggigi beach is well known among local drivers and easily reached, right in the center of Senggigi. It is the only harbour in the area serviced by fast boats, set back 200m or so from the main road.
If you are staying on Gili Meno you will need to make your own way to Gili T in order to catch the boat to Lombok or Gili Gede. Local boats can easily be arranged from the harbour on Gili Meno in the morning to take you to Gili Trawangan.
Getaway IV is a custom built vessel equipped with two 250hp Suzuki outboard motors, 18 seats for high speed comfort, and international standard safety equipment all combining to offer a high speed, comfortable and safe trip direct to and from Gili Trawangan to Gili Gede.
SPECIFICATIONS
Craft Name:
The Bullet
Passengers:
12
Main Engines:
four 250hp, 4 stroke Suzuki outboard motors.
Crew:

3,

trained and professional + fully licensed and certified experienced captains.
Top Speed:
40 knots.
Average Cruise Speed:
30 knots.
SAFETY EQUIPMENT AND FACILITIES
Life saving capacity:
125% of licensed passengers numbers
Life Jackets:
Life jackets for both kids and adults.
Designed and built:
Designed and built to International Standards.
Compliance:
Exceeds Indonesia Standards
Toilet:
Yes
Complimentary Water:
Yes
Insurance:
Full Insurance coverage

Immediate online bookings and e-tickets with Gili Getaway fast boats between the Gili Islands and Gili Gede, only available on Gilibookings.com.